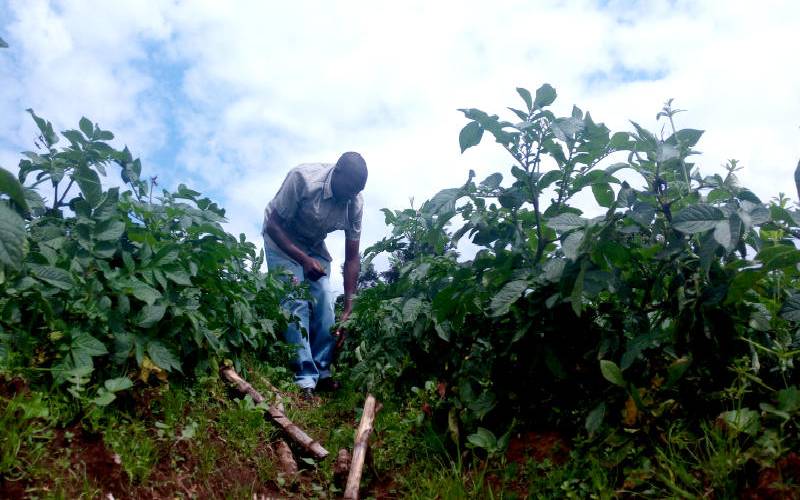 Potato farmers in Nakuru and Narok counties are struggling to access certified seeds, affecting their planting schedule.
A number of farmers planted the crop in February expecting to multiply seeds, but unfortunately there was no germination as a result of prolonged dry spell.
Abdul Kamau, a farmer in Muchorwe, Molo Sub County is among those looking for the seeds without success.
Read More
The farmer said though Agricultural Development Corporation (ADC) farm in Molo has Dutch variety, the prices are higher and the variety is not highly productive.
A 50 kilogramme bag of Dutch variety at the ADC farm is selling at Sh3,500, an amount that is higher according to the farmer.
"Majority of potato farms are bare because of shortage of certified potato seeds. Available variety has poor production that cannot be adopted," said Kamau.
He said majority of farmers prefer Shangi variety because it matures early, has ready market and is resistant to pests and diseases. Dutch variety he said matures after four months and is prone to pests and diseases.
"People prefer shangi because it matures after a short period and production is about 70 bags per acre as compared to Dutch that produces 5 bags in an acre," he said.
Kamau has visited various agricultural centers and a number of farmers for certified seeds without success.
In the past, the farmer has been practicing multiplication of potato seeds on his farm, but it was interrupted by prolonged dry spell.
He planted the crop in February, but tubers were destroyed by pests and some withered.
"I planted potato during short rains for multiplication, but crop did was destroyed by pests in the soil," said the farmer.
Kimani planted potatoes on a 30 acre leased farm in parts of Olposimoru in Narok and Muchorwe in Nakuru County, expecting to harvest at least 70 bags per acre.
He had even marked ready market in Thika and Tanzania.
"I spent about Sh1.2 million on farm input and labour, money that has gone just like that," he said.
James Mbugua's potato farm in parts of Olposimoru in Narok, Teamkasa and Sirikwa in Molo is also bare.
The farmer planted the crop on 47 acres of leased land in the month of February, but the crop withered following prolonged dry spell.
Though ADC has certified Dutch potato variety, the farmer said he cannot raise money for the seeds, after having spent more than Sh2 million during February planting.
"I planted the crop early expecting to harvest seeds, but the crop withered. I cannot replant because I am financially constrained," he said. "I'd rather do maize."
An agricultural officer who requested anonymity because he is not authorised to speak to media said there was Kenya Mpya and Dutch at Molo ADC farm.
However, the officer said the variety are not preferred by farmers because they are prone to pests and diseases mostly blight and bacteria wilt.
According to him, farmers can visit Kisima farm in Meru for certified potato seeds.
"It is true there is shortage of certified seeds because of erratic weather farming that affected farming. But farmers can visit Meru for the seeds to plant during the current main rains experienced in the region," he said.
Nakuru agriculture executive Dr Immaculate Maina said potato seeds challenge was a national issue that has been facing farmers countrywide.
"It is a national problem, Less than 30 per cent in the country," she said.