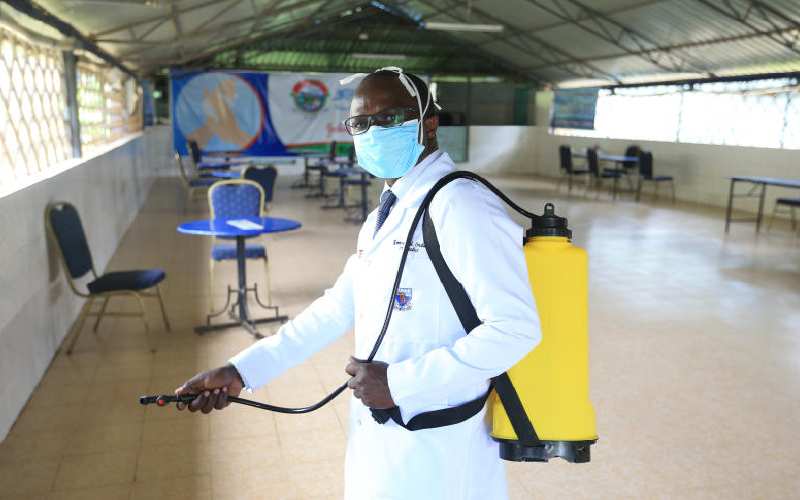 Visualise this; you are 20 years old and Kenya is in the middle of a struggle for independence.
To challenge the might of the British empire is treason and a guarantee for a jail term or worse. What would you do?
Would you go into the forests as the Mau Mau did, or become a writer agitating for freedom, or would you have joined the politicians agitating for change?
Or would you be like the millions who kept silent and did nothing but were amongst the loudest cheerers when independence was finally won?
Read More
Many times in our lives we face such challenges and most of us don't even realise that such moral challenges are facing us, let alone take a stand.
Martin Luther King wrote: "The ultimate measure of a man is not where he stands in moments of comfort and convenience, but where he stands at times of challenge and controversy." Well, here we are again. We are at that moment of great challenge and controversy.
We are in the age of Covid-19 and it's a matter of life and death. It's that moment when you are called to do something for your country and for fellow mankind.
Where will you stand? Present, or missing in action? I have no doubt that coronavirus will eventually end and we will go back to a normal life – or a new normal of masks and extra precautions. I remain an eternal optimist.
Highest probability
But for now we are at war and we must play our parts. Some will go to war as doctors and nurses are doing now. They are the soldiers at the front lines and the first at risk of death.
They face the highest probability of death as we have seen in Italy and the United States, yet most of them get up everyday, protect themselves as much as possible and go to the clinics and hospitals – like soldiers going to war.
Last week at the Likoni ferry, I watched an unprecedented show of courage and strength. Four young Red Cross volunteers (I repeat, volunteers!) had picked up a lady who collapsed at the ferry with all the symptoms of coronavirus.
Everybody around her had steered sharply away from her as she lay on the ground.
They carried her to their makeshift clinic and waited for the ambulance to come. In a few minutes, the head of the Red Cross came and told them they would all have to go into quarantine and be tested for coronavirus.
Then in shock, it dawned on them that they were now seriously facing a life threatening risk. A few started crying.
I joined them at a distance to encourage them and to tell them that I had just come out of quarantine and they were not facing a death sentence.
You could feel the palpable fear. The youngsters who were in their early 20s went into quarantine.
I expected to see the other volunteers leave en masse, but the next day they were all back on duty in the heat and humidity of Mombasa.
Front line
I posted what I had seen on Facebook and I am told the fear was felt by all Red Cross volunteers across Kenya. Did any desert? Not a single one. This is courage. This is commitment.
There are those who have the courage to volunteer and be in the front lines and there are those who cannot be at the front line.
Today we are all called to play our parts, either as a doctor, nurse or volunteer, or you can be a supplier or contributor to the cause.
There are so many roles that we can all play in this war. During the Second World War, British women donated their aluminium cooking pots, which were then melted to build fighter planes.
So, as we send our young people into battle against coronavirus, let us equip them with the proper uniforms, equipment and training to deal with such cases.
This needs resources that our country does not have at present.
We too must bring out our sufurias to contribute to the war effort. Let it not be said that when your country came calling in its hour of need you were missing.
This is a time for leadership. We have seen volunteers leading from the front. Some political leaders have taken the lead and shown the country what must be done.
We have seen them in the hospitals and clinics encouraging doctors, begging for food and funds and encouraging the proper safety procedures to be followed.
They have enforced harsh regulations to keep the public safe and the public has recognised and respected what these leaders have done. They have walked the talk.
Shakespeare wrote that "Some men are born great, some achieve greatness and others have greatness thrust upon them".
In this time of crisis, we have begun to see leaders, politicians and non-politicians achieve greatness with their heroism.
Mr Shahbal is Chairman of Gulf Group of Companies. [email protected]