Ulinzi basketball team beat Burundi in their first East African miliary games at Kasarani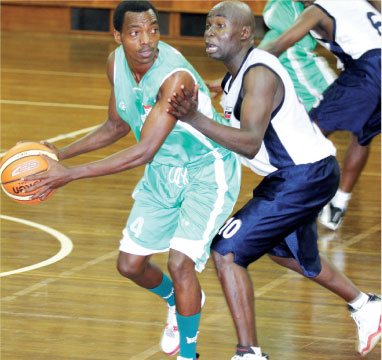 Kenya's Bernard Mufutu (right) won't let go Clovis Kareneda of Burundi during their East Africa Millitary Games basketball match at Moi Sports Centre, Kasarani on friday. [PHOTO: STAFFORD ONDEGO/ STANDARD]
By BRIAN MOSETI and GILBERT WANDERA
Kenya's Ulinzi warriors recorded their first basketball win by deafeating Burundi's people's Defence Force team 70-69 in a hotly contested match on the third day of the East Africa Millitary games at Moi International Sports Centre, Kasarani Gymnasium on friday.
Burundi drew first blood and maintained a visible lead in three quarters before the home team came from behind in the last quarter, punctuated with fouls and free throws.
The game ended with Kenya winning with a free throw shot.
Warriors coach, sergeant William Balozi expressed his enthusiasm saying, "We are happy we have won and hope for the best in this event."
Kenya faces Rwanda today. The Burundian coach Patrick Nkurumitita said, "My team is good, you can expect better in coming games."
In a game played earlier, Uganda beat Rwanda 58-16 after leading in all quarters, 11-9, 15-13, 16-16 and 16-13.
On Thursday evening, Tanzania hit Burundi 59-55 with a dramatic last quarter that saw Burundi lose major chances.
Rwanda dominate
In football, Rwanda upset defending champions Uganda 1-0 at Kasarani yesterday. The only goal was scored by Charles Tibigana in the 79th minute when he caught the Ugandan defense flat-foot to slot home.
Both teams showed a lot of determination in the opening minutes of the match and any of them could have gone ahead at any time. However, plenty of action was to wait for the second half.
Rwanda made the first substitution as the second half kicked off by bringing on Mukunzi Yannick for Patrick Sibomana who brought plenty of options at the front.
It was however Uganda who had the first opportunity at goal but a goal bound Edward Nkome was pulled down by Baptiste Mugiraneza in the left flank. The Rwandese player was yellow carded by Kenyan referee Damaris Kimani who also awarded Uganda a free kick. The effort taken by Denis Sekitoleko was easily cleared by the Rwandese goalkeeper in the 51st minute.
Then two minutes a 1-2 move between Alex Witaba and former Sofapaka defender Musa Mudde was thwarted by Olivier Kwizera in the Rwandan goal.
Uganda then made their first substitute in the 57th minute bringing on Edward Nkome for Ezekiel Katende and were rewarded almost soon after when they won a corner which was ably taken by Mudde and the Rwandese goalkeeper spilled it but there was no one to tap home.
The Rwandese were very dangerous on set-pieces and their opponents looked to be in trouble every time they got one. It was from a such a set-piece that they were rewarded their second corner in the 60th minute. From then on, it was anybody's game.
Elsewhere, after picking a 2-2 draw in their opening match, home side Ulinzi Stars are back to the pitch this afternoon against Burundi.