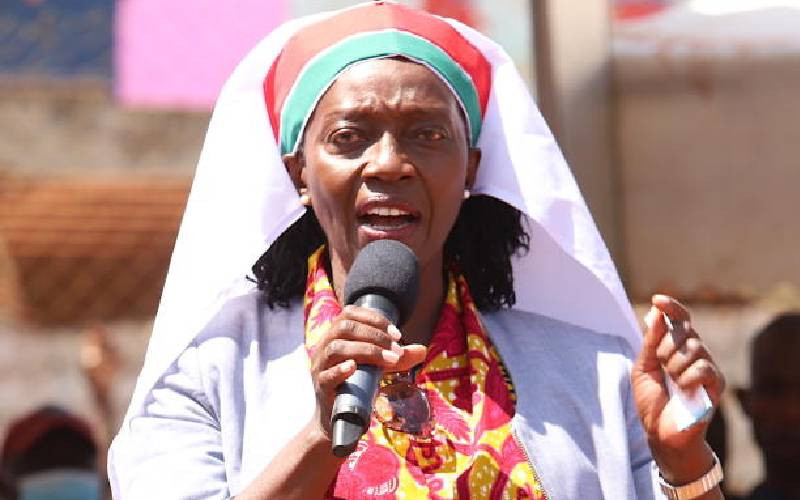 Raila Odinga has written about Martha Karua during the 2007 election crisis in Kenya, "People had tampered with the results and it was not acceptable … We had not finished our conversation when Justice minister, Martha Karua, walked in looking very emotional. She said roughly that 'we need to conclude this exercise.'
"I watched in amazement as Kivuitu (the chairman of the Electoral Commission) changed completely. Whereas he had been friendly with us, he now looked like a dog facing a leopard. As soon as I saw this, I knew our fate was sealed."
Kenya lives here, in the grip of anger. It is difficult to accuse anyone in the country of anger, and remain an honest person. Yet, Karua says that the deputy president, William Ruto, is not fit to lead, "because he is an angry man."
In her own anger, she once walked out on President Daniel arap Moi, in her backyard of Gichugu.
Later, on April 9, 2009, she angrily resigned as Minister for Justice, National Cohesion and Constitutional Affairs, because President Kibaki had made appointments without consulting her.
Throughout the 2005 failed constitutional review effort, Karua appeared on national TV almost every evening, visibly angry, despite her dark sunglasses. She would berate those opposed to what came to be known as the Nyachae Draft of the constitution, asking them to "do whatever you want, nothing will change!"
In Civil Suit No. 288 of 2004, Karua sued Kiss FM and Caroline Mutoko, alongside Carol Radull, for questioning her lack of self-composure. She told the court that they had defamed her.
She obtained orders restraining the station from saying anything about her. It was only after the entire media had refrained from mentioning her, or carrying pictures, that she withdrew the matter.
In TV interviews, Karua often comes across as an edgy guest. She cuts into her hosts' questions with caustic and belittling remarks.
In short, I doubt that Martha Karua could stand on any moral high ground to question anyone's emotional comportment. In her own way, she has anger issues, which she is unable to manage in public.
And yet there is nothing wrong with that. Karua has had every reason to be angry. You must be extremely cold blooded, or an intense sadist, not to be angry in this country. We have turned the country topsy-turvy with greed and deceit.
The good that we should do we don't do, and the bad that we should not do, we do with abandon.
Until fairly recently, Martha was angry with the Building Bridges Initiative, and its owners. The initiative was sidestepping important national interests and seeking to change the Constitution to address the needs of a few selfish individuals, she said then. It will be interesting to hear her position, now that she is the Azimio presidential running mate. I wait keenly for the deputy presidential debate on Tuesday next week.
That said, there are enough angry leaders in Kenya. Raila's "Nusu mkeka'' bombast against President Kibaki remains the pick of the basket.
More recently, Ruto and Raila have been captured, on video clips, betraying impatience with youth who talk back at them at their campaign rallies.
Karua, too, has done the same, especially in her Central Kenya backyard. They all need better patience management skills in public.
While on a good day President Uhuru Kenyatta can throw up a major tantrum in public, he comes across as a better manager of his emotions in such environments.
A widely circulated video clip of a public event shows an angry President Uhuru struggling to speak above a rowdy crowd. Having failed to contain them, he bursts into laughter. He bows away, in appreciation of how a crowd could limit him, despite his immense powers elsewhere.
And when little Bahati, a musician, on another occasion cheekily tricks him, to get off his seat and the young man sacrilegiously sits on the head of state's chair, the president laughs at himself.
The rest could borrow a leaf from Uhuru, on his good days.
Dr Muluka is a strategic communications advisor. www.barrackmuluka.co.ke