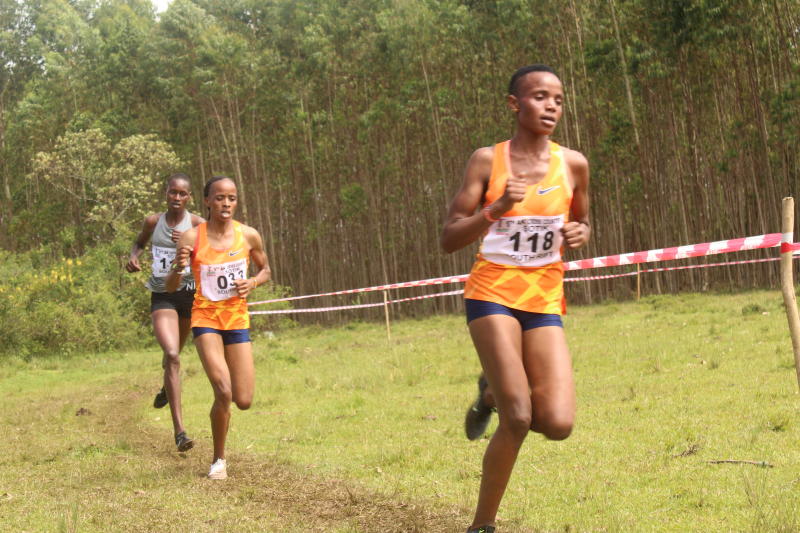 World marathon champion Ruth Chepng'etich, former World U-20 women's 1500m winner Edna Jebitok and former World U-20 women's 3000m champion Emily Chebet headline a strong squad for Athletics Kenya (AK) Nairobi Branch at the National Cross-Country Championships that gets underway at Lobo Village in Eldoret on Saturday.
Chepng'etich will use the platform to build up speed and endurance for her forthcoming marathon races.
"Nairobi has sent a very competent team. Our target is a podium finish, " Nairobi AK Chairman Barbana Korir said.
Chepng'etich and Jebitok had byes in the Nairobi trials after having a series of races in Europe recently.
Chebet, a former Africa Youth 3000m champion, feels the nationals is hers to lose owing to her meteoric form.
"I used the holidays to step up training at my base in Londiani. This has paid off by winning the Nairobi Cross-Country trials. Now, my eyes are on the podium in Lobo Village, I believe nothing is stopping me from reaching the podium. When I started training late last year, I was targeting a top six finish in the nationals but now that has changed. I firmly believe I'm a candidate for victory," she said.
Chebet is fresh from Istanbul Marathon held last month where she finished seventh overall.
Just like Chepng'etich, she is gradually embracing marathons and will be using the nationals to build up speed, stamina and endurance for the 42km contest.
The former Saramek Secondary School alumni also targets to conquer other major races this year among them the Eldoret City Marathon in April.
Little known Geoffrey Rono is among those who will battle for Nairobi in the star-studded men's category.
The Baringo Cross Country reigning champion targets a podium finish at the nationals.
Even though it will be his first time competing in the senior men's race, the jet blazing Rono insists he fears no one in the competition.
"I'm not afraid of big names. I'm just a man like them, I'm headed for victory," Rono said.
"The 21-year old who ups training under head coach Barnabas Kitilit in Torongo, Baringo County is greatly inspired by world 1500m champion Timothy Cheruiyot. I trained hard during the corona lockdown and this is the reason for my being in great shape. I was targeting to qualify for the World Cross Country Championships unfortunately the event has been postponed to next year. Nonetheless, the commitment in training has put my body in an amazing shape," Rono says.
Korir, a National Olympic Committee-Kenya Executive Member, believes Nairobi will give other major institutions, including the Kenya Prisons, Kenya Defence Forces and the Kenya Police Services, a run for their money at the nationals.
"Nairobi has always produced some of the best athletes to represent this country internationally and they continue to do so well in major championships across the world," said Korir who also doubles up as Athletics Kenya Youth Director.
Korir said Nairobi will show up in large numbers in Eldoret on Saturday to cheer and encourage their athletes as the mission of the branch is to complete a podium sweep.
The nationals will act as a dry run for the prestigious World Athletics Gold Tour, dubbed the Agnes Tirop World Cross Country Gold Tour, in honour of the 2015 World Cross Country women's champion who was found murdered at her home in Iten, Elgeyo Marakwet, late last year.
The Gold Tour will be held at the Lobo Village next month.
Men's 10000m and 5000m record holder Joshua Cheptegei, men's Half Marathon champion Jacob Kiplimo, both of Uganda, and double World Cross Country champion Geoffrey Kamworor are among the world beaters who have confirmed participation for the Gold Tour.
"Despite the World Cross Country championships being postponed to 2023, there's a lot of excitement in the discipline after Kenya was awarded the rights to host one of the legs of the World Athletics Cross Gold Tour series. We encourage our top athletes to take part in this event which is like the Kip Keino Classic.
"This race gives athletes the opportunity to participate in major events which attract very good prize money awarded after points have been compiled at the end of the 14'leg circuit," said Korir.