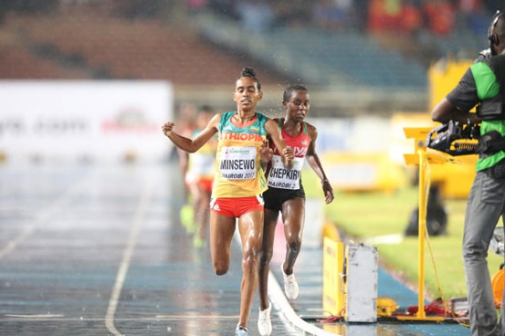 Some of the world's top teenage athletes produced a superb evening session on Wednesday to keep the small crowd on its feet at Kasarani Stadium, closing out the opening day of the IAAF World U18 Championships in fine style.
In one of the most exciting contests of the night, the girls' shotput final went down to the wire in a thrilling three-way battle held in wet conditions.
Yu Tianxiao of China took the lead in the fifth round with a 17.62m effort, and teammate Sun Yue fell just three centimetres short of that mark with a 17.59m attempt.
With China looking to earn the top two spots on the podium, Germany's early leader Selina Dantzler spoilt the party with a 17.64m heave to grab the title.
"Coming into the final, my strategy was just to give it my all," said Dantzler. "I'm proud to have done it for my country and my home town Munich."
On the track, the girls' 3000m final was equally close, with Ethiopia coming out on top of the host nation in a hard-fought race.
The first of the girls' track finals was always expected to be a fight between Kenya and Ethiopia. Eagerly awaited by the crowd gathered in the stadium, the race certainly did not disappoint, even if the final result was not what the Kenyan crowd had hoped for.
Pushed all the way to the line, Abersh Minsewo managed to snatch the gold medal. She narrowly edged out Kenya's Immaculate Chepkirui by 0.07, winning the race in 9:24.69.
Minsewo's compatriot, Yitayish Mekonene, took third place in 9:28.46.
"We trained in similar conditions (in the rain) back home, so it was not as difficult as you may think," Minsewo said.
"I'm happy to have fulfilled my responsibility to win the first gold medal for my country."
Sprinter Tshenolo Lemao delivered a historic performance in the boys' 100m final, becoming the first South African athlete to earn a medal over the distance at a world championship in any age division.
While compatriot Retshidisitswe Mlenga and Jamaica's Tyreke Wilson had entered the final as favourites, Lemao held his composure after the race was disrupted by two faulty starts, charging across the line in 10.57.
Mlenga, who had earlier won his semifinal in a PB of 10.37 in dry conditions, secured a one-two for South Africa by covering the short dash in 10.61 and Wilson held on for bronze in 10.65.
"It was a great race to run. I was really excited going into it and I just wanted to go all out," Lemao said.
"I knew the conditions would be tough, but I told myself I needed to stay strong and focused, and just go."