It's talent galore as TVET regional festival kicks off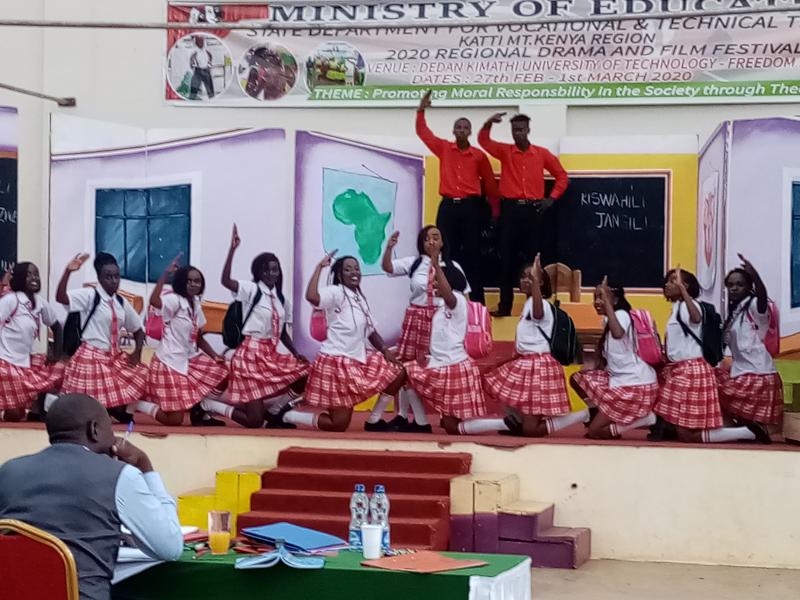 The Eastern and Central Kenya region vocational colleges drama festivals kicked off in pomp and colour.
More than 180 performances are to take place during the two-day event at the Dedan Kimathi University of Technology in Nyeri County, which will see the TVETs battle it out to be selected for the national festivals.
Yesterday, Embu College performed a play, Blooded Jackpot, that depicted vices the youth are exposed to such as gambling, unplanned parenthood and sexual harassment.
The play kicked off with a flashback of Hudson Jackpot, a pampered young man trying to convince his dotting mother to forgive him for a series of bad choices.
Tackling the dark themes of suicide, rape and abandonment, the play sought to give the audience a glimpse at how youth struggle to balance their life choices and consequences in a world quick to forgive their faults only to condemn them later.
Unable to gain his father's approval, which he feels is unconditionally given to his adopted sister Scarlet, Hudson considers suicide and it takes the intervention of his family and friends to reconcile him from his estranged father.
Thika Insititte of Business Studies set the stage alight with their choral verse on how the youth have found creative ways to speak Swahili language.
The verse, Kiswahili Kitukuzwe, saw some schoolgirls try to explain to their Swahili teachers some words used in the local music genres popular with the youth.
But the teachers were not willing to entertain the new version of the Swahili language, using corporal punishment to deter the young students from the new words they had created.
Opening the first edition of the Kenya Association of Technical Training Institutions festival, TVET Deputy Director Elijah Mwaniki said the event was created to because the number of TVET institutions had grown over the last few years.
"This event is important in building character, each performance brings out talent which in turn fosters moral responsibility among the youth," said Mwaniki.
Mwaniki said the number of TVETs participating in the drama festivals had increased, with private and vocational centres registering for the event. We have 182 institutions across the country with an enrollment of 300,000 students. These figures are a reflection of growing popularity of the TVETs among the youth. We are targeting to enroll 1.2 million by 2022," he said.
The drama festival, he said, was one of the ways to make the institutions attractive among the youth as an avenue to nurture talent and encourage art performance. "TVETs are embracing modern courses that youth need to be marketable in the current workplace and opportunities for the colleges to offer these kind of opportunities to the youth is a positive move," he said.
The TVETs selected at the regional level will represent their institutions at the national level in Mombasa County on April 14.