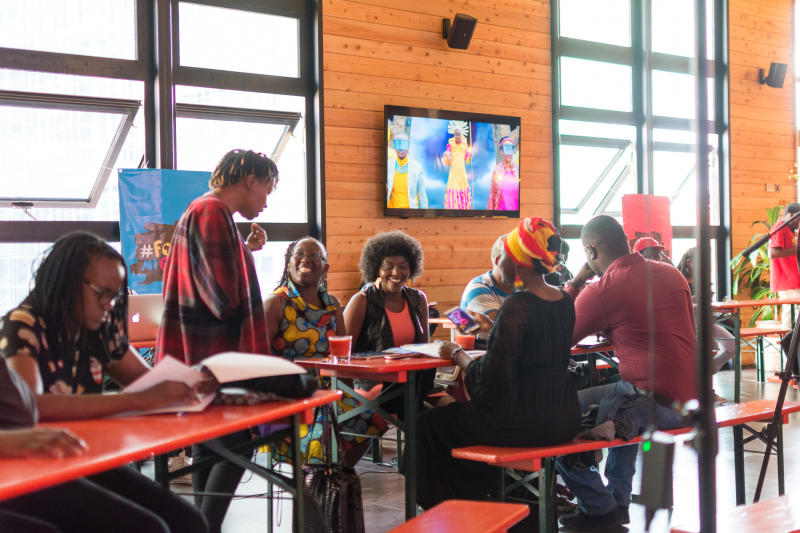 In a conventional African set-up, contraception is spoken about in low tones with coded language to disguise its perceived indecency.
But the youth have vowed to defy the silencing culture and scream about it in their pursuit for attention.
It is a futuristic creative movement dubbed 'Form Ni Gani' (what is the plot/ plan), led by think tanks, including prominent artistes optimistic about the future of Kenya, that it is better if youth are allowed to access contraceptives. It drives the youth to imagine their 'form' in the year 2063.
Key artistes are driving the agenda with their thrilling performances and they include Juliani who together with Suzziah have 'Form ni Gani' song, which now has 60,000 views on YouTube.
Artistes Jivu and Sydney125 also have their rendition on the same theme and now have 19,500 views. Bamzigi has not been left behind with his version, which also enjoys over 15,000 views.
Read More
Others who have done songs on the same include GodN47, Kingslang and Ayzzoh Levite.
Comedians, including Jaymo Yule Mzee and Njugush, have already created humour around the prediction of the year 2063. With props, including greyed hair, the duo imagines old age and how life would be for them.
The 'Form ni Gani' movement hangs on an ideology inspired by disheartening news of high unemployment, increasing teenage pregnancies and fears of unmanageable population in future.
According to the National Council for Population and Development, 74 per cent of Kenya's population is under 35 years of age, with a majority unemployed.
School dropouts from teenage pregnancies are approximately 13,000 girls yearly with maternal deaths at 6,300 women annually.
Think tanks claim there has been an injustice by the government where youth are deprived of contraceptives because it is considered a preserve of the married. Hence, they argue, if the youth will not access contraceptives and awareness on the subject, they will "breed" unwanted children, leading to a "generation of misery" in future.
"The youth comprise a significant majority of Kenyans and we bear the biggest brunt of any decisions made pertaining to the future of the country. It is therefore our responsibility to add our voices to the conversation on where Kenya is going, how we get there, and the role we need to play in this journey," says Andy Awiti, strategy consultant and a participant of the Form Ni Gani Think Tanks.
Reproduction
The matter is getting more serious, considering the movement's recent release of 'Kenya in 2030 Report: Young Voices on Future Scenarios and Contraception'.
The launch of the document was immediately followed by a campaign targeting universities to generate ideas on the Uwakilishi initiative on matters related to reproduction.
The Uwakilishi approach pushes a narrative aimed at coercing the government to harmonise the policy documents to include the youth in consumption of contraceptives.
Students are participating through a concept christened 'University Ideathon' launched on November 24, a contest to bring fresh youth-centric solutions known as 'Uwakilishi' to help chart the right path for promoting the push for access to contraceptives and awareness on reproduction.
Teams from Kenyatta, Multimedia, Nairobi, USIU and Strathmore universities, and the African Digital Media Institute and Nairobi Institute of Business Studies have already enrolled for participation, with other institutions expected to enroll.
The winner will be selected by a cross-section of diverse experts who include technical experts, academics, political leaders, creatives and journalists at a live event in January 2020. The winning club will bag Sh100,000 while the first and second runners-up will take home Sh25,000 and Sh5,000, respectively.
Population needs
Leading Kenyan futures expert, Katindi Sivi-Njonjo, who formulated and facilitated the development of the Kenya in 2030 report, says, "Based on our approach to population needs, right from the individual and household level, we stand at a crossroads but with a chance at a better future for our country in 10 years' time, depending on how we look at the issue of contraception."
The movement cannot be ignored as it has created a sensation in the streets and on social and mainstream media platforms.
'Word on the street' approach gave an opportunity for the members of the public to give their views regarding the subject.
Several 'Form ni Gani' dance competitions held in different venues in the city served as platforms where issues related to contraception were also discussed.
At the same time, a social media drive on hashtag 'Form ni Gani' and street campaign on male contraceptives has often been ignited.
"Pregnant men" supporting the participation of their gender in discussing prevention of unwanted pregnancies took to the streets, marching in imitation of expectant women.