MCSK: We owe musicians Sh3.6 billion in royalties, but our accounts have been frozen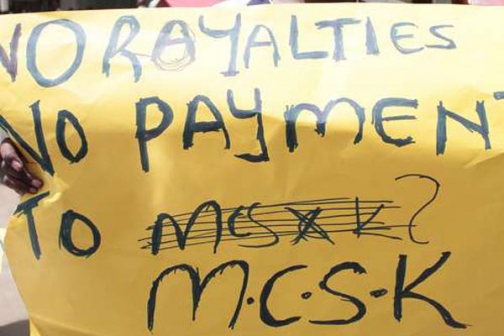 The Music Copyright Society of Kenya (MCSK) owes musicians a cool Sh3.6 billion in royalties accruing over the last one year.
MCSK Regional Representative Lillian Mibei said the society is yet to pay musicians their dues collected from Skiza Tunes after their accounts were frozen.
"Our MCSK account for Skiza Tunes royalties from one of the communication networks has been frozen with Sh3.6 billion belonging to musicians and we cannot pay them unless an intervention is made," she said.
Speaking during the burial of Kalenjin secular artiste Diana Chelele in Bomet on Thursday, Mibei said while MCSK is mandated to pay artistes their royalties, a dispute with the Skiza Tunes provider had led to the freezing of accounts, leading to the delay in remitting the money to musicians.
"There is need for urgent intervention because one of the providers wants rights to pay musicians their dues directly, but we think that role is ours," she said.
Mibei asked the government to intervene and unlock the stalemate so that musicians can get their dues.
MCSK National Chairman Bernard Mukaisi called for calm, saying the outstanding royalties and revenue accruing from the sales of their productions will be paid soon.
Mukaisi, however, cautioned musicians against nominating friends rather than family members as their next of kin to benefit from their royalties after death.
He said the society will fight to ensure artistes get their dues and are well remunerated.
"We will ensure our musicians' welfare is protected and no one tries to infringe on their rights at any given time," said the chairman.
As part of the welfare, he said, the society had entered into agreement with the National Hospital Insurance Fund (NHIF) to provide outpatient and inpatient medical cover for its members.
Mukaisi asked musicians countrywide to enroll with the health scheme so that their medical cover can be provided.
Chelele, a popular Kalenjin musician, was found dead outside her home in Bomet County on January 9.