Kenya Music Festival showcases nation's cultural variety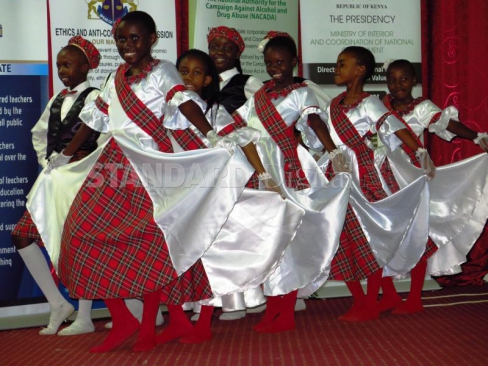 At one corner of the large compound of Kisumu Boys High School, a group of young boys from Borstal School, Shimo la Tewa Prison, is rehearsing a song on behaviour change that depicts how far they have come in mending their past ways and looking forward to a great future.
Trainer George Gitonga is making sure his knack for detail is not derailed by lack of exercise - that way, the shiny golden trophy will come back to the school's trophy cabinet by the end of the 89th edition of the annual Kenya Music Festival, currently ongoing in Kisumu.
At Lions Secondary School, toddlers from Aga Khan Academy Mombasa are fine-tuning it out for the English set piece under the keen eye of Philip Mbinji.
Dinesh Silva is not taking chances, neither is her mother who is in tow just to make sure the emotional and family environment calms her. Anything for that extra edge.
And it works! She emerges position one after beating a well-groomed list of worthy competitors.
"We are extremely happy to win this again and it brings joy to both the students, parents and staff back at home," says Mbinji, who is a seasoned trainer and musicologist at the fete.
With the young ones already done, it is time for secondary schools to arrive and take over from the younger brothers and sisters in the coming days as the fete peaks, drawing a total of over 130,000 performers.
Entertainment for settlers
The Music Festival started in 1927 as an entertainment programme for the settlers with the objective of offering music experience to an all-white community in Kenya.
"Those days no African was allowed to be part of the performance," says Benson Abwao, the Executive Secretary of the festival who oversees its planning, execution and improvement.
The changes have been tremendous since and from just three categories, there are now over 600 classes.
"One of the most significant achievements of the festival has been to see all children, no matter their age, colour, creed or physical ability, included," says Mr Abwao.
One of the highlights of the day was the exciting performances from children with physical, hearing, visual impairments as well as those who are mentally impaired. It was amazing just how these children show that, truly, disability is not inability.
Children of Kenya
According to Ruth Agesa, another official, there is nothing as fulfilling for the festival's organisers as to see children from across Kenya coming together to celebrate diversity and make friends as Kenyans.
"It is hard to tell which children come from which part of the country because it doesn't matter where you come from; all children are involved in nearly all categories," adds the festival chairman Peter Wanjohi.
This is a microcosm of the Kenyan society that can be emulated by the rest of Kenyans.
Lydia Manyasi, the officer in charge of education at the Ethics, and Anti-Corruption Commission (EACC), says their involvement at the festival is informed by the fact that matters of values and ethics are cultural and need to be imparted on the young ones as they grow.
"Learning with fun can be the most effective way, she says as she enters Hall Ten at Kisumu Girls High School where a category of verses sponsored by EACC are just about to take place.
Other partners in the ongoing festival include the Teachers Service Commission (TSC), Safaricom, Anti Female Genital Mutilation agency, National Campaign Against Drugs and Alcohol Abuse (NACADA), National Environmental Management Authority (NEMA), Kenya Wildlife Service (KWS), Directorate of National Cohesion and National Values and Amnesty International.
Mr Abwao hopes the rejuvenated attention society is giving to the performing arts will help in driving the creative industry to higher levels.
"The children participating here today will hopefully be forming music companies, recording companies and choral groups that will offer quality entertainment not only to Kenyans but the rest of the world," he says.
This year's festival will have performances in the Zilizopendwa (Golden Oldies) category from the rest of the world, opening a chance for Michael Jackson, Mariah Carey, Whitney Houston, Dolly Parton, ABBA and Harry Belafonte to be immortalised in the largest music jamboree in East and Central Africa.
The festival will reach a climax on August 13 during the gala performances before the crème de la crème goes to perform for President Uhuru Kenyatta on August 15.
Aptly, this year's theme is, Consolidating our National Values and Ideals.
Official wants wells in Naivasha closed
Speaking in his office on Thursday, Dr Ombiro said the shallow wells could have been one of the major causes of a cholera outbreak that hit the estate a couple of weeks ago.