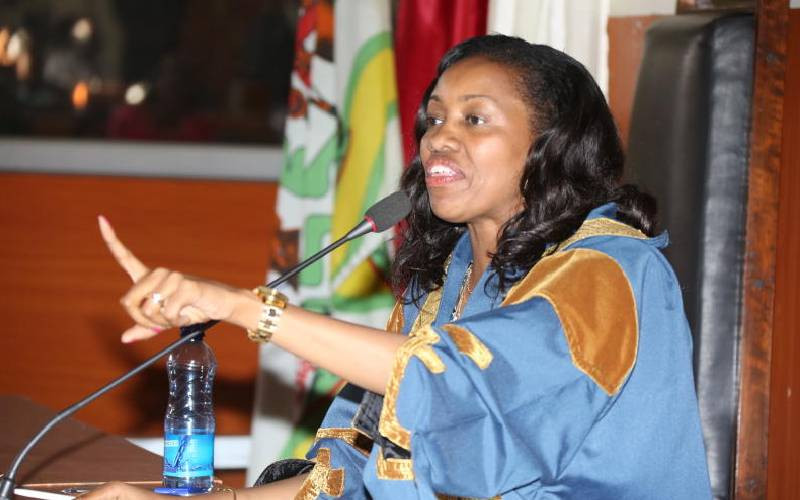 Everyone knows a birth certificate is not proof of Kenyan citizenship.
Having a thick accent, of any of the country's ethnicities, isn't, either. All doubters are hereby referred to Susan Kihika, Senator of Nakuru County, home of Kenya's newest city.
And as far as accents go, few are denser than Madam Kihika's. On a good day, she knows her 'Ls' ad, sorry, and 'Rs'. On a good day.
Any Kenyan chancing upon her abroad would have little trouble identifying the aspiring governor as a country person. Most would accurately trace her ethnic roots from how she speaks.
Kihika is among few Kenyans who have lived in the land of the free and home of the brave yet to figure out how to speak through their noses and who struggle to pronounce water as 'wora'.
Yes, as unbelievable as it sounds, Kihika has spent some time in the United States. We now know thanks to a Joseph Kimani Njuguna, who this week argued that the senator spent so much time with wazungu that she became one of them.
Armed with that info, Bwana Njuguna marched to the Anniversary Towers, seeking Wafula Chebukati's audience.
Bearing a copy of the document he left at Chebukati's, he would also stroll to the Integrity Centre, famous for its revolving doors and toothless dogs.
His mission - have Kihika excused to contest the US midterm elections slated for later this year.
"The said person is a citizen of the United States of America which citizenship she acquired by renouncing her Kenyan citizenship in 2003," Njuguna began the letter.
"I, therefore, request that the said Susan Kihika be barred from contesting the upcoming general election of August 2022 in the position of Governor Nakuru County."
Headed nowhere
For his troubles, Bwana Njuguna earned a stamp on each of the letters from the electoral and anti-corruption agencies.
There is no telling what Njuguna expects from the EACC, but a stamp could be all he gets from the Independent Electoral and Boundaries Commission.
Chebukati recently closed the door on election-related complaints.
Buoyed by a belief that Njuguna is probably headed nowhere, Madam Senator did not waste time reciting the Loyalty Pledge, nor did she claim to know the lyrics of Eric Wainaina's Daima Mimi Mkenya by heart.
"Sooo… as a senator I was Kenyan but now that am going for governorship am not a Kenyan (sic.)," she tweeted. "Mungu anawaona."
Judging by her response, Kihika was in a good mood and understandably so. After battling for months, she had finally won Bahati lawmaker Kimani Ngunjiri as an ally.
Accusing her of disrespect, Ngunjiri had previously vowed not to support Kihika in her bid, backing incumbent Lee Kinyanjui.
Kihika would respond in kind, urging residents of Bahati to vote their MP out.
But as Waswahili say, wagombanao ndio wapatanao. Both their hearts mellowed and they would share a sunroof in a recent rally. If Kihika needed people to vouch for her citizenship, Ngunjiri would probably be first in line.
That is how cordial they now are with each other.
But Madam Kihika hardly needs anyone to testify that she is Kenyan. Not with a name as famous as hers.
Political legacy
Daughter of the late Kihika Kimani, a politician whose fiery tongue earned him countrywide infamy in the 1970s through to the 1990s, Susan returned to Kenya from the US in 2012, where she had lived for two decades.
That was eight years after the death of her father, a former Nakuru Kanu chair, a man who came close to challenging Akuku Danger for the number of children he bore.
Kihika, the patriarch, had 41.
The elder Kihika's death threatened to take with it not just his insults and boastfulness but also his family's political legacy. (A previous plan to have two of his wives and his two sons as MPs had failed.)
It is the political legacy that his daughter sought to resurrect when she returned from the US. And so Madam Kihika contested Bahati parliamentary seat in 2013, and lost to Ngunjiri.
She got a soft-landing as the Speaker of Nakuru County Assembly.
She was successful in her senatorial bid in 2017 and courtesy of her loyalty to President Uhuru Kenyatta, Kihika became the Majority Chief Whip.
She lost the position courtesy of her loyalty to Deputy President William Ruto and vocal opposition to Uhuru.
And now Kihika seeks to scale to heights that would make her father envious.
She will, however, be crossing her fingers, hoping that some government agency will not take Bwana Njuguna seriously.
Equally critical is that the agency will not require proof of her citizenship, requesting photos of this and that like it happened to one of her colleague suspected of not having a university degree.