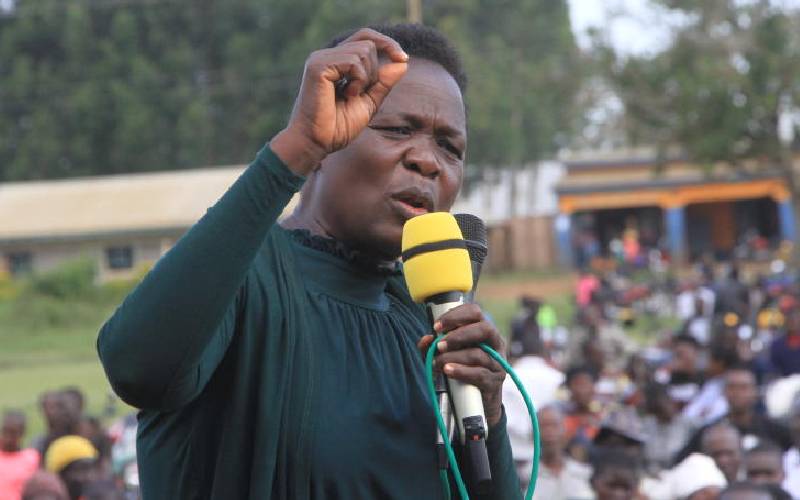 Migori Woman Representative candidate Hellen Obado has pleaded with her governor husband to support her bid.
Hellen, who joined the race to unseat Pamela Odhiambo, said she supported Governor Okoth Obado for a long time and now, it is his turn to support her.
She was speaking at Amoso Primary School in Uriri Sub-county where she launched two water projects.
Hellen claimed that her husband had abandoned her and she was seeking votes alone.
"Let him help me even if it is for a little time; I helped him a lot. I am just doing it all alone. You know how I helped him get the governor seat," she said.
She told supporters electorates how she helped Obado and today he is not helping her.
In 2013 and 2017, Hellen was at the forefront in helping governor Obado get votes from the grassroots.
In the current build-up to the August 9 elections, her husband is campaigning for United Democratic Alliance (UDA) presidential candidate William Ruto while his wife is contesting as an independent candidate.
A few weeks ago, Obado's wife was seen to be publicly distancing herself from her husband's affairs and insisted that people should judge her as Hellen Adhiambo. She has also said she would vote for Azimio's Raila Odinga for president.
"I have come to you as an individual, as Hellen Adhiambo Odie. I will feed those who will support me with plenty of sweet potatoes and porridge," she said at a past event.
Obado on the other hand has been using every opportunity at public functions to antagonise Raila and ODM candidates.
Hellen is banking on her chicken project, distribution of mattresses and shoes to woo voters.
She acknowledged that they were many seeking the seat and called for the electorate to allow each of them to hold peaceful campaigns.
She said it had become hard nowadays that "you find a man and his wife going different directions as they look for elective seats and there is no problem with that".
She rallied residents to support her bid, noting that it would be better if the seat went to Uriri Sub-county.
"From the look of things, I can do better than other people," she said.
She promised to support women groups, youths and ensure every bright and needy child gets bursaries. She said she would ensure she comes back and discuss how women and the youth could be empowered when she is elected.
"Here is where my in-laws are and I want that when August 9 comes, you go look for sweet potatoes which are yellow inside. Take it with porridge as you vote me in. Today I am home," she told Amoso residents.
She said some people claimed she started late, likening her joining the Woman Representative race to David who came late but was crowned king.