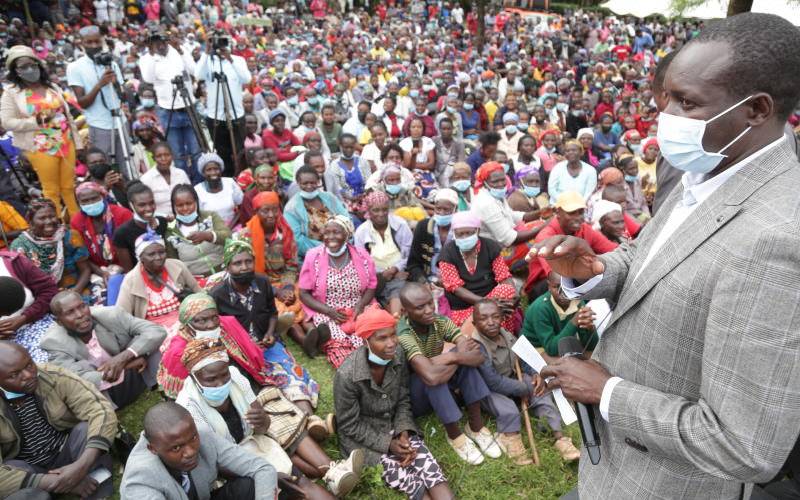 The race for the Kisii governor's seat is turning out to be a contest of who has a bigger financial war chest with candidates investing into the campaigns ahead of the August 9 General Election.
As a result, cash handouts have literally pushed most farmers out of their farms in the last one month as they now prefer attending rallies deep in their villages.
The race has attracted Jubilee's Chris Obure, Ezekiel Machogu (UDA), Simba Arati (ODM), Prof Sam Ongeri (DAP-K) and Manson Nyamweya (KNC).
While some of the candidates are splashing money in the campaigns, including erecting billboards in strategic areas of Kisii town, others have stuck to their traditional ways of holding door-to-door campaigns, boardroom meetings and occasionally public rallies.
For instance, Machogu has a billboard placed along the old Kisii-Kisumu road while Arati has four billboards placed strategically at both the exit and entry of the town - Daraja Moja and Daraja Mbili respectively.
According to Nyamweya, finances will be a key factor in the election, saying he has made enough money through his business and can sustain his campaign.
Arati, the Dagoretti North MP, who began his campaigns more than a year ago is said to have already spent millions of shillings in the campaigns.
The aspirants have also been meeting various interest groups, which comprise between 1,000 and 2,500 individuals.
Aides to the various aspirants say, when meeting groups, each individual goes home with Sh1,000 to Sh2,000 while those attending rallies receive between Sh200 to Sh1,000 depending on the numbers.
This means that each of the each team could be spending more to Sh5 million a week, inclusive of staff and fuel expenses.
Mary Onyambu, a fresh vegetables trader at Daraja Mbili market, says she attends at least three political meetings every week.
Traders at the market are well organised in that no individual can visit an aspirant on her own.
"We have to compare their manifestos. Some do give us handouts while others prefer giving us cash through registered groups. Either way we go home with something."
Aspirants also hire boda boda riders to escort them to rallies at a cost of Sh500 to Sh1,000.
Menyinkwa Boda Boda Chairman Wycliffe Onsoti said aspirants issue the money through officials.
"We are doing this to discourage misuse of the funds. We don't encourage the use of alcohol and part of what they are given goes to their saving account and the Sacco."
Each candidate has not less than 30 individuals on their campaign team. They take home a minimum of Sh 1,000 each on a daily basis.
They include drivers, security providers, social media handlers and sound system operators.
Rodgers Gichana, who operates a You Tube channel, says he has had business on a daily basis for the last one month.
"The campaigns seems organised unlike the previous ones. I have been getting livestream opportunities and I have to deploy at least five people per stream."
He says he gets an average of Sh30,000 per stream.
Candidates and politicians who spoke to Sunday Standard had varying views regarding the money factor in elections.
Machogu's running mate, Ogamba Migosi, said campaigns are not easy and one should be well prepared financially.
"This is not an exercise one wakes up in the morning and decides to participate. We are in an economic crisis and that means that candidates need to have a well calculated budget. This is where friends and even supporters come in."
He says the handout culture is deeply entrenched among Kenyan voters.
"This can't just be erased within a day. IEBC has set out the limit one can spend and definitely we will stick to that. In the end, we will have to pay more than 5,000 poll agents which is equally an expensive undertaking."
South Mugirango MP Sylvanus Osoro agrees that any campaign requires adequate finances.
"Some people started preparing to run as governors 10 years ago. Some are in business and they have deeply invested in the campaigns. Some politicians have even sold their properties to fund their campaigns."
He says, in the coming months some will hold fundraisers to support their campaigns kitty, noting that few politicians without financial muscle can make it to the ballot. seats."
However, Prof Ongeri says the race will not be entirely decided by money but a candidate's ideas and manifesto.
"A Kisii voter is unique. They want to be associated with those who can or have been able to bring about development. They take the handouts but will still make an independent decision at the ballot.