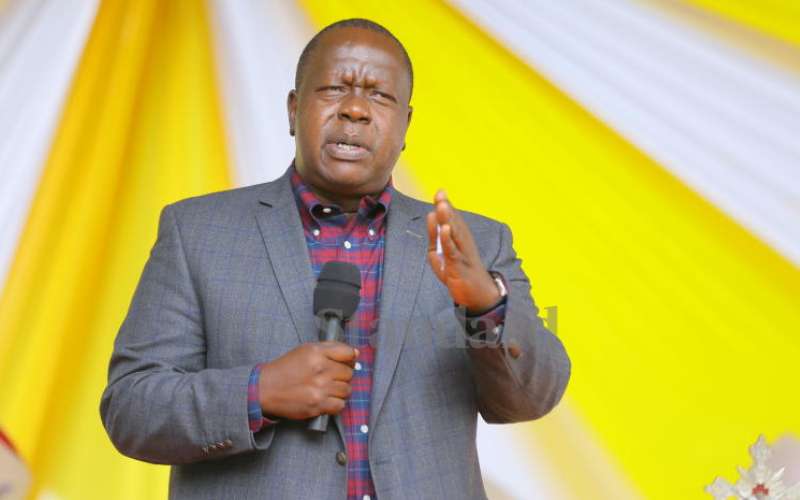 In Ol-Moran Ward of Laikipia County, there is a valley known as Bosnia. It is where one day in January 1998 that 41 Kenyans were slaughtered in a senseless orgy of ethnic killings. It was named Bosnia because it happened not long after similar killings took place in the Republic of Bosnia and Herzegovina after disintegration of Yugoslavia.
I was assigned to report on what was happening in Laikipia at the time. Crisscrossing Ol-Moran was so dangerous even for journalists that we had to be taken around by the priest in charge of the local Catholic parish–one Father John. He also gave us names of those killed and the pictures he had taken at the crime scenes. The pictures were so gory we couldn't publish them. It beggars belief that 24 years later nothing has changed in Ol-Moran.
Ol-Moran is still a 'Bosnia' many years after guns fell silent in Bosnia and Herzegovina. Maybe now the area should be renamed Ukraine. Since 1998 bandits have slaughtered 294 people in Ol-Moran and in the neighbouring Githiga Ward. The latest casualty was on Monday when a man was killed and his brother seriously injured. Seventy-three police officers–about half of them from the tough GSU elite squad–have been killed in what is called the Amaya Triangle, which comprises Laikipia, Baringo, Samburu and Isiolo counties.
The bandits often have superior weapons compared to those of the disciplined forces. On some occasions, security officers have fled in the opposite direction at the sound of gunfire. Hundreds of families have been left homeless after their homesteads were razed down, their crops destroyed and livestock stolen.
This week families fleeing their homes in Githiga told Laikipia County Commissioner Joseph Kanyari to his face that they wouldn't return to their farms as he wanted them to because they can no longer trust the government to protect them. They have been assured many times before only to be attacked repeatedly. In any case, they wondered how the government can protect them when bandits have been daring enough to raid even police posts and kill officers!
Laikipia leadership was also upset and didn't mince words. Governor Ndiritu Muriithi accused the Interior ministry of 'lying' to the President that insecurity issues in Laikipia had been addressed when the opposite was the truth. He said the Interior Ministry had promised that a police station would be constructed in Ol-Moran only for the project to be abandoned and left to the county government. As a result, even families whose homesteads were razed down by bandits but rebuilt by the Government are reluctant to return because they aren't sure they will not be attacked again.
Kizungu mingi
Laikipia Senator John Nderitu, Laikipia West Patrick Mariru and Githiga MCA Peter Thiomi said they can only trust the President to personally intervene. Popular vernacular television thespian Eduardo Waigwa who hails from Laikipia had choice words for Interior Cabinet Secretary Fred Matiang'i who has been to Ol-Moran. He accused the CS of talking tough but with no corresponding action on the ground. "His kizungu mingi (too much English) isn't helpful at all," said Waigwa.
Residents and leadership in Laikipia accuse the Government of lacking in resolve to address insecurity once and for all. They cite three past cases where the Government was decisive and made sure the specific security threat was handled with firmness and enough muscle to bring it to a stop. The first was the 2005/2008 insurrection by a rogue 'army' calling itself the Sabaot Land Defence Forces in Mount Elgon. For three years the gang caused terror and played hide-and-seek with government, in which period it killed, maimed or abducted about 600 people.
Finally, in March 2008, the Government said enough was enough and deployed the Kenya Defence Forces (KDF) who set up camp in the area. The so-called 'defence forces' fled to the caves in Mount Elgon Forest. The soldier followed them there and smoked them out one by one, including their self-styled 'commander-in-chief' one Wycliffe Matakwei who claimed to have a 35,000 strong 'army'. In a matter of days, the rogue 'army' was vanquished and the nonsense stopped.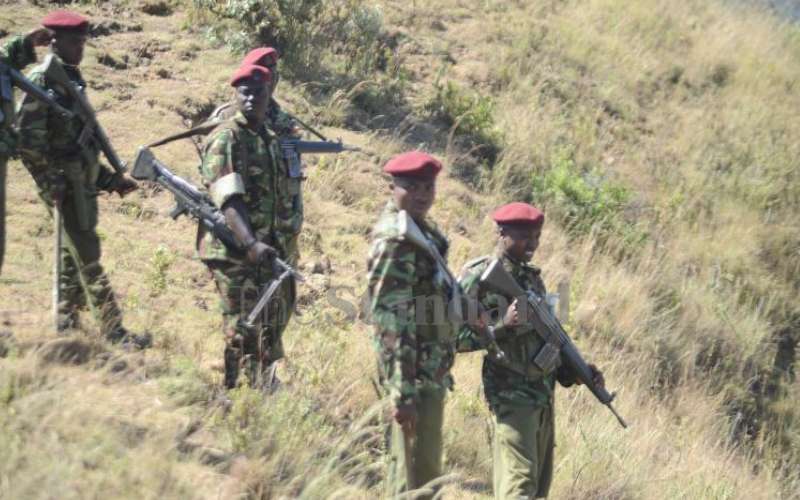 The other security threat taking place at about the same time was the Mungiki menace in Nairobi, Mount Kenya region and Nakuru. Mungiki gangs had become a 'government' on their own where they imposed illegal levies and would cause bodily harm, including killing those who didn't abide. They allocated themselves PSV routes where they collected 'taxes'. In the estates and villages, they demanded 'protection fee' from citizens and decreed 'taxes' to pay if one wanted to build a house or set up business within their 'jurisdiction'.
Then they became daring enough to kill even policemen and take away their guns. They also raided the rural home of the Security minister at the time, John Michuki. The Government said enough was enough. Michuki vowed not to negotiate with Mungiki, but told those with relatives in the gang to start digging graves for they would soon be picking corpses in the streets. It happened and Mungiki became an endangered and, finally, an extinct species.
The third incident was in Mai-Mahiu area in Naivasha where one community declared other Kenyans couldn't live there and invaded private property. Michuki sent helicopter gunships to evict them and send a clear message: Kenya wasn't ruled by jungle law!
Wild west
In Laikipia West, it beats logic why the government can't flush out the bandits once and for all. Where else in a functioning society can bandits overrun a police post and repeat it again? Where else do bandits have more firepower than government forces? What is so difficult in deploying KDF to flush out bandits in Laikipia if regular police and the GSU cannot do it? And what happened to Matiang'i's promise that government would construct a special commando unit training base in Ol-Moran to send a clear signal that jungle law would no long apply in Laikipia?
But even as the issue of insecurity in Laikipia and other parts of the Rift Valley and upper Eastern–where cattle rustlers and bandits run amok–is addressed once and for all, a component of that must be a multi-government (national and county governments) agency and other stakeholders' efforts to bring life in those areas to the 21st century.
A few years ago, I was in a place called Tiaty in Baringo and can testify that the place is still in the 19th century, lost in time and forgotten by the gods.
As former Rift Valley Regional Co-ordinator George Natembeya kept saying, Kenya could be the only place in the modern world where people kill for cattle that are worthless in value! As a matter of urgency, heavy investment must be made to make livestock keeping a modern commercial enterprise. That is through provision of water, modern feeds and construction of abattoirs and roads.
Next is education. For instance, the last population census found that school enrolment is below 30 per cent in Tiaty. Without prejudice, that makes for a breeding ground for future rustlers and bandits! Third, and most important, politicians from these areas must style up.
Postscript: Trust and pray that as we head to the General Election when devils are known to temporarily leave hell and come to Kenya at the invitation of politicians, Matiang'i will do more than talk tough.