Narc and Narc-Kenya held their respective National Delegates Conference meetings last week and from the outcome, there is a high possibility there will be no serious presidential candidate in the August 9 General Election.
While Narc-K leader Martha Karua's virtues and leadership qualities were extolled by her partners in One Kenya Alliance (OKA), she sent strong signals that she will be backing a different candidate with ODM leader Raila Odinga coming in as a favourite.
In her remarks, Karua stated that the candidate Narc-K will rally behind must prioritise the war against corruption.
"We want to listen to the people who will tell us how they intend to protect resources. You can have all those wonderful ideas but if corruption is allowed to thrive, Kenyans will continue to suffer," she told the party's 500 delegates during the NDC at Ufungamano House in Nairobi.
OKA principal Kalonzo Musyoka has already expressed his willingness to enter into a deal with Raila, whom he ran on a joint ticket in both 2013 and 2017, as long as it is brokered by President Uhuru Kenyatta.
His other condition is that the coalition must be ready to fight corruption and improve the livelihoods of Kenyans.
For now, Karua, who was sixth in the 2013 presidential contest, has indicated she will be challenging for the Kirinyaga governor's seat, which she controversially lost to Anne Waiguru in the last elections. This could also be a pointer to how devolution has expanded the country's power structure - with county chiefs also now in charge of significant resources.
While she has insisted that this year's presidential election will not be a two-horse race, she has a soft spot for Raila and recently hit out at those claiming the former premier is a State project.
"Raila Odinga is a campaign machine. Those calling him a project, he has taught them politics, even the strategies they are using they have copied from Raila," she told a vernacular TV station.
On the other hand, Narc's Charity Ngilu has thrown her weight behind Raila under the Azimio la Umoja movement, which brings together, among others, President Uhuru's Jubilee Party.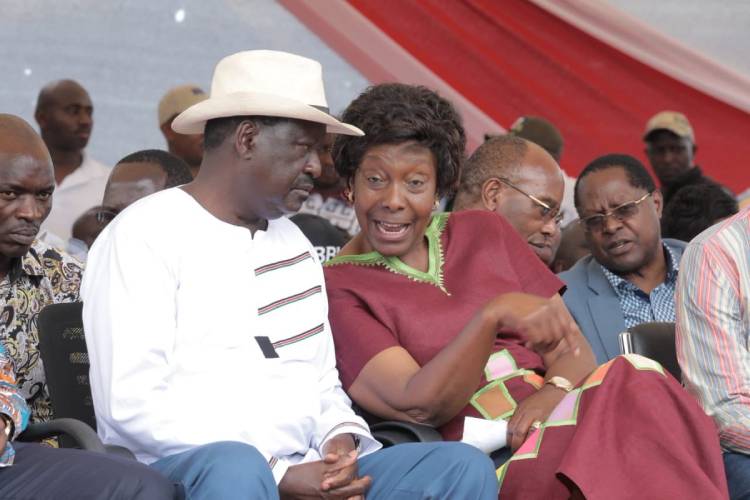 "We feel our dreams, hopes and resources will be safe in Baba's hands. As a woman leader and a mother, I know Kenya will be safe in Baba's hands," Ngilu told delegates during the party's at Bomas of Kenya on Friday.
It will be remembered that it is Ngilu who offered the most serious challenge when she vied in 1997 under her "Masaa ni ya Ngilu" banner.
The Kitui governor, who was vying on a Social Democratic Party ticket came fifth with a respectable 469, 807 votes behind President Moi, Mwai Kibaki, Raila Odinga and Kijana Wamalwa. Labour Party of Kenya's Prof Wangari Maathai came in at position 13.
Multimedia University journalism lecturer Kipkirui Kap Telwa notes that though there has always been a presidential candidate since Ngilu's serious run in 1997, none of them has posed a threat that would be associated with the gender card. He, however, says there is a likelihood that Kenya, would for a start, have a female deputy president after this year's election.
"Remember, the leading presidential contenders have not picked their running mates. So, things might change," Kap Telwa told The Nairobian.
"But also remember that our political and economic issues are no longer gender-based. They range from, high cost of living corruption, tribalism and poverty. They cannot be approached with a gender lens," he added.
Gender activist Carol Wanjohi, on her part, avers that while women have made many gains in many spheres of life, getting elected still remains a daunting task thanks to myriad factors, among them, economic, cultural and stereotypical roles.
"We were elated when women captured many seats that were competitively contested, including as governors, and not just those set aside for them by way of legislation," she said.
Ms Wanjohi cited the resistance the two thirds gender rule has received since enactment of the 2010 Constitution as an example of refusal to accommodate elected women in key positions of power and influence.