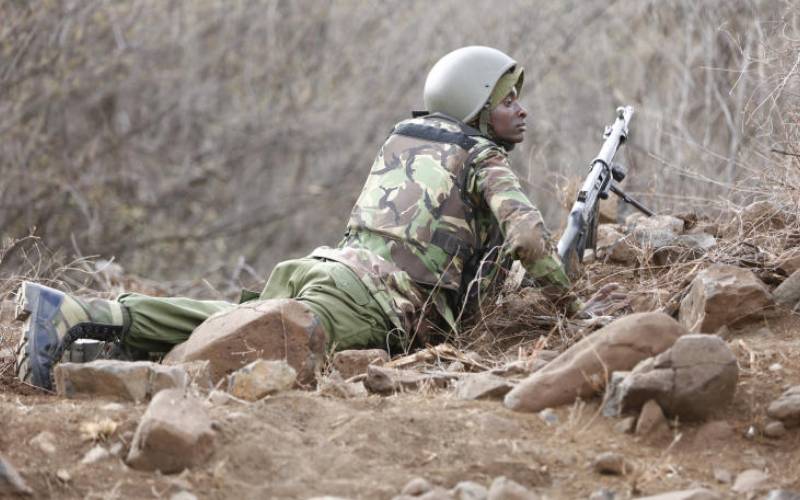 Plans by Interior Cabinet Secretary Fred Matiang'i to seek authorisation from the National Security Council to declare warriors operating along the Kerio Valley, as an 'outlawed organisation' is a move in the right direction.
The insecurity along the Kerio Valley that has led to loss of many lives, destroyed education, health and other aspects of social life is now getting out of hand.
Killing of innocent people, including women, teachers, students and children is now the order of the day despite the presence of security personnel, an indication that it's no longer the normal cattle-rustling.
Late last week, Dr Matiang'i promised to seek authorisation from the National Security Council to declare the warriors an 'outlawed organisation' and categorise them the same way as Mombasa Republican Council (MRC) and other terror groups.
The CS's statement came after bandits attacked three school buses transporting students of Tot High School in Elgeyo Marakwet County. A driver was killed while two teachers and 15 students were admitted to various hospitals with gunshot injuries.
Even before the dust settled down, two people among them a primary school teacher were on Sunday killed in Kipyebo and Kabetwa, about three kilometers from Chesuman where the school buses were attacked.
Matiang'i should now walk the talk and restore law and order along the Kerio Valley, especially now that Standard Eight and Form Four students are preparing for their national examinations.
All bandits should be dealt with in their individual capacities as they are not engaging in acts of lawlessness on behalf of their communities.
It's unbelievable that a few criminal elements among Pokot and Marakwet communities that speak the same language, have shared culture and and even marry from one another can turn against their brothers and sisters.
It's time the government applies a new level of force and fire to wipe out the bandits and restore peace once and for all. On the other hand, there is need for reinstatement of police reservists, who were recently disarmed by the government, and their welfare adequately addressed.
It is police reservists who understand the terrain well and the routes the bandits use. They are therefore well-placed to ruthlessly deal with the bandits with the help of police.
Apart from equipping the police reservists with uniforms and arms, their economic status should also be addressed to enable them be more effective in their work.
They should be paid salaries, just like the rest of security officers, so that they can feel appreciated and to boost their morale.
Before police reservists were disarmed sometimes back, acts of lawlessness had drastically and serious farming and business activities were taking place.
It is possible that some individuals, who might be political leaders or businesspeople, are sponsoring and arming the raiders to steal livestock. This is because there is no way 50 or even 200 people can come together and organise for a raid without raising eyebrows.