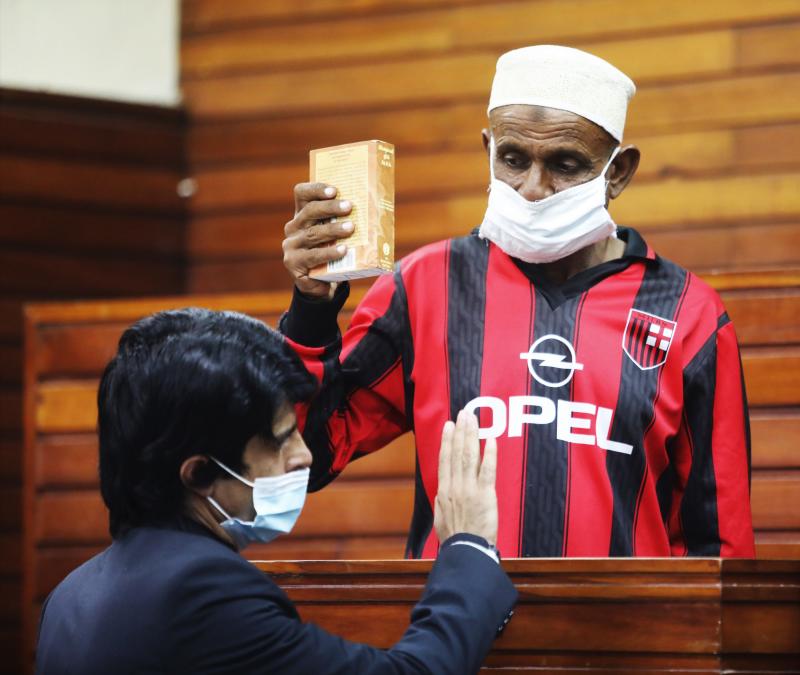 A Pakistani charged with trafficking heroin worth over Sh1.3 billion has denied being involved in a drugs syndicate.
Mohamed Saleh, an engine operator aboard an Armin Darya ship christened Mv Al-Noor that was intercepted in 2014, has denied any knowledge of the drugs found in the vessel.
Mr Saleh told Chief Magistrate Martha Mutuku yesterday that the ship was carrying white cement destined for Zanzibar from Iran.
"It's common sense that if there were any impurities in the fuel, the ship would not run," said Saleh during his defence hearing.
Saleh was charged alongside Yousuf Yaqoob, Yakoob Ibrahim, Saleem Muhammad, Bhatti Abdul Ghafour, Baksh Moula and Pak Abdolghaffer.
Saleh and his co-accused were denied bail. They have been in remand since 2014.
Also charged are three Kenyans–Khalid Agil Mohamed, Mohamed Osman Ahmed and Maur Abdalla Bwanamaka.
The nine were charged with trafficking 377.2 kilogrammes of heroin valued at Sh1,131,672,000 in granule form on July 3, 2014. They also face a charge of trafficking in 33,200 litres of heroin worth Sh189 million.
Yesterday, while being cross-examined by lawyers Oluanda Obala, Jared Magolo and Soni Muthee, Saleh said the Iranian ship never developed any mechanical problems throughout the journey from Iran through Dubai to Mombasa and only stopped to refuel in Mogadishu.
Saleh told the court that despite being in control of the engines, he had no access to the fuel tanks where the narcotics are alleged to have been found by the Kenyan Navy and police.
According to Saleh, the vessel was seized by a naval ship in open sea off the Kenyan and Somalia territorial waters.
He denied allegations by prosecution counsel Alexander Muteti that the ship was in Kenyan waters and was destined for Mombasa port to offload the drugs.
"We were intercepted by a warship of the USA or French navy. The soldiers boarded the ship and proceeded to talk to the captain and left. Soon after, the Kenyan Navy came and asked us to follow them to the port of Mombasa," said Saleh.
The vessel was blown to pieces in the Indian Ocean on President Uhuru Kenyatta's orders in August 2014 despite existing court orders to have it preserved.
Saleh said the 12 crew members never had the chance to see what was being extracted from the ship's fuel tank by the police after it docked at the port of Mombasa. They also did not show the court their working stations inside the vessel.
In his defense, Kenyan clearing and ship agent Khalid Agil Mohamed said he was innocent and that he was implicated in drug trafficking because he was contacted by a foreign number from Dubai looking for a clearing agent to sell white cement in Mombasa.
Mohamed said he declined to take up the ship because it had already docked at the port of Mombasa without a 14-day notice as per Kenya Port Authority regulations, and it had been seized by the maritime police.