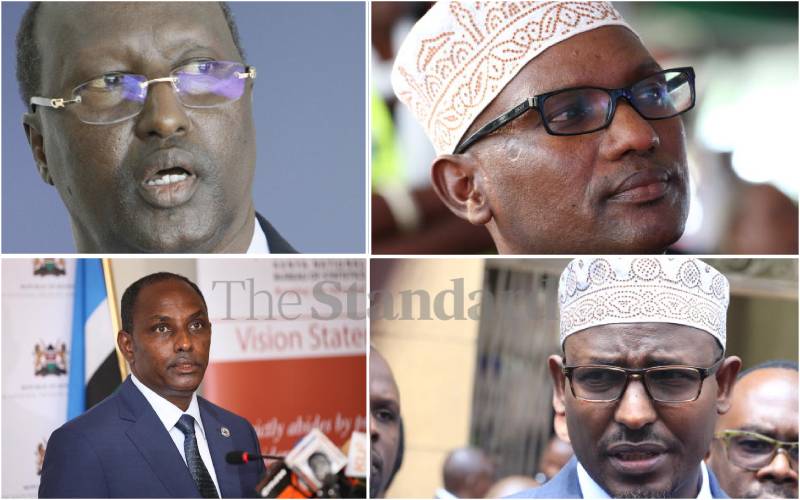 Powerful council of elders from counties in northern Kenya are facing a litmus test as they seek to influence elections despite growing rebellion against 'negotiated democracy' used in the past.
The decision by elders to settle on certain candidates to contest for various elective seats has led to rejection of some of those endorsed by politicians who feel left out.
Women politicians have also raised questions, alleging that they are being sidelined under the negotiated democracy arrangement.
They have criticised what they termed as "an on-going practice where male elders hold meetings to distribute political seats among clans and communities."
In the past, decisions made by the councils have influenced and guided voting patterns in the region. They have, however, also been defied in some instances.
In Isiolo County, the Borana Council of Elders recently endorsed former Governor Godana Doyo to contest for the seat in the August 9 elections.
Doyo, who seeks to unseat incumbent Governor Mohammed Abdi Kuti, was endorsed by two groups; his Jima Clan endorsed him late last year and last week the Borana Council of Elders followed suit.
In Wajir County, elders from the Mantaan Clan have given their blessings to former Governor Ahmed Abdullahi while another group has endorsed Mohamud Abdikadir Abdille.
The decisions triggered the formation of the Wajir Women Council, a group protesting against the rejection of applications by women seeking nomination for Member of County Assembly (MCA) seats.
The group now plans to mobilise women to reject negotiated democracy, which they say is "unconstitutional and a barrier to women".
"We have never requested for the position of MP or governor. We requested for the lowest space and that is MCA. Time and again, they did not want to receive our applications," said Rukia Abdullahi, Chairperson of Wajir Women Council.
A member of the women's council, Halima Bachola, said: "We have over 30 wards and we have never had a woman elected in any of them. This time, we want to support each other and see women in the county assembly in the coming elections."
Other critics of negotiated democracy include governor hopeful Ugas Sheikh Mohamed, who described it as archaic and which he blamed for poor development in the region.
The system has also been criticised for marginalising the youth who make up a big chunk of the region's population.
"Young people have been side-lined and have been at the periphery of all these processes just because it is the elders deciding," said MCA hopeful Said Hashi.
In the run-up to 2017 election, Mandera Governor Ali Roba vied against advice from the elders. The elders had settled on Hassan Noor, now the Education Chief Administrative Secretary. Roba won. The clan has this time settled on Mandera Speaker Mohamed Khalif. Noor has protested against Khalif's endorsement and indicated he will defy elders and run under the Upya Movement, a new formation led by National Treasury CS Ukur Yattani.
In Garissa, the Abduwaq Council of Elders has endorsed Governor Ali Korane for a second term.
A total of six sub clans from Fafi, Dadaab, Ijara, Garissa Town, Balambala and Lagdera - endorsed the governor to complete his development agenda for the county.
However, Major (Rtd) Dekow Mohamed Barrow, who is eyeing the seat, has rejected the endorsement. Barrow described Korane's endorsement as skewed and meant to promote the interest of one man over the interests of Garissa people.