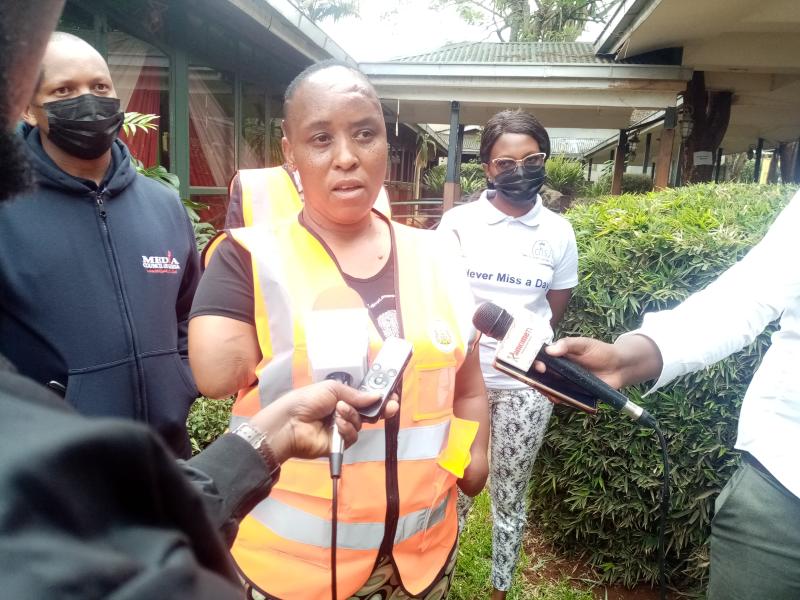 Rhoda Wairimu, a mother of two, has been a second-hand clothes trader in Karatina town for over 13 years.
On most days, she is hawking her products from one stall to another, trying to make ends meet for her family.
Wairimu drapes a shawl over her shoulders to keep the stares of strangers from her hands - not because she is ashamed of the way they look but to avoid them being a distraction from what she is selling.
As a gender-based violence survivor, Wairimu never misses an opportunity to speak about how she survived a savage attack from her husband of 10 years back in 2008.
This year, she was one of the invited guests at a Nyeri County sensitisation forum for men on how they can prevent gender-based violence.
Her head bears deep scars, but it is after peeling off her shawl that one can see the extent of the attack: her arms were chopped off by her then husband David Waita in a fit of anger.
"I wasn't born like this and many people may wonder what happened. My advise is to them is to be careful about who they choose as a life partner and to flee at the first signs of red flags," she noted.
She narrates her story of survival, occasionally overcome by the emotion of what happened to her on September 11, 2008.
"To be honest during our 10 years of marriage, we had our ups and downs, but never did I imagine that me questioning him for coming home after two days would lead to this," she explained.
He left home the next day without uttering a word and when Wairimu's sister, came over to visit they both headed out to Karatina town together from her home in Kiamabara village.
"On our way there, we met a woman who was struggling to carry a sofa to the bus stop. We offered to help. Apparently, my husband spotted me and assumed I was moving out of the house and leaving the marriage," she recalls.
After her day at work, Wairimu went home to take care of her children as was their routine after school. She found her husband home. He sent their 9-year-old son out to buy some milk and a snack for afternoon tea.
"I was surprised to find him at home but thought nothing of it. I went to the bedroom to lie down. He walked in shortly after and asked me where I am going and if I was leaving him," Wairimu narrates.
Before she could answer, he swung a machete and slashed her on the head. In shock, she lifted her hands to protect herself and this caused deep wounds on her hands.
On hearing the commotion, their four-year-old daughter rushed into the room and pleaded with her father to stop hurting the mother.
He instead flung the child across the room and walked out of the house, locking the two inside.
When neighbours came to her rescue, they rushed her to Karatina Level 4 hospital. The hospital referred her to Nyeri County Referral hospital where she would spend more than six months, two of which she was in a coma. Later on, she was sent to Nairobi Women's Hospital after her condition deteriorated.
After close to a year in various hospitals, going through different surgeries to save her life, she miraculously pulled through.
"I was lucky to be alive because I underwent even a brain surgery due to my injuries. All I could do was try to come to terms with my condition. I had to learn how to live without my hands," she said.
Relearning simple tasks such as how to dress and eat was a Herculean task but with the support of her family and friends, she regained the ability to independently care for herself and her two children.
"Before I learned how to light a matchstick to cook, I used to pour my tea in a cup and place it by the window sill then wait for the sun to warm it for me," she recalls.
With a smile on her face, a jovial personality and booming voice, Wairimu laughs at how far she has come.
"The joy of being able to live with my children again and provide for them what little I can earn from selling clothes is what keeps me going," she said.
For Wairimu, uncontrolled anger is one of the reasons her husband attacked her. "People who are unable to manage their anger need to be warned that their consequences have actions, sometimes irreversible."
She warns that the red flags were there but she overlooked them in the hope that things would improve.
"He would have outbursts of anger and was very secretive. When he got a phone call, he would leave the house which made me suspicious, but I wish he had just walked away instead of waiting for things to change. And now look, he tried to kill me," she said.
On December 1, The Standard reported that Waita's appeal was dismissed for the second time by Court of Appeal judges Wanjiru Karanja, Patrick Kiage, and Jamila Mohammed.
He is currently serving the life sentence since 2016 after he was found guilty of attempting to kill Wairimu by severely hacking her head and hands, leading to amputation.
The particulars of the offence stated that Waita attempted to kill his wife by hacking her several times on the head and hands and locking her in the house at Muthua estate in Karatina, Nyeri on September 11, 2008.
For now Wairimu is taking one day at a time and never shies away from preaching that there is life after gender-based violence.