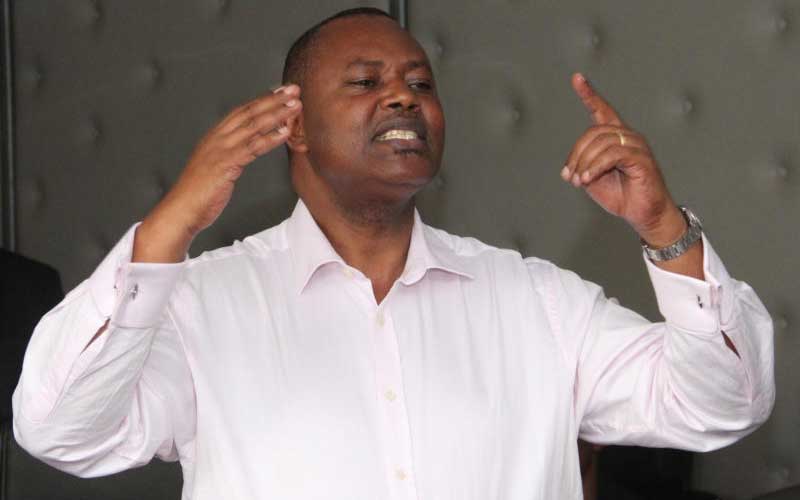 Directorate of Criminal Investigations (DCI) boss George Kinoti
(pictured)
has vowed to reopen old corruption cases if new evidence is found. Speaking in an interview on Saturday, Mr Kinoti said no amount of intimidation would stop police from reviving and investigating afresh old corruption cases. He reiterated that the investigations were not meant to target individuals. Instead, he said, they are targeted at thieving cartels who have looted the country dry.
SEE ALSO: Probe on Mathira MP ropes in late Nyeri governor
Investigating plunder
"We are investigating plunder of public resources. We are not targeting anybody," said Kinoti, adding: "For a long time gangsters have turned Kenya into a playground for graft." His assertions come a few days after Deputy President William Ruto's lawyers questioned the DCI for reviving an old case involving him. Dr Ruto was charged with fraud over the sale of ungazatted forest land to Kenya Pipeline Company (KPC). The land transaction was worth Sh272 million.
SEE ALSO: Another Ruto ally booted from helm of parliamentary caucus
He was acquitted in 2011 for lack of evidence. "Today we can revive a case that was long thought dead and buried, thanks to our magnified forensic lenses," said Kinoti. "Unfortunately, some people are accusing us of revisiting cases that were in court 20 years ago. They thought a day will never come when we shall go for them." He noted that there was is no law forbidding police from conducting fresh investigations into the KPC land deal. Kinoti defended his record at the helm of the DCI, saying no case had collapsed since he took office. "People who say we forward weak cases to the public prosecutor should show me a single case that has collapsed under my watch," said Kinoti.
SEE ALSO: What's next for Ngumi: I don't appoint myself and I don't lobby for positions
He, at the same time, commended the formation of the Professional Criminologists Association of Kenya (PCAK) saying it was godsend.
Police challenges
He said PCAK had come at a time police were facing a myriad problems, some which could not be solved since there was no recognised body to raise them on their behalf. "We never had a body that defends us whenever we are hit left, right and centre. Going forward, PCAK shall defend and speak for us," said Kinoti. The association headed by Munene Mugambi aims to contribute to effective crime prevention and management practices. In the KPC case, a team of detectives based at the DCI has summoned directors of companies involved in the land case as well as lawyers who handled the transaction. Directors of four companies, Berke Commercial Agencies, Priority Ltd, Celtic Multisystems Ltd and Somog Ltd have all been questioned. Ruto's co-accused Joshua Kulei and Sammy Mwaita, were also acquitted. Mr Kulei was accused of receiving Sh58 million from KPC, while Mr Mwaita was accused of abuse of office. In their 2011 acquittal, Nairobi Chief Magistrate Gilbert Mutembei said the prosecution failed to prove that the accused individuals received the money from KPC.
Four companies
Directors of Priority Ltd, a company associated with Ruto, were on January 20 grilled at the DCI headquarters. Paul Chirchir, one of the directors, visited the DCI accompanied by his lawyer Katwa Kigen. Mr Chirchir recorded a statement but asked for time to consult his lawyers. Mr Kigen confirmed he accompanied Chirchir to DCI offices for the grilling. He said in principle they had reservations about reopening of a case that had already been concluded in court. "Officers from DCI, particularly Chief Inspector Patrick Maloba, asked for my clients and we turned up with a director, Mr Paul Chirchir, on Monday," Kigen said. He disclosed that the officer explained that they were reviewing the case No 973 of 2004, which was investigated and prosecuted by the Criminal Investigation Department (CID), and ended with an acquittal in 2011. A source who asked not to be named said a number of individuals had been lined up for grilling.
To be interrogated
A High Court Judge is also listed among those likely to be interrogated. The judge's law firm carried out 32 transactions on behalf of Transnational Bank. A total Sh272,278,780 was allegedly paid out by KPC in three installments. Sources said the judge is key in the new probe. Ruto was first charged in 2004 but he never took a plea. The DP who was then the Eldoret North MP was alleged to have received Sh96 million at intervals from KPC. He moved to the High Court seeking the dismissal of the criminal case on grounds that his rights were violated. The case stalled at the magistrate's court until October 15, 2010, when a Constitutional Court ordered that he faces trial. Four days after the Constitutional Court order, Ruto was suspended from the Cabinet.
Drafting the charges
"The contention of selling land without being procedurally excised from Ngong Forest was the basis of drafting the charges," said Mr Mutembei."The letter to hive off the forest land was signed by the then forestry minister and 33 parcels of land allocated to various companies. The consent to hive off part of the forest was obtained from the Commissioner of Lands." He added: "The prosecution failed to produce in court the then KPC Finance Manager Hellen Njue to give her evidence on how she paid out the money. It is, therefore, clear that none of the accused ever received money from KPC. The prosecution has failed to prove its case. Therefore, all the accused persons have no case to answer." A former land surveyor at the Ministry of Lands who handled the matter, and who was only identified as Wayumba, was in December grilled by police in relation to the controversy. He told investigators he only executed his professional duty after being given the requisite documents.