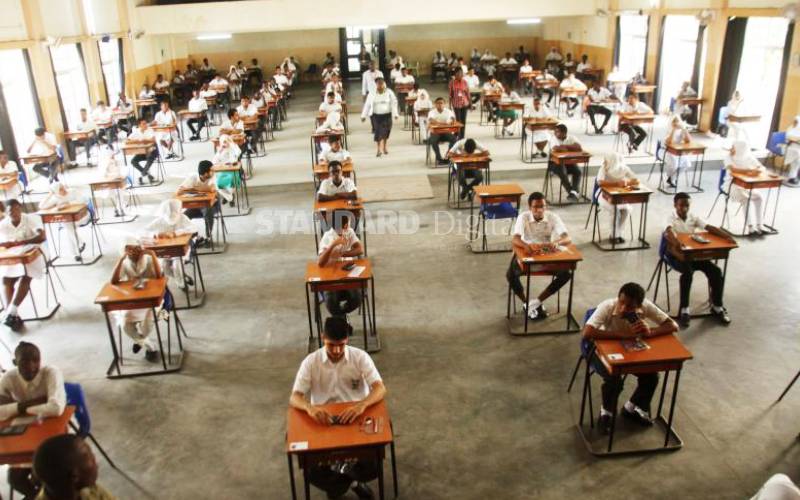 Three Cabinet Secretaries will meet today for preparations to secure national exams as authorities announced tough penalties for cheating culprits in this year's examinations. The Kenya National Examination Council (Knec) yesterday warned its staff and the public against abetting cheating in the upcoming national examinations. In an interview with The Standard yesterday, Knec Chief Executive Officer Mercy Karogo said the provisions of Knec Act on penalties were clear.
SEE ALSO: Publishers have two weeks to re-submit CBC course materials
"A member, officer, agent or staff of the council whose omission or commission leads to an examination irregularity commits an offence and is liable, upon conviction, to imprisonment for a term not exceeding five years or a fine not exceeding Sh5 million, or both," said Dr Karogo.
Planning meeting
The warning comes as Interior Cabinet Secretary Fred Matiang'i and his Education counterpart George Magoha are set to hold a high-level examination planning meeting today. Information and Communication (ICT) Cabinet Secretary Joe Mucheru and Teachers Service Commission (TSC) secretary Nancy Macharia will also attend the multi-sectoral team meeting at the Kenya School of Government. The Standard established that during today's meeting, new padlocks and keys to the metallic containers where the examination papers will be stored will be handed over to regional security officers. Some 479-strong metallic containers will be used for storage of examination papers in 338 sub-counties.
SEE ALSO: Union sets fresh conditions for new school term to start
Five police officers will be assigned to every container, with two officers working during daytime and the other two taking over at night. One supervisor will be in charge of the four officers per container. Today's meeting will mark the start of this year's examinations season. Knec investigations report unearthed cases where institutions were found to be planning to station subject teachers in school to help in cheating. In some schools, teachers are planning to markup KCPE examinations papers for candidates. In others, parents are already collecting money to facilitate early exposure of examinations. In total, some 315 schools have been flagged and put on high security watch over plans to cheat in this year's tests. Speaking to The Standard yesterday, Karogo said unauthorised possession of an examination paper, material or information will attract a penalty of imprisonment for a term not exceeding 10 years, or a fine not exceeding Sh2 million, or both. She said huge penalties also awaited those who would negligently or willfully assist or cause any candidate to obtain or gain unauthorised possession of any examination paper, material or information. "They will be liable to imprisonment for a term not exceeding 10 years, or a fine not exceeding Sh2 million, or both," said Karogo. Karogo also cautioned school heads against changing the examinations number, photograph or other identification of a candidate or altering the records of the council with regard to an examination. "These will attract imprisonment for a term not exceeding five years, or a fine not exceeding Sh1 million, or both," said Karogo. And for examination officers who cause loss and misuse of examination paper or material or destroy examination materials or facility, a similar penalty will be meted. Impersonation and copying at an examination will also be punished by imprisonment for a term not exceeding one year or a fine not exceeding Sh2 million.
Maybe prohibited
The candidates may also be disqualified from taking the entire examination and if the person has already taken a paper, it shall be cancelled by the council and maybe prohibited from taking an examination for a period not exceeding three years immediately after commission of the offence. Prof Magoha said the multi-sectoral approach of management of examinations was still active and cautioned anyone against breaching relevant rules. "The script of managing the examinations this year will contain a few enhanced measures aimed at sealing minor loopholes that criminals attempted to use last year to introduce cheating, mainly at the KCSE examination," said Magoha. Knec investigations on 2018 examination cheating identified collusion as the prevalent method used by candidates. Candidates answer scripts had similar errors in calculations. Some had correct responses after incorrect working, while some had similar wordings and numerous identical corrections.
Identical readings
Other forms of collusion were cases where candidates had identical readings in science practical and cases where answers were copied from textbooks or notes or answers prepared outside the examination room. Today's meeting will be the culmination of a series of engagements Knec has held in the past few weeks. Last week, a team of about 500 examination monitors met in Nairobi to be briefed on various ways of mitigating cheating. Inspector General of Police Hillary Mutyambai, directors of national security agencies, regional police service commanders and examination officials attended the meeting.