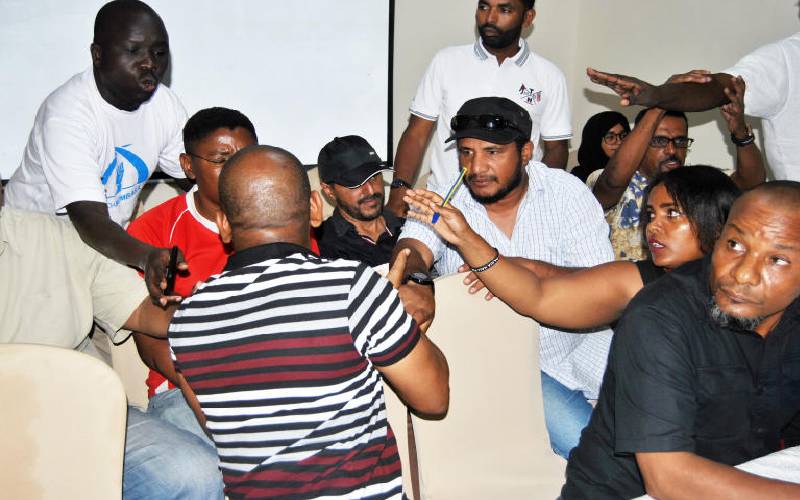 Coast
Activists want the suspended SGR order rescinded, saying it is illegal and will impoverish Coast region.
Kisauni MP Ali Mbogo was forced to cut short his speech after saying President Uhuru Kenyatta was concerned with the SGR cargo handling stalemate with the activists demanding that he leaves the venue. Ugly scenes played out during a press conference called by a caucus of civil society activists and transporters to demand the actualisation of an order to stop forcing importers to haul cargo from Mombasa Port via the Standard Gauge Railway (SGR) line. ''We are not here to congratulate anyone especially the President whose government is stifling Coast traders through this illegal directive that has no basis in modern-day world,'' said an agitated Organising First Business Community organising secretary Harriet Muganda. Mbogo had not even finished his speech when Muganda interrupted him and told him off over his utterances sanitising the government.
SEE ALSO: Why Uhuru could use new advice on ailing economy
He had told those present that the government was committed in resolving the matter over SGR directive and should be given time to act on the issue. '' We never invited you in the first place. We shall not allow this meeting to be a praise rally,'' said Muganda. Muslim for Human Rights (Muhuri) chairman Khalef Khalifa said that MPs can choose to talk to the government but they (civil society) will not renege on their campaigns for justice and that their protest marches will continue tomorrow as earlier planned. ''We do not want to be told that the government is concerned. They know what they have done and know everything. The order on SGR is an executive one and you should not lie to us that the President is concerned,'' said Khalifa. Mbogo who spoke before Mombasa Senator Mohamed Faki and Mvita MP Abdulswamad Shariff said they held a fruitful meeting at Harambee House, Nairobi with Cabinets Secretaries Dr Fred Matiangi, Dr James Macharia and Mombasa Governor Ali Hassan Joho over the SGR directive.
SEE ALSO: The fact that Duale said Uhuru is planning to betray Raila is enough grounds for him to lose his seat — Ngunjiri Wambugu
Philip Jagero, in charge of legal affairs at the First Business Community, said they are contemplating seeking legal redress against the government for initiating economic atrocities against the people of Mombasa and its environs. "The illegal SGR orders have not only served to deprive the Mombasa business community of business, work and income," said Jagero.
CS sacking
Jagero said that Mbogo was completely out of order and his utterances unacceptable. "We demand that the office of the Director of Public Prosecutions (DPP) take immediate action against CS Macharia, Kenya Revenue Authority (KRA) Commissioner General and Kenya Ports Authority (KPA) managing director for economic atrocities committed against Coastal business communities," Jagero added.
SEE ALSO: Kilifi's virus figures raise queries as testing stops
The civil society activists rubbished the suspension of the SGR order alleging that while they welcomed the announcement, it remained illegal, therefore should be rescinded altogether. ''We are sceptical of the long term effect of CS Macharia decisions, given that the original suspension of the order was issued in early August and ignored for two months until protests forced the government's hand,'' the activists said in a statement. They further stated that they were fed up with CS Macharia's blunders in the critical docket and demanded his immediate resignation. '' He is incompetent and should not hold any public office,'' they said.