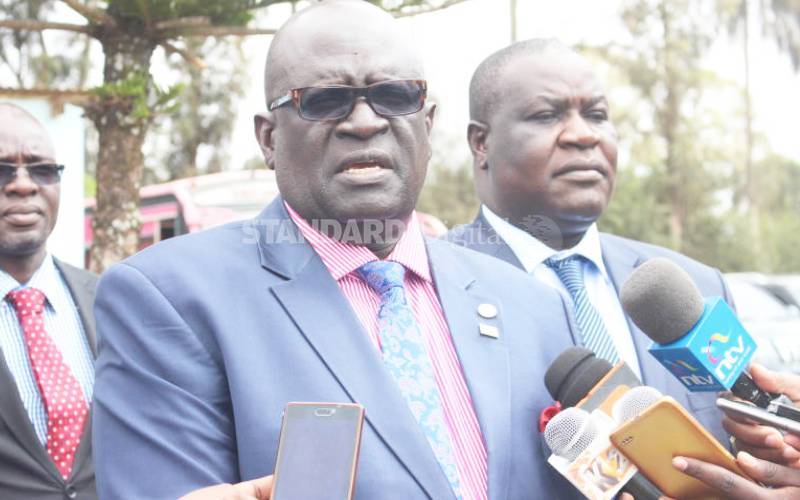 Education
Education CS George Magoha has refuted claims of anxiety, confusion, and unpreparedness ahead of the national assessment test slated for Monday 16.
Education CS George Magoha has refuted claims of anxiety ahead of the national assessment test for Grade Three learners. The 1.3 million children will start the test on Monday. The CS said the assessment is not an exam, but a determinant of learners' abilities acquired since they were enrolled in the Competency-Based Curriculum two years ago. The new curriculum is focused on child development and stop the exam-based culture.
SEE ALSO: Why quality must override delivery in homeschooling
The first Kenya Early Year Examination assessment will include Mathematics, English and Swahili. Magoha was in Thika today, when he visited Joy Town School to monitor students' preparedness. The CS said complaints from teachers that schools cannot bear the cost of printing, photocopying and distributing the papers to the learners are unjustified. He said the test can be written on the blackboard. Magoha added that the assessment expected to end on Friday will continue until the end of the term.
SEE ALSO: Parents challenged to help children learn while at home
"It can be written on the blackboard so you don't need to photocopy many copies."
Preparedness
A spot check by KTN News in Western showed most schools are well prepared. However, reports indicated some head teachers are unaware of the option to download the test from the Kenya National and Examination Council portal. Immaculate Oundo, a facilitator of Grade Three tests in Mumias East, said the region is not facing any challenges.
SEE ALSO: MPs pass Sh11 billion pay rise for teachers
Booker Academy principal John Mark Ondera urged teachers to undertake the assessment positively. "The head teachers should encourage their teachers," said Ondera.
Results uploaded
Knec has started receiving uploaded results of the application assessment test that started on July 12 and ends tomorrow. Learners were required to clean markets in their locality.
SEE ALSO: What awaits learners when schools reopen
Magoha added, "At Knec we have received a lot of results with regards to the integrated activities." Booker Academy head teacher Tom Omuhaka says they have sent their marks to Knec. "We have marks for the market cleaning in Mumias and we have already sent them to the Knec portal," he said.
CBC and the disabled
Briefing reporters at Joy Town, Magoha said disabled children have had challenges with the new curriculum.