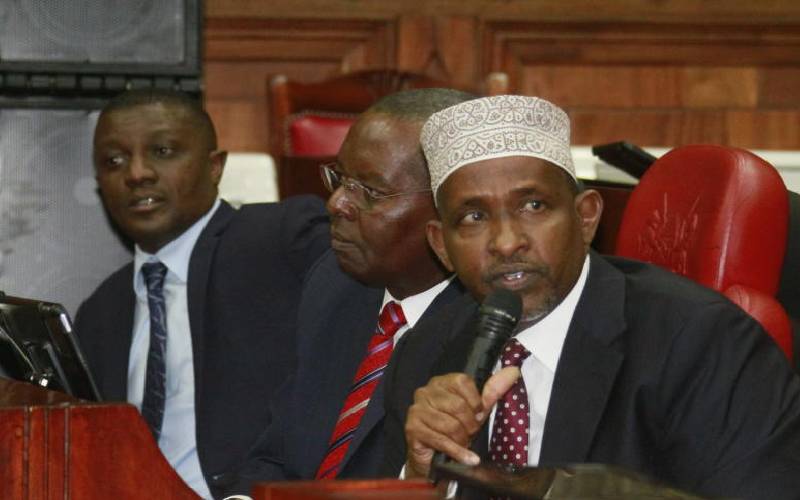 Nairobi
National Assembly sticks to Sh316.5 billion it had proposed earlier, while Senate insists on Sh335 billion.
The cash crisis in counties that has sparked strikes over salary delays is likely to persist after a lawmakers' meeting convened to negotiate a settlement ended in acrimony. The first sitting of the mediation team on the contentious Division of Revenue Bill, 2019, ended acrimoniously yesterday after it degenerated into a shouting contest among the MPs. Members of the National Assembly and their counterparts from the Senate engaged in bitter exchanges in a nearly two-hour session also punctuated with banging of tables. Senate Finance Committee chairperson Mohamed Mahamud adjourned the sitting after the lawmakers refused to listen to each other.
SEE ALSO: I will not take up positions at the expense of colleagues humiliated for no reason — Murkomen
Signs that the sitting was headed for another stalemate began to show immediately the session kicked off, with Nairobi Senator Johnson Sakaja describing the session as "moving very fast in the wrong direction." Makueni Senator Mutula Kilonzo Jnr also warned that there would be no solution to the standoff if MPs proceeded with accusations and counter-accusations. "People go into mediation not holding guns and if the figures are cast in stone then this mediation has failed. I can tell you that we cannot proceed if we continue in this manner," said Kilonzo Jnr. National Assembly stuck to the Sh316.5 billion it had proposed during the previous mediation, while Senate insisted on Sh335 billion for the devolved units. The National Assembly team led by Majority Leader Aden Duale said the country would face a budget deficit of Sh25 billion if the demands were met.
SEE ALSO: Murkomen rejects new Senate post, tells Jubilee to keep it
Mr Duale said all the monies had been appropriated and for the demands to be met, it would require budget cuts to the three arms of Government through a Supplementary Budget. But the Senate team argued the issue of deficit should not arise in the discussions since budget should come after division is done by Parliament. The senators also demanded that part of the money allocated to the Health ministry be reverted to counties as grants since the function is devolved. The disagreement signalled yet another dead end in the contentious issue that has dragged on, occasioning near paralysis in the counties after workers downed their tools. At one point, Senator Okong'o Omogeni (Nyamira) stood and banged the table in protest to a contribution by nominated MP David ole Sankok.
SEE ALSO: Viral DP Ruto's impeachment motion fake, says House Clerk
The two spoke at each other concurrently for more than a minute causing confusion as other MPs called on the chairperson to end the session. Mahamud also found himself at the receiving end after National Assembly Minority Leader John Mbadi accused him of not listening to their proposals. Mr Mbadi said there would be no reason for them to convene again next week if they could not make any progress after sitting for close to two hours. Earlier, Duale said the allocations can only be altered through a Supplementary Budget since the monies have since been appropriated. He suggested that the 18-member team invite Treasury, Registrar of the Judiciary and clerks of the two Houses to agree if they are ready for budget cuts.
SEE ALSO: New whip Kang'ata a stickler for rules
"Our bone of contention is where do we get the additional money. We have a deficit in our budget already with the Sh316.5 billion for the counties. "The money has been appropriated and it can only be adjusted through a Supplementary Budget. Let us not engage in a pedestrian argument but based on figures," said Duale. Mbadi dismissed Senate's argument of cutting allocations of some ministry, stating that national budget was a preserve of the National Assembly. He, however, admitted that counties were suffering because of the stalemate that has occasioned salary delays.
Additional money
SEE ALSO: Bunge Chronicles: Battle of wits and egos envelopes Kindiki's exit
MP Amos Kimunya said senators should tell the country the source of the additional money they are pushing for the counties. "If you can convince us sources where you tend to get this extra billions then we will agree because any increase in expenditure must be met by an increase in revenue," said Munya. But Sakaja said the issue of budget deficit should not arise since Parliament was expected to allocate monies before various arms can budget with what is allocated to them. "The issue of deficit is fundamentally flawed because it is until Division of Revenue is done by Parliament that various arms of government budget," he said. Senator Ledama ole Kina said Health Ministry was allocated close to Sh90 billion when the function was devolved.