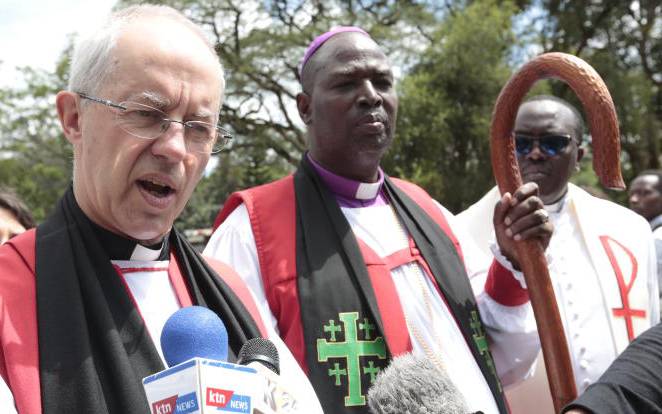 Nairobi
We will not ordain same sex marriage but gays are welcome to our church, says ACK leaders.
The Anglican Church has declared it will not officiate same sex marriages. The stand comes just weeks after the High Court in Kenya declined to declare unconstitutional some parts of the Penal Code which criminalises same sex relationships. Today, Archbishop of Canterbury Justin Welby from the Church of England said the Anglican Church believes in the biblical definition of marriage and relationships. He however noted that with the modern world, Christians should learn to respect each other's differences in order to preach God's word.
SEE ALSO: Kenyan athletes stranded in India arrive home
He said there exists so many differences in the world that the church has to deal with. "My own view of the Christian marriage is the traditional marriage (between a man and woman),'' said Welby who is in the country for a visit. Welby steered clear of the Kenyan court ruling, which is the latest upset of the global gay community saying he is not fit to directly comment on it. "But just so you know in England, it is not currently possible to have same sex marriage in the church," he said. Same sex marriage is however legal in England.
SEE ALSO: How Floyd's killing is reflective of the sad reality in our Kenyan backyard
Welby made the remarks after a morning service at the All Saints Cathedral in Nairobi accompanied by Kenya's ACK Archbishop Jackson Ole Sapit. Sapit said as a church, they will keep their doors open to all sorts of people no matter their backgrounds referencing on Romans 3:23 that says 'all have sinned and fallen short of God's glory'. He however maintained that despite modernity, the church will stick to the teachings of the Bible. "We cannot conduct same sex marriage in our church as that will mean we are promoting it. Let them (gay community) come and be preached to that what they are doing is wrong. Sapit said the church will act as a 'correctional facility' for all persons involved in what is Biblically wrong and unconstitutional.
SEE ALSO: Twitter disables Trump video tribute to Floyd over copyright complaint
'But having them walk down the aisle or ordain them is wrong," he said. He said on top of condemning ungodly vices same sex relationships, the church will do the same with corruption. Welby has invited all active Bishops with their spouses to the Lambeth Conference in 2020 at Lambeth Palace in England. The invitation was open-even to bishops who have announced they are gay. However, Sapit has said that no Kenyan bishop will attend the conference until the name of the said bishop from Canada is struck off the list.
SEE ALSO: Is late night snacking all that bad?
Bishop Kevin Robertson from Canada married his partner Mr Mohan Sharma in December 2018. Welby acknowledged how Sapit has been vocal on matters corruption saying his example of speaking clearly and professionally on the vice is admirable. He noted that the last time he was in the country in 2017, Kenya was at a precarious state and still recovering from the general election. He commended the decision between President Uhuru Kenyatta and Former Prime Minister Raila Odinga to shake hands for the sake of peace, "I do admire and appreciate the way the country is moving forward after a difficult period," he said.
SEE ALSO: Picture power: Protests over murder of George Floyd linger across US