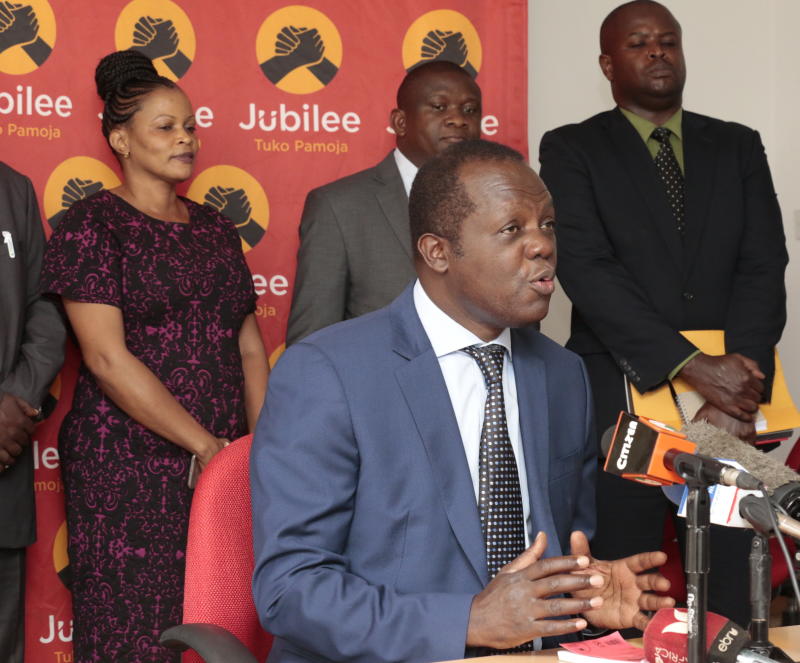 Politics
Divisions in Jubilee over Elmi withdrawal in Wajir West
Jubilee Party now says the withdrawal of ODM from the Wajir West by-election was brokered by President Uhuru Kenyatta and Opposition chief Raila Odinga. Yesterday, Jubilee Secretary General Raphael Tuju (pictured seated) said the decision was made by the top leadership of the two parties in the spirit of the March 9 "handshake". Mr Tuju said it was a goodwill gesture from Raila, after the ruling party's previous decisions to pull out in mini-polls in the Opposition's favour. Tuju's statement, however, appeared to discredit Deputy President William Ruto's perceived role in the surprise move by the ODM candidate Mohamed Elmi to quit the race and subsequently join the ruling party.
SEE ALSO: Senator vows to back Uhuru, tells off critics
It also contradicts pronouncements by Prof Elmi that his decision was informed by demands by his Degodia clan and nothing to do with the ODM party. Elmi, on Tuesday, announced his decision to quit the April 24 race in the company of Dr Ruto at the DP's Karen home. Conceded defeat Ruto's ally and National Assembly Majority Leader Aden Duale said ODM had conceded defeat before the actual poll over fears of suffering another embarrassment after the Ugenya and Embakasi South losses. "It's a free fall for ODM. They lost in Ugenya and Embakasi South. Now they have conceded an early defeat in Wajir West. The 'hustler' influence is real," tweeted Mr Duale.
SEE ALSO: Uhuru: Why I cannot wait
In a thinly veiled attack on Duale's assertions, Tuju said: "Leaders should go beyond political contests and confrontations that add no value beyond some bragging rights, and instead support the handshake". He said the withdrawal was a good gesture by ODM after Jubilee's withdrawals from the by-elections in Kitui West, Ugenya and Embakasi South constituencies. "We would also like to put on record that this withdrawal by ODM follows high-level consultations by the leadership of the two parties," Tuju said. He said the decision was made in the spirit of reducing political tension and polarisation of the county, stating that there was no going back by the party in its commitment to the handshake. The withdrawal by Elmi has since reduced the race to a battle between Jubilee's Ahmed Kolosh and Kanu's Ibrahim Sheikh.
SEE ALSO: A national day like no other as Kenya celebrates self-rule amid pandemic
Also in the race are Agano Party's Abass Nunow Shihaw and LPK's Ali Noor.