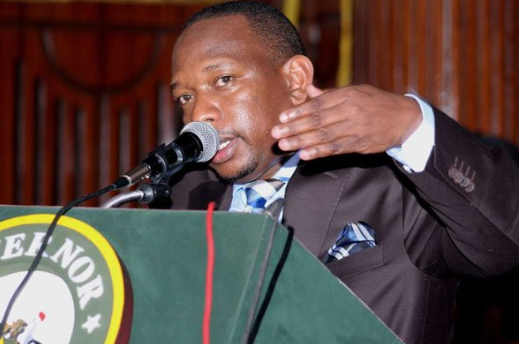 Nairobi Governor Mike Sonko (pictured) has run into trouble with senators for snubbing their invitation to appear before them to explain why he has failed to appoint a deputy. The lawmakers raised concerns about how affairs of the county are run, noting some posts of County Executive Committee members were vacant and that even the county assembly lacks a substantive Speaker. They accused Sonko of turning the City County government in to a 'one-man-show' affair.
SEE ALSO: City assembly now wants Badi's team to handle pending bills
The Devolution Committee chaired by Senator John Kinyua (Laikipia) was forced to adjourn its sitting after the Governor failed to turn up and also didn't send apologies. The senators, including Senator Johnston Sakaja (Nairobi) who were seated before 10am when the meeting was scheduled to start waited for over 30 minutes before cancelling the sitting with no word from the Governor. "We are going to send another invite to the Governor to appear before the committee. If he fails to honour the invite, we will summon him," said Mr Sakaja as he walked away. The senators argued that Governor's continued operation without substantive office holders undermines devolution and sets a dangerous precedence. "It means a Governor can decide to frustrate the deputy to resign or reach a deal to vacate office and operate without one. At the same time, without a substantive Speaker, he/she cannot be impeached by the Members of the County Assembly," said Sakaja.
SEE ALSO: This is mere witch-hunt- Sonko
The senator raised the matter in the Senate through a personal statement and called for a speedy intervention. He said the city county is run by a government not properly constituted as stipulated in law. The lawmakers want the Governor to be called to order for running his administration without a deputy since Polycarp Igathe resigned 15 months ago. Igathe resigned in January last year after he differed with Sonko. Also, they criticised Sonko for only working with only five CECs as opposed to the ten envisaged in the law.