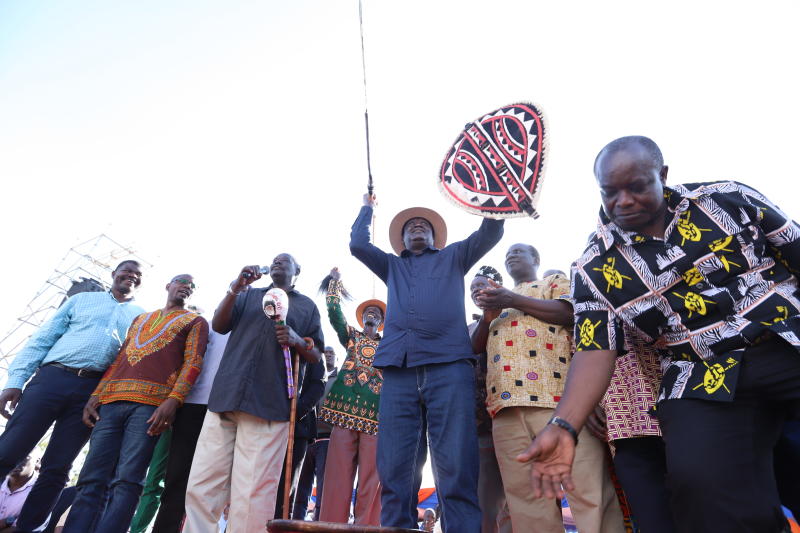 Opposition leader Raila Odinga has thrown the country into a political spin after he hinted he was no longer keen on presidency in 2022.
In a Christmas Day message to his supporters, Raila told off those fronting his name for presidency.
He said his main focus at the moment was to work with President Uhuru Kenyatta to actualise the March 9 handshake deal, and not on succession politics.
"I have never said I want to run for presidency in 2022. I have not said it and I will never say it, so I want those people to give me a break. I am not a candidate," said Raila.
But the former Prime Minister added a rider that could further confuse his supporters, saying the 2022 politics would be discussed at the right time.
"We will deal with some of these issues when the right time comes," he said.
Heir apparent
Raila's political aides insist he is the heir apparent given his newfound friendship with President Uhuru Kenyatta.
Uhuru's two-day visit to Nyanza last week, during which he met Luo leaders and paid homage to Jaramogi Oginga's mausoleum, Raila left tongues wagging as political analysts speculated the birth of an alliance.
In a rare show of friendship, Uhuru also had an early breakfast at Raila's Opoda farm, during which they held private talks on the country's political future.
An Orange Democratic Movement (ODM) MP who was privy to the talks later told The Standard in confidence: "We have watched their body language. We have listened to the President and we have concluded that this handshake is real. This friendship is genuine. What we don't know is what comes next," said the MP from Siaya County.
In government
The March 9 political truce with Uhuru has placed Raila at the centre of power, with some analysts saying the ODM leader could be having a role in the management of the Government.
During his visit to Kisumu, Uhuru appeared to confirm this when he said at Ahero township: "Ndugu yangu Raila and myself, tuko kwa serikali. (My brother Raila and I are firmly in Government)".
The President also hinted at the need to change laws to usher in a parliamentary system of government to end the winner-takes-it-all system that he said was responsible for violence after elections.
During the visit, Deputy President William Ruto, who is perceived to be against the Uhuru-Raila handshake, declared his support for the new found friendship. Recently in Bungoma, the DP, however, verbally attacked proponents of a referendum and accused them of plotting to create positions for themselves.
On Christmas day, Raila said it was not only too early for leaders to start talking about 2022 succession politics but also bad for the country. He called for an end to succession politics, saying it would put the country in a campaign mood four years before elections.
Speaking at Nyamira ACK parish in Bondo on Christmas, Raila recounted the turbulent moments the country went through after last year's General Election before he agreed to work with Uhuru.
"Last year when I came to worship here, a woman offered me a Bible to take oath, but I told her I could not do it here," said Raila.
He said there was need to continue with the process of uniting the country, one he said was in the right track.
He, however, cautioned that a lot remained unaccomplished and that 2022 succession politics risked derailing the process. Among the issues he said needed to be addressed were ethnicity, divisive elections and corruption.
"Those who have all the time to talk about 2022, give us a break, give Kenyans a break," he said.
Political agenda
Surrounded by some of his political lieutenants - his elder brother Oburu Oginga and Siaya Senator James Orengo, Raila presented a picture of a man with a completely different political agenda at a time his aides had been calling on him to try his luck at presidency for the fifth time since his first bid in 1997.
Early this month, ODM leaders, including Dr Oburu, Mr Orengo and party chairman John Mbadi, told Kenyans to prepare for a Raila presidency.
Huge support
Raila has now left millions of his supporters guessing at a time leaders from the regions where he has been getting huge support in his presidential bid have expressed interest in the top job.
Ugunja MP Opiyo Wandayi said Raila's followers would support him on whichever decision he took.
"We cannot second-guess him," said Mr Wandayi.
Alego MP Samuel Atandi, however, said it was not upon Raila to decide whether to run for presidency or not.
"Even if he doesn't want, we will tell him to be our president," said Mr Atandi.