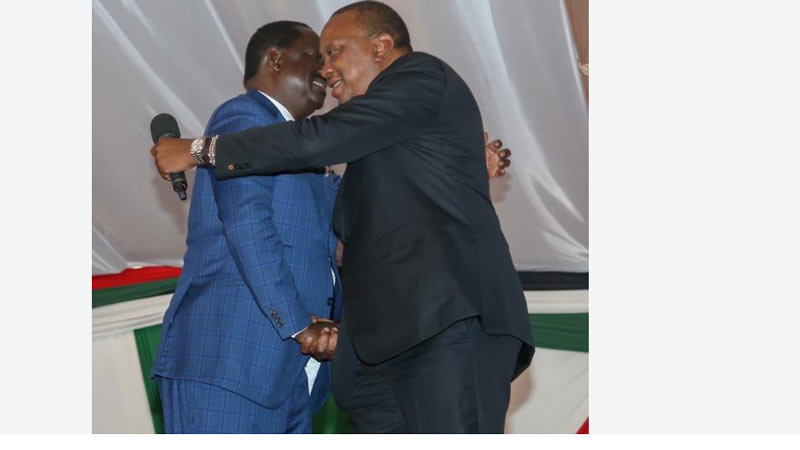 I support the "handshake" between Jubilee's Uhuru Kenyatta and NASA's Raila Odinga for one reason and one reason only – to transform and democratise the Kenyan state. One key index of that reformation must be reformulation of the legislature. In Kenya, MPs are elected to go mint money, not serve the people. That's why they've been obscenely hiking their pay every few years. This is bad enough. But it's completely nuts when you consider MPs have nothing to show for their large numbers and Mafioso-like hefty salaries. One critical issue that Mr Kenyatta and Raila must address is the size, pay, and performance of the legislature. MPs engage in legalised robbery. Let's cut them down to size. Let's look at some comparative data. I live in the State of New York – also known as the Empire State. New York has a population of 20 million with a GDP of $1.5 trillion.
SEE ALSO: Uhuru might have to reimpose lockdown
If New York were a country, it would be the 12th largest economy in the world. New York has a bicameral legislature – the Senate has 63 members while the Assembly has 150. New York's per capita income is $58,000. New York's legislators make $79,500 a year although the state – to repeat – would have the 12th largest economy were it a country. Although New York legislators have a reputation for corruption, they don't pay themselves filthy wages from the public till. Let's now pivot to the United States Congress. The US has a population of 320 million, a GDP of $20 trillion, and a per capita income of $60,000. China, the world's second largest economy, has a population of 1.4 billion, a GDP of $14 trillion, and a per capita income of $10,000. There are 535 members of the US Congress – 435 in the House of Representatives and 100 Senators. The annual salary for a US legislator is $174,000. I want you to cram these figures into your noggin so that you can fully appreciate how our MPs have become bandits and daylight robbers. They are stealing the country blind. That's why we need term limits among other reforms. Now Kenya. Kenya has a population of 50 million, a GDP of $86 billion (which is chump change compared to large economies), and a per capita income of $1,800. In the Human Development Index, Kenya is ranked 145 out of 186 in the world.
SEE ALSO: We've a golden chance to fix years of disunity
In 2017, the World Bank ranked Kenya 92 of 190 on the ease of doing business – nothing to write home about. Twenty percent of Kenyans live on less than $2 a day. Not counting the dreadful MCAs, Kenya's national legislature has 350 MPs and 67 Senators for a total of 427 national legislators. This is just 108 less than the United States which a population of 320 million has compared to Kenya's meager 50 million. Kenya's MPs – in what is essentially a pauper country – have long made more money in salary and allowances than US legislators. Recently MPs voted to raise their wages and benefits by a whopping 700 per cent. Either Kenyatta or the courts must stop this madness. To add insult to injury, Majority Leader Aden Duale recently led MPs on an all-taxpayer-funded "benchmarking" junket to Minnesota and Saudi Arabia. Never mind that Saudi Arabia – an absolute monarchy – has no real parliament to benchmark. The Majlis-ash-Shura, a possum consultative assembly to the Saudi monarch, isn't worth the name of a legislature. Is this the best use of taxpayer money the brilliant Mr Duale and his cohorts could find for our money? They must think we are idiots. Let's be clear – there can't be democracy without a freely elected and independent legislature protected by the doctrine of separation of powers. The legislature isn't a law unto itself, nor is it above the law.
SEE ALSO: Raila quietly jets in after surgery
That's why we need to remind legislators that they work for us, not the other way round. Nor do we send them to Parliament to gorge themselves on our resources and grow bellies at our expense. We need to post pictures of our legislators on social media before – and after – elections. Their girths expand exponentially to the size of the heist of national resources. They are too busy cavorting in darkness, drinking, and eating nyama choma to find their way to the gym. In a democracy, there's such a thing as over-representation with under-representation. Kenyans are clearly over-represented in the sense there are simply too many MPs. But Kenyans are also clearly under-represented because the large tonnage of MPs do absolutely nothing except rob the people. It's a double insult if you throw in the thronging masses called MCAs. The 2010 Constitution gave us many good things. But it also gave us legal thieves in county and national legislators. Let the "handshake" help us offload the useless tonnage.
- The writer is SUNY Distinguished Professor at SUNY Buffalo Law School and Chair of KHRC. @makaumutua