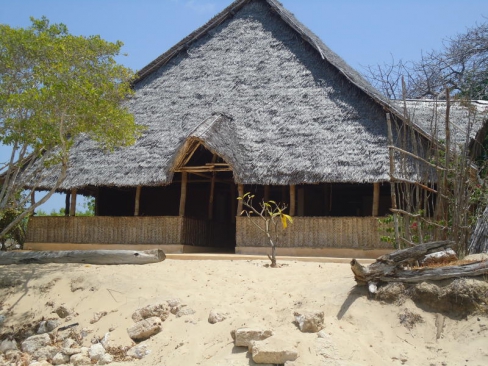 Ground zero of the Al Shabaab terror attacks on Kenya that have claimed hundreds of lives and injured legions since 2012 sits metres away from the salty laps of the Indian Ocean waves hugged by one of the finest beaches in the Lamu archipelago. Here, next to the posh Majlis Resort at Ras Kitau Bay on Manda Island and overlooking the picturesque Shela Beach that has played host to celebrities such as Monaco's Princess Caroline, Naomi Campbell and Robert De Nero sits a humdrum bungalow or banda walled with reeds and thatched with palm leaves dubbed makuti . The banda with no windows nor internal doors was until October 1, 2011, the holiday home of 66 year old Mrs Marie Dedieu, an ailing wheel chair bound French former journalist who routinely spent eight months at her adopted paradise home away from home before suspected Al Shabaab bandits abducted and sped off with her to Somalia in the wee hours of the fateful day. Her abduction and death in the hands of her captors in Somalia coming hotly in the wake of a similar attack on a British couple, David and Ruth Tebbutt two weeks earlier at Kiwayu Resort further north helped trigger the decision by the Kenya Defense Forces (KDF) a week later to pursue Al Shabaab bandits in their bases across the border and the latter's vow to retaliate borne out luridly by attacks such as Westgate, Gikomba, Mpeketoni and Mandera to mention but a few with a heavy toll of innocent lives.
Uncomfortable bumps
The Mpeketoni attacks in June, 2014 that claimed 48 lives, most of them male adults triggered off a security operation that has made travelling within Lamu County a nightmare as I witnessed recently when I set off to visit Lady Dedieu's ostensibly neglected banda where it all began. Though apprehension for no apparent reason seized me shortly after crossing the Sabaki River bridge north of Malindi, the ride was fine save for the torn tarmac with yawning holes that caused uncomfortable bumps and the punishing heat. The salt pans north of Malindi, an eroded wasteland of sandstone cliffs and precipices grabbed my attention as our bus christened Tahmeed cruised through the salt centres of Gongoni and Marereni. Life seemed to slow down after these centres as goats, sheep and camels dominated the seared landscape where dry jungles roll far and wide. Isolated crude structures that are the houses in the torrid jungle and occasional sight of ordinary looking people shuffling away or herding their animals were a welcome reassurance that the territory was not hostile. After a bone shaking five hours from Malindi, the bus stopped at Minjila junction where the road to Lamu juts off the run to Garsen and Hola. And what a relief it was to see people hawking everything from water to boiled maize, water melons and mangoes in the scorching heat! I bought boiled maize and washed it down with cold water to the accompaniment of a huge belch. But the relief was a fleeting one. I started getting curious why two other buses that had reached there earlier were not taking off and complained aloud that the stopover was unnecessarily long in the punishing heat.
Armed escort
It was then I learnt that the ride ahead would be different complete with escort armed to the teeth. The inordinate wait was in lieu of the escort's formation at Gamba police station a few kilometres away across the River Tana. We had been at Minjila for close to an hour when movement resumed, only to run into another longish wait at Gamba. The security escort by administration police had to bide its time until all Lamu bound buses from the direction of Mombasa and Hola arrived. We were in a convoy of eight buses when the journey finally continued, led by a land cruiser packed by armed police officers. Another land cruiser with armed men provided cover from behind. The Tana Delta is largely bushy and the road from Gamba is earthen. Thick scrublands run on both sides and settlements are scarce. I could not help having my heart in my mouth as I figured what would happen if bandits were to strike as had happened shortly before Christmas when suspected Al Shabaab militants shot severally at a bus belonging to Tawakal Company following an ambush at Lango Kubwa area near Witu. No sooner did we leave Witu than one of the buses in the convoy burst a tyre in a bushy section of the road, forcing the convoy into an abrupt stop. It took over 40 minutes for the tyre to be changed as the armed police officers in jungle jackets lolled nervously in the vicinity. I realised how vulnerable we were when the driver of one of the buses remarked thus: "We are sitting ducks for the bandits here because these policemen cannot match their fire power in case they strike. We are better off even without escort when the vehicles are on the move". Drivers were furious whenever the escorts stopped the convoy to wait for their colleagues left far behind with slow buses. Bitter exchanges of words would ensue with arrogant officers taunting impatient drivers and passengers to organize their own escorts. Movement was painfully slow. At the junction to Mpeketoni where mass killings happened in June, the convoy had to wait for buses dropping and picking passengers in the dusty town 10 kilometres away to return. It was past 5pm when we reached Hindi, the end of the escort about 15 kilometres from Mokowe jetty where boats are boarded for lamu Island. The 220 kilometre journey from Mombasa that ordinarily lasts six to seven hours had taken 10 hours of anguish. Crossing the sea into Lamu Island was easy as it took only 20 minutes by speed boat. The afternoon waves were dreadfully choppy. Though free of the fear of Al Shabaab, my mind rushed back to January, 2012 when a boat ferrying passengers between Lamu and Mokowe jetty collided with another transporting fuel and capsised with a death toll of seven. Forty eight lucky passengers were rescued. My consolation was the life jacket that as a rule every passenger donned. After a well-deserved rest in the ancient town of Lamu known for its narrow thoroughfares and unique rides on donkey backs, I headed the following morning for my final destination on Manda Island to see the house at Ras Kitau that symbolises the genesis of Al Shabaab terror attacks in Kenya.
Shocking news
The imposing Majlis resort where patrons and staff had their sleep rudely interrupted by gunshots when the gangsters struck at about 3am on the fateful day, is but a stone throw away. Recalls a hotel worker who requests to remain anonymous: "Before we could steady our nerves from the gunshots, Dedieu's companion and ostensible husband, 39-year-old John Lepapa Moyo who was well known to us, came panting with the shocking news that the elderly lady had been kidnapped by armed gangsters. He said he had escaped by jumping out through the window, narrowly escaping death after gunshots missed him. The hotel worker says before that, the place was so peaceful. That houses generally had neither windows nor doors to allow in enough breeze. "People were used to spending their nights in the open air," he reminisces. Today, Madame Dedieu's house stands forlorn, deserted and desolate with no visible sign of life. A pair of discoloured short pant hangs on a line in her bedroom.