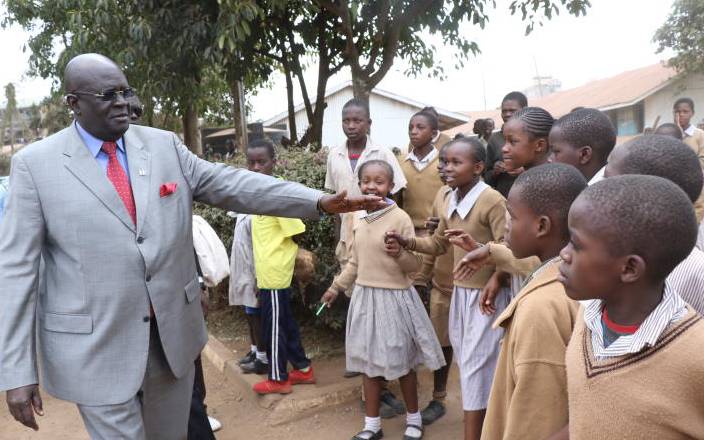 Following the Monday morning Precious Talent School tragedy that claimed seven lives, I am persuaded Education CS Prof George Magoha is not half aware of what transpires in his domain. In what were clearly escapist declarations, the CS assured everybody that "learners were safe in schools" and urged Kenyans not to condemn other schools "based on this one incident". Further, he opined that "We are clear on the school opening hours and if this was violated, someone should be answerable to someone". Deputy President William Ruto was on hand to condole with the bereaved and gave the usual platitudes: "The Government shall audit all school infrastructure". Not only are such statements insensitive, they are nauseating. To express doubt; "if this was violated" in reference to official school opening hours (8am to 3.30pm) yet the tragedy occurred well before 7am is to insult the intelligence of Kenyans.
SEE ALSO: Former minister Mwiria to head team of eight at qualifications authority
After fire tragedies at Bombolulu Girls, Kyanguli Secondary School and Moi Girls Secondary School Nairobi among others; incidents in which lives were lost because specifications for building dormitories were ignored, the promise to audit school infrastructure rings hollow and, no doubt, will remain pending until the next tragedy strikes. If anybody should be held responsible, that person is CS Magoha; the buck stops at his office.
Dingy room
The state of most public schools across the country is despicable; missing windows and doors, half blown off roofs, broken window panes, splintered desks, dusty floors, cracked walls, hanging roof beams and weak toilet floors, among other dangers. Coupled with a dismal show by most public schools in national exams, a fallacious idea was implanted in the psyches of Kenyans that private schools are the panacea. As fate would have it, most private schools posted impressive grades for a long time; some through exams cheating until Education CS, then Dr Fred Matiang'i and Chairman of the Kenya National Examinations Council Magoha slammed the brakes on them in 2015. By then, however, the barracudas in society had seized the chance to make a killing, and private schools had sprouted everywhere.
SEE ALSO: Varsities warned as reopening looms
The sad reality is that most of these academies do not meet basic requirements for the establishment of a school and some are headed by quacks. Many of what pass for schools are either tin or timber shacks roughly put together; a dingy room or two in low-end housing estates and informal settlements; a room or two behind a shop, in a church compound or within hailing distance of social places like clubs and bars. There are no playgrounds, no libraries, no water and no trained teachers. A single toilet serves both teachers and learners. On what basis does the Ministry of Education issue approvals and give such schools the green light to operate? In a special issue of the Kenya Gazette supplement No 37 of April 8, 2015 (still in force), there is, under part VIII - official school hours, the stipulation under subsection 84. (1) that the official opening hours for all day public and private schools shall be Monday to Friday-(a) 8am to 3.30pm for class hours and (b) 3.30pm to 4.45pm for co-curriculum activities. Section 84. (2) States; No day institution of basic education and training shall require learners to report earlier than 7:15am.
Sufficient rest
This has routinely been ignored, and if CS Magoha finds escape in pleading ignorance, then he is sleeping on the job. In March 2018, the then Education CS Amina Mohamed ordered school heads to observe official school hours, but nobody paid heed. One can only marvel at the audacity of school heads to trash ministerial directives with such impunity. Nevertheless, given our society's proclivity for corruption and quick fix solutions, top ministry officials could be complicit in this; always speaking from both sides of their mouths. There is no empirical evidence early hours have improved the quality of education in Kenya besides raising a generation of unhealthy children; those suffering depression from parental neglect; respiratory problems courtesy of the early morning chill; bent backs and spinal cord problems from carrying sacks of books on their backs every day.
SEE ALSO: Private colleges, schools fault CS on closure order
For lack of sufficient rest, many kids are the closest thing to a zombie you can find. A five-year child wakes up at 4am and leaves school at 6pm with homework in all the subjects. By the time the kid goes to bed fatigued, it is midnight. We are building a society of automatons, bitter individuals who harbour grudges against society and find schooling a drag; a necessary evil that should be dispensed with pronto. Magoha has experienced a number of hiccups, but we expect better from him. He should start by enforcing school hours and the ban on tuition. Children should be allowed time to be children; play and bond with family. Magoha should strive to restore the glory of education by taking out the business aspect. Private schools are sources of steady income, no vocation. Magoha and many top government functionaries attended school between 9am and 4 pm and they turned out fine. Mr Chagema is a correspondent for The
[email protected]