Citizen rights and the upcoming presidential elections in Africa
It is a big year for democracy on the African continent. Millions will head to the polls in at least eight presidential elections. In many of these countries there are big aspirations for political change, while in others there are concerns about whether the elections will be fair and transparent.
It is unlikely that many of the elections will lead to a political sea change like the kind of transition we recently saw in Liberia, which experienced its first democratic transition in over 70 years. Civil society played a large role in mobilising the masses to elect the ex-football star, George Weah to office. If we are going to see more changes in power in the upcoming African elections, voters will need to have their democratic rights of free speech, association and assembly protected. These rights are being violated across all of these countries to varying degrees, and the CIVICUS Monitor, which tracks these rights in close to real-time, has produced the following index on civil society conditions ahead of the elections: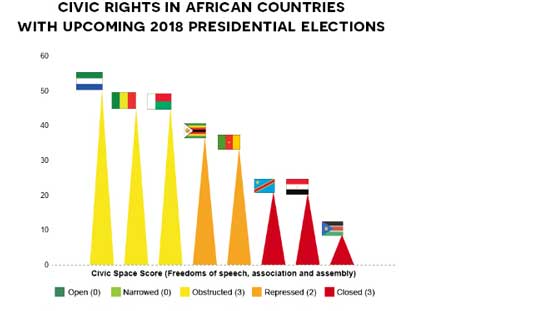 Here is a brief look at some of these upcoming elections, in chronological order:
Sierra Leone
When: First round 7 March 2018 (run-off election dates TBC)
The first round of presidential elections in Sierra Leone, left the two front runners neck-and-neck. A second round of elections is likely. The incumbent President Ernest Bai Koroma has not been eligible to run after ruling for two constitutionally mandated terms since 2007. The close race is between the ruling All People's Congress Party's candidate Samura Kamara against the opposition Sierra Leone's Peoples Party's representative Julius Maada Bio. These elections present an opportunity for Sierra Leone to further consolidate its democracy. The biggest challenge for the new government will be to build the economy that is still recovering from many years of civil war and the ebola crisis. The government will also have to ensure that it respects its constitutional, regional and international human rights commitments - journalists have been accused of libel and defamation for reporting on corruption.
Egypt:
When: 26-28 March 2018
Without a doubt, Egypt faces a massive security threat from ISIS, but the government of President Abdel Fattah el-Sisi has waged its own war against human rights defenders, civil society representatives, journalists and political opponents. The military enjoys widespread powers as the authorities investigate the activities of dozens of civil society organisations, impose travel bans on many others and freeze bank accounts and assets of its critics. Restrictions on freedom of expression have increased as the government has blocked hundreds of news and political websites. As the elections approach, more political opponents will likely be targeted. The intentions of the el-Sisi government were made clear when they detained Ahmed Shafiq upon his arrival in Cairo from the UAE shortly after he declared that he would run in the elections. Another aspiring presidential candidate Ahmed Konsowa was handed a six-year prison sentence after making known his intentions to run for president. The national state of emergency has been extended, and has been widely used to arrest journalists, civil society activists and citizens and organisations that advance human rights and call for democratic reforms.
South Sudan:
When: July 2018
There are doubts about the feasibility of holding peaceful elections in South Sudan this year, with fears that elections might deepen and extend an already devastating civil war. Presidential elections were initially scheduled for 2015 but postponed following an upsurge in violence. The international community, including the United Nations and the African Union, continue to express concerns over the viability of holding elections while the country is far from securing peace. President Salva Kiir is keen to hold elections as early as July 2018 not least because he wants to avoid a situation where he will be accused of having no legitimacy when the transitional government's term ended in February 2018. The volatile situation makes it very difficult to organise legitimate elections in a peaceful manner and to protect voters' safety. The government does not have funding for the elections, President Kiir's main rival -Riek Machar is in exile under house arrest in South Africa and thousands of Sudanese will be disenfranchised as they are in refugee camps in neighbouring countries.
Zimbabwe:
When: July 2018
The historic removal of longstanding President Robert Mugabe through a non-violent military coup in November 2017 came as a major surprise to many and was received with relief and hope by millions of Zimbabweans at home and abroad. However, since taking over, President Emerson Mnangagwa has focused on strengthening the role of the military in power structures, appointing military men to the party and senior roles in the government. He has done little thus far to open up space for civil society and the political opposition ahead of the elections in 2018. There are concerns around whether civil society organisations will be able to monitor the electoral processes before, during and after the upcoming polls and whether military decisions will dictate the politics. There are no signs that President Mnangagwa intends to institute much- needed electoral reforms. Mnangagwe declared that "ZANU PF will continue ruling, no matter what those who oppose him continue barking," showing that while President Mugabe may be out of the way, the policies of ZANU PF and the manner in which it conducts itself remain unchanged.
Mali:
When: July 2018
Since the coup in 2012, Mali has been contending with violent extremist attacks against its citizens and military in the north of the country and regular clashes between rival tribal groups. Incumbent President Ibrahim Boubacar Keita - in power since 2013 - will face former army general Moussa Sinko Coulibaly and the Mayor Kalifa Sanogo of Sikasso, Mali's second largest city, during the polls. A year before the elections, the government violently repressed protesters who denounced plans by President Keita to amend the constitution to create a Senate and thereby expand his powers. Despite the crackdown on protests, the president's move was thwarted thanks to the resilience of pro-democracy groups, civil society and the political opposition. The elections will be a close call. Irrespective of the outcome, the elections will provide an opportunity to consolidate Mali's democracy after the instability and violence caused by the coup in 2012. The major preoccupation of the new government will be to address high levels of insecurity perpetuated by extremist attacks on civilians, government forces and UN peacekeeping forces. The government will also need to improve its human rights record, especially when it comes to its response to these attacks.
Cameroon:
When: October 2018
Elections in the Central African state of Cameroon are planned for October 2018 but previous elections have not been fair and transparent. Incumbent President Paul Biya is now the second longest serving African President and the chances of voting him out of power are next to none. He has consolidated power over the last three decades by dealing ruthlessly with opponents including within the ruling Cameroon Peoples Democratic Movement (CPDM) party.
Representatives of civil society organisations who have called for the respect for human rights and the rule of law have been arrested or forced to flee the country and Biya's cause for the October elections is aided by a weakened and divided opposition. Elections come at a time when the government confronts growing dissent from the two Anglophone regions, which are calling for secession due to the political, economic and social marginalisation and threats posed in the north of Cameroon by the extremist group Boko Haram. In the months leading up to the elections, we can expect to see increased arrests and restrictions on activists and journalists who express views about the elections. Save for a miracle, 83-year-old Biya will continue his 36-year reign beyond October 2018.
Madagascar:
When: November/December 2018
The 2018 elections in Madagascar will provide another opportunity to consolidate democratic gains made especially after the political instability brought about by the 2009 coup d'etat. Incumbent Hery Rajaonarimampianina, in power since 2014 has been accused of constraining civic space with restrictive legislation. The elections will be close especially because former president Marc Ravalomanana, who was ousted in a coup, has indicated he will contest the elections, should he not win.
Democratic Republic of Congo
When: December 2018
The DRC situation is one of the most complex and uncertain. Since the government has postponed the elections on several occasions, Congolese are uncertain if the December poll will go ahead as promised. Also, there is the crucial question of the election´s legitimacy should President Joseph Kabila who has been in power for 17 years, decide to stand for another term, even though his term ended in December 2016. He has responded to some of his political critics with arrests, detentions and killings. If the December election goes forward, there are concerns amongst national and international human rights groups that the government will limit public campaigning of opposition parties and restrict the space for citizens to debate the future of their country.
The author is Head of Advocacy and Campaigns, CIVICUS