Hope for KR pensioners as firm withdraws Sh26b land suit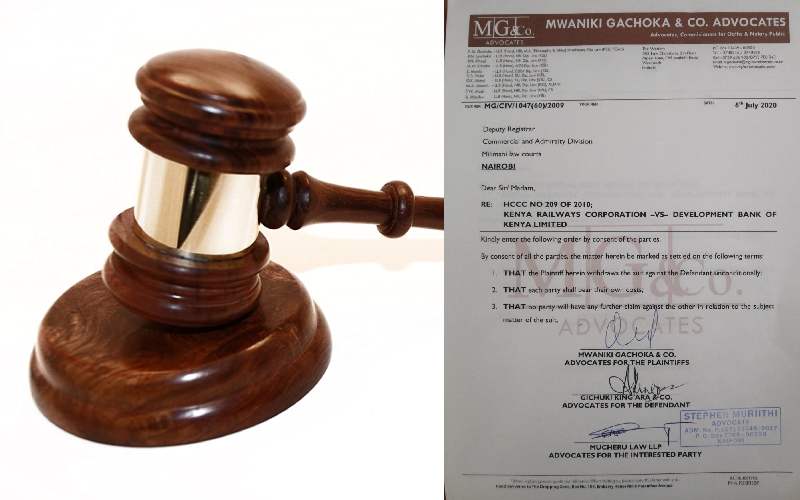 A real estate firm has withdrawn a Sh26 billion suit challenging the ownership of huge parcels of land involving Kenya Railways pensioners.
Edermann Property on July 6 entered into an agreement with Registered Trustee of Kenya Railways Retirement Benefit schemes and Kenya Railways Corporation to solve the row that has stretched for over a decade.
"The plaintiff hereby withdraws its suit against the 1 and 2 respondents unconditionally," read the consent document seen by Standard Digital.
The consent was recorded at Commercial and Admiralty Division, Milimani Law Courts.
The dispute started after Kenya Railways Corporation (KRC) and Kenya Railways Staff Retirement Benefits Scheme (KRSRBS) started selling land that Edermann held it had acquired through a tender.
The firm had said it was ready to put an investment of over Sh40 billion on the contested properties.
Now, Edermann says it has extended an olive branch to KRC and KRSRBS to "stop the suffering of the pensioners" who have spent millions of monies in the court case.
The plight of the railway pensioners, who decried not receiving pensions for up to 11 months, was published in the media in May this year.
"We are very happy and we feel relieved after a long-protracted court battle which has lasted in court for many years. We are looking forward to more fruitful deliberations," said one of the pensioners, John Ndege.
Ndege said the move by Edermann has brought relief to them as their lives had been seriously affected.
He called on all affected pensioners to be optimistic as the move could be "a light at the end of the tunnel to the suffering".
On May 2020, Kenya Railways Corporation retirees urged the government to intervene and ensure their monthly pension was paid.
Transferred property
John Mwangi, who led a group of retirees said he retired in 1998 and the pensions were regularly paid until 2007.
Then, Mwangi said, Kenya Railways Staff Retirement Scheme (KRSBS) had assets worth Sh12.6 billion.
"When the government could not continue paying us, it transferred some of the properties owned by KRC to the scheme," Mwangi said.
But the scheme was only able to make Sh24 million monthly against pensions amounting to Sh73 million for 10,000 members
Since then, Mwangi said the scheme has not been able to break even and has been defaulting on their payments for months.
This, he said, is even after selling some of the properties and renting out commercial buildings.
"The scheme has not been able to liquefy its assets to pay our dues, and we are unable to follow up and find out what's happening," he said.
The scheme's board comprises three government appointees, three appointees of KRC and three members, he said, a structure which does not serve the pensioners.
The retirees wanted a small amount of their pension paid every month rather than wait for one year.