Gold mines render hundreds homeless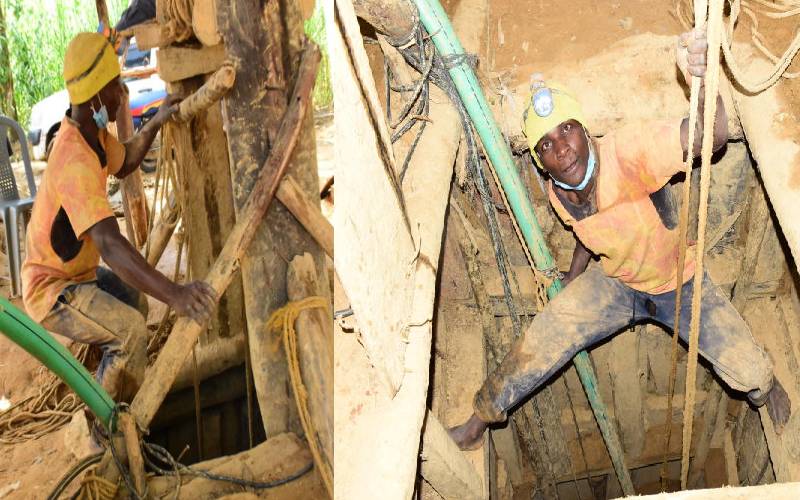 Elinah Lipeya, 67, is lucky to be alive. Sometime in November last year as she prepared to go to bed at around 9.41pm, she noticed water seeping into the house.
She ran out to alert her grandson and neighbours. Twenty minutes later, her house had collapsed.
Ms Lipeya blames it all on mining activities in Shibuye village, Shinyalu Sub-county, Kakamega County that have left many homes with cracks that can make them fall at any time.
As she recounted the events of the fateful night when she escaped death by a whisker, you could hear the echo of pain in her voice.
"That night there was a heavy downpour, I was preparing to retired to bed when I noticed water seeping into the house. I ran out to alert my grandson and villagers," Lipeya told The Standard.
She went on: "The water was coming in through the cracks on the floor. The cracks had widened as a result of the gold mine tunnels running below my house. The miners who had pitched tent in the neighbourhood, had dug huge tunnels which extended into my homestead."
The first time she noticed the cracks, she had just returned from visiting relatives.
"I had gone to visit relatives and when I returned after one week, I could tell something was amiss. I could feel my house shaking and at first I thought it was due to tremors," she said.
She didn't give it much thought until she was woken up in the dead of night by "voices of people mumbling below her bed". This startled her since she could not see anyone.
The voices were emanating from miners who were busy in an underground tunnel beneath her bedroom.
"I was so scared, but mustered courage and went to find out why they were trespassing they chased me away saying the gold would 'hide' if a woman came closer to the entrance of the tunnel," she said.
"I sent my daughter to talk to them but she was almost roughed up, the miners were not friendly," said Lipeya.
She reported the matter to the village elder who was also chased away by the miners because she is a woman.
Lipeya's predicament mirrors that of many families in Shinyalu and Ikolomani constituencies.
The Standard established that the affected families are those that live along the Lirhanda Corridor that was discovered to have 1.31 million ounces of gold deposits valued at Sh171 billion by Acacia Mining, a British company that carried out exploration in the area.
Lirhanda Corridor stretches from Kakamega through Vihiga, Siaya, Busia and Kisumu counties.
Shanta Gold, an East Africa-based gold producer and explorer announced that there are gold deposits estimated to be worth $2 billion, along the Kakamega-Busia gold belt, which covers at least 1,160 square kilometres.
This revelation opened doors for cartels, unscrupulous businessmen and politicians who, with the help of local administrators, have since grabbed gold mines and have evicted some residents from their ancestral land.
Residents interviewed said they have been living in fear of their houses collapsing on them. Some families claimed that the graves of their loved ones have developed cracks due to mining activities.
Villagers claimed some casual labourers had been trapped in the mines while others had suffocated but their their deaths had been handled with a lot of secrecy.
"At least ten houses have caved in, the owners have been rendered homeless and don't have money to put up new houses. Many of the houses have huge cracks and it is just a matter of when they will collapse as miners continue to enrich themselves and become overnight millionaires," said James Amwayi, a victim.
He added: "The unscrupulous businessmen acquired the gold mining fields illegally and carry out mining activities at night when everybody is asleep, the huge tunnels dug are the cause of the challenges we are facing."
Amwayi said even the owner of the land where the gold mining is located, does not benefit from anything since the investors give them peanuts and always tell them that no gold was found.
He argues that locals have been impoverished by the activities and reduced to paupers in their own homes.
"I have seen widows being offered a paltry Sh200 by the so-called investors. The government must intervene and come to the rescue of the affected families," said Amwayi.
He said their parcels of land have been degraded by the soil from the tunnels.
Juliet Mang'ula, a widow, said she leased out a section of her land to a person who wanted to mine gold after they agreed to share the proceeds on a 50-50 per cent basis.
He shortchanged her.
"There were around 20 miners at site every night, I used to cook for them but they never allowed me near the mining area claiming that I would make the gold disappear. They always claimed that no gold was found after working the entire night," said Ms Mang'ula.
She said the miners dug a huge tunnel underground that saw her house cave-in at night. They left without helping me put up a new house."
Besides, the miners left behind gaping tunnels that pose danger to residents and livestock.
"I resorted to cleaning the gold dust which earns me between Sh1,500 and Sh4,000 after selling them to brokers," said Mang'ula.
Melab Lungatso claimed they have lost many young people in the mines but the investors run away whenever such an incident happens.
"Some of our sons who dig gold at night have died inside the tunnels but those behind it never reveal such accidents. Other miners looking for gold in the tunnels normally discover the bodies," claimed Lungatso.
Christine Yahama, the coordinator, Good Health Community Programmes said urgent measures should be taken by the government to save the locals from the suffering in the hands of gold miners.
"The investors are putting the lives of the locals in danger. They mine their gold, leave them poor with collapsed houses and go away as millionaires. The parcels of land are no longer productive since they have been turned into gold mining fields," said Ms Yamaha.
Yamaha said prolonged exposure to mercury and sodium cyanide used in gold extraction had affected some residents. The substances damage the nervous, digestive and immune systems and are harmful to a developing foetus.
Halima Nyota, from the Global Youth Mobilisation, an advocacy group wants the miners compelled to reconstruct collapsed houses and compensate affected families.
"Proper regulation should be formulated to govern mining activities."
According to Dr Joshua Azere, over exposure to methylmercury, the organic form of mercury used in gold extraction, has devastating effects on the neurological system.
"The effects range from movement disorders, behavioural change, hearing and visual impairment and difficulties in breathing. It also causes congenital neurological abnormalities to unborn babies," said Dr Azere, a gynecologist at Kakamega County Teaching and Referral hospital.
Patrick Makhule, the Secretary-General of the Kakamega County Artisanal and Small-Scale Miners, said they had received Sh800 million grant from a donor to acquire modern equipment.