Many have lost their lives for the love of bullfighting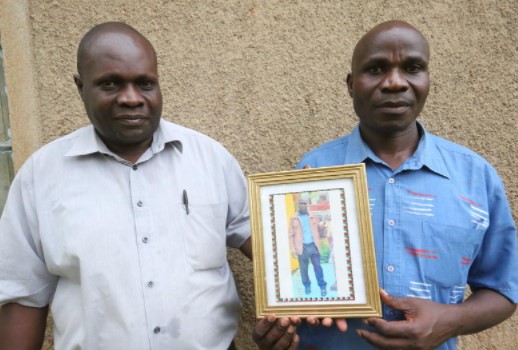 The love of bullfights runs deep among the Isukha sub-tribe of the Luhya community.
To the community, bullfighting is a cultural undertaking that provides entertainment and catharsis from the rigours of everyday life.
On average, the fighting bulls are mean-looking, huge, intimidating yet disciplined as long as their special handlers are with them.
The thrill of bullfighting aside, there are dangers that come with the game, including being run over by the monsters and, quite often, death from being gored or stampedes whenever one of the bulls bolts.
November 27, 2021, started well for 43-year old Robert Atema Otunga as he prepared to go and watch a bullfight game at Shitaho, Nyayo tea Zone near the Kakamega airstrip. From his Shikokho home in Malinya, Otunga travelled approximately 25 kilometres to the venue of the bullfight. By evening, he was dead.
"Otunga was a spectator on the material day. One of the bulls in the fight was overwhelmed and bolted. Unfortunately, Otunga did not react fast enough to get out of its way. The massive bull hit and ran over him," Austin Kongi said. "We rushed him to Kakamega County Hospital but unfortunately, he died while undergoing treatment."
Kongi wears several huts. He is the Treasurer of the Humble Bullfighters Association that takes care of the welfare of members and fans who get hurt during matches. He is also the owner of an intimidating fighter bull fondly known as 'Stamina'. We met him at the home of the deceased where they had gone to offer their condolences and some financial help to the family of Otunga.
"My brother loved bullfighting so much and would not miss a match for anything. Our father, now late, was also a bullfighting enthusiast. This is not the first time Otunga was getting hurt, it has happened twice before. It is a measure of his love for the game that he never gave up until he lost his life recently," David Bukhala, the deceased's elder brother said.
"Ideally, when someone dies under such circumstances, there are traditional rites that should be observed to appease the spirit of the dead. In some cases, the killer bull is hacked to pieces while still alive and its meat is taken away. On the burial day, fighting bulls would be let loose by the graveside after the burial is complete. Instinctively, the bulls go at the mound of soil and scatter it, after which a contest of the bulls is held in a separate field," Kongi told The Standard team.
"We shall not allow that to happen at the grave of our late brother," George Mutsotso, another of the deceased's brother said. "Such ceremonies," he added, are conducted depending on the age and the exploits of the dead person". According to Mutsotso, only the elderly who have either fought and defeated enemies or were fighter bull owners deserve such honours.
"My brother was just a fan. He neither owned a bull nor has he fought any wars on behalf of the community. The much we can allow is a bull to walk around the grave once and thereafter they can stage a bullfight elsewhere. Besides, we cannot hold such ceremony for Otunga because he is still living in his father's compound and tradition won't allow it" he said with finality.
The family's stand seems to have disconcerted the Humble Bullfighters Association who felt they had to honour Otunga.
"This clash of traditional and Christian values is not good for us. We should be allowed to observe what our forefathers started. It is possible ill-luck followed Otunga because the proper rights were not done for his late father who was known for his love for bullfighting," Ingoi Musoga noted.
The death of Otunga has not diminished his brothers' regard for bullfighting. "It was an accident and not the first one for that matter. Bullfighting is a good cultural thing that brings our people together. All that should be done is for the government to give recognition to the game and build safe stadiums to protect spectators from getting hurt." Bukhala said.
His sentiments are shared by Kongi. "Bullfighting is a tourist attraction. The industry has created jobs for the youth and promotes the local economy. People hire bodabodas to go and attend matches. There are times fuel stations run out of petrol when bodaboda refuel in their numbers to ferry clients to watch matches. Hotels and ice cream sellers make good business whenever we hold matches."
"The reason many people get hurt is that the venues where the matches are held are small, open spaces. In the grip of excitement, spectators draw closer to the contestants, oblivious of the danger andit is during such times that many get hurt as the bulls push and gore each other," Nashon Ingosi said.
Ingosi owns a fighter bull popularly known as 'Umoja'. He bears a big scar on his stomach after an opponent's bull gored him. "I was lucky to have survived that attack, and I still love the game," he says while grinning.
In 2018, Kongi's bull participated in a match at which Deputy President William Ruto was in attendance.
"My bull won and the DP rewarded me with a heifer and Sh20000. To date, it has given birth twice. That is how I have benefitted from bullfighting."
From the proceeds of bullfighting, he has diversified into rearing chicken, rabbits, pigs, dairy cows and runs a butchery at Khayega market.
"Bullfighting is a sport like any other and the government should give it recognition. The government should build for us bullfighting stadiums so that spectators can pay the entrance fee and boost the game as well as the local economy."