Why women in Western shy away from elective politics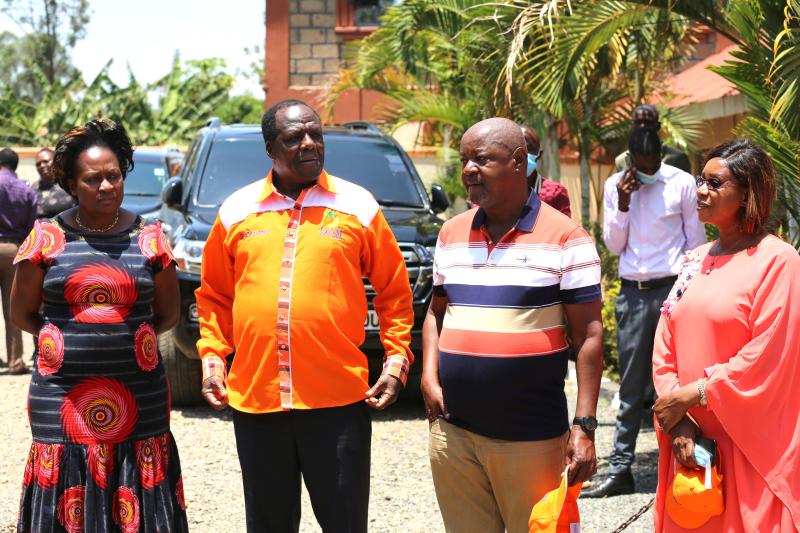 Western appears to be lagging as budding female politicians from other regions plot to clinch elective seats in the 2022 elections.
Besides Prof Julia Ojiambo, the first woman to be elected MP in Western in 1974 and Prof Christine Mango, who served as Butula MP between 2002–2007, a few women have dared walk that path.
Former MP Mary Emase, also from Busia County, won Teso South parliamentary seat in 2012 to become the third elected female politician to have achieved that feat.
And Prof Ojiambo, described as a trailblazer who defied prejudices, culture and traditions to storm men dominated political space in Western, floored men to capture Funyula parliamentary seat.
Grace Onyango, who represented Kisumu, was the only female politician elected to the Parliament then.
Prof Ojiambo appears to have set the bar high for other women, being a scholar and having served as an assistant minister and chairperson of the Labour Party of Kenya.
According to nominated Senator Naomi Shiyonga, women ought to up their game and compete for different elective seats next year.
Shiyonga, who is eyeing the Kakamega woman representative seat, believes that women stand a better chance to win parliamentary, senate, governor and ward representative seats if they mean to do it.
"Culture and lack of respect for women have been a major problem in Western, but slowly we are overcoming that. We have female politicians who have declared interest in top county jobs, including Busia women MP Florence Mutua, who is keen on succeeding Governor Sospeter Ojaamong," she said.
Ms Shiyonga also cited ignorance among women and fear of violence as factors that have eclipsed female politicians in the past.
"We would like political parties to open up and create a friendly environment for women to take leadership positions. I believe 2022 will be the beginning of the female politicians' breakthrough. We shall not let men take away everything," said the senator.
According to her, some women, already in leadership positions, have also suppressed the voice of budding female politicians.
"Some of the women in leadership are corrupt, and they do everything possible to fight potential women leaders from being heard. It is unacceptable," argued Shiyonga.
"We want to change the narrative and make men see development in a different context. We want them to understand that women can make better leaders."
Apart from Ms Mutua, who is eyeing the governor seat, many women engaging in politics from Western are not keen on taking a stab at key elective posts.
In Bungoma, Kakamega, Vihiga and Trans Nzoia counties, no single woman has shown interest in running for governor, MP or senator seats, save for the county woman representative seat.
Kakamega County Jubilee coordinator Raphael Welimo believes culture could be a major contributing factor.
"Western has not entirely accepted the fact that women can perform roles of men, including leadership. Besides, the women themselves are shy of taking on men in elective politics. It also happens elsewhere," argues Welimo.
According to the official, the majority of the women appears satisfied with the county woman representative.
"Those elected tend to address issues of women alone, forgetting that even men voted for them," said Welimo.
Welimo also cites a lack of financial capacity to mount serious campaigns, lack of aggressiveness and proper campaign strategies that would guarantee women victory as some of the factors hindering their participation.
The officials argue that women must stand up and fight for a leadership position without expecting favours from men.
"In politics, one has to be aggressive to be noticed and attract support, but women from Western have been reluctant to participate actively in politics. They must borrow a leaf from the counterparts from other regions."
Kakamega Governor Wycliffe Oparanya recently urged women and youths to fight for leadership positions.
County woman representatives Elsie Muhanda (Kakamega), Beatrice Adagala (Vihiga) and Catherine Wambilianga (Bungoma) are busy campaigning to retain their positions.
The trio has also been urging women in their counties to go for elective seats so that women voices can be heard.
It waits to be seen whether women from Western will heed the call and throw the hat in the ring in next year's general elections.
At a glance
1974 - The year Prof Ojiambo won Funyula parliamentary seat
Women in Western have been reluctant to borrow a leaf from pioneer female politicians
Lack of resources and exposure among challenges cited by women