Relief for sugarcane farmers as miller unveils expansion plans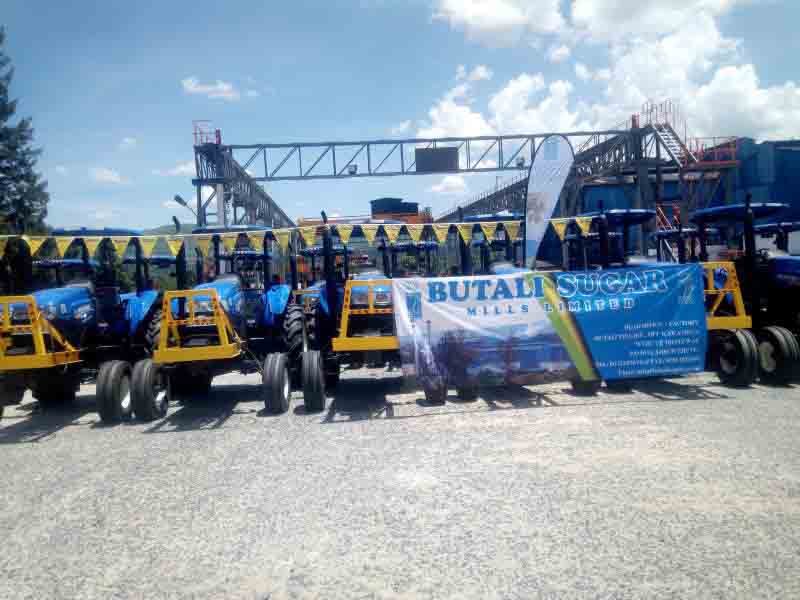 Butali Sugar Company has embarked on a factory expansion plan.
The mill, located in Kakamega North, has bought 100 tractors to improve cane delivery within Nandi, Bungoma and Kakamega counties, according to the firm's Managing Director Sanjey Patel.
Auto dealer CMC Holdings delivered the first fleet of 45 Holland tractors to the factory yesterday, valued at Sh450 million.
"This will ease the burden of the farmer in terms of cane transportation and ploughing. Our desire is to cushion farmers from punitive costs," said Sanjey.
Butali Sugarcane Farmers Association chairman William Kopi said farmers had faced challenges in harvesting and transportation.
"It is a huge investment we are undertaking for the benefit of the more than 65,000 contracted farmers allied to this sugar mill," said Sanjey.
Tony Mzee of CMC said the auto dealer and Butali Sugar were engaging in research and development of fleets designed to suit the environment in Western Kenya.
Mzee and Kopi said they would help farmers acquire tractors at competitive offers. "We would like to agree on ways of giving farmers tractors. They will form groups and apply for one unit or more so that they can transport cane and plough their farms without having to incur expenses," said Kopi.
The management said it would support the initiative and help farmers acquire tractors. Sanjey said they would expand the sugar mill's crushing capacity from 3,000 tons to 5,000 tons of cane daily.