Mass animal vaccination kicks off at the Kenya-Uganda border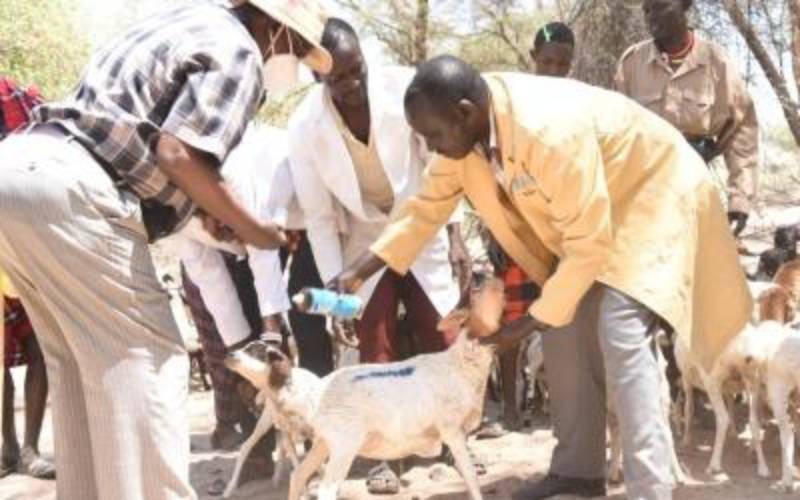 Kenya and Uganda have started a joint mass vaccination of animals against the Contagious Bovine Pleuropneumonia (CBPP) disease. The vaccine is being offered free of charge.
The exercise, funded by West Pokot County and Amudat District in Uganda, is aimed at stopping the spread of the disease, improving animal health and strengthening cross-border collaboration and coordination in the semi-arid region.
The vaccination, which started on Tuesday in Karita, Amudat District in Uganda during the onset of the rains, targets animals along the border in the North Pokot Sub-county and Eastern Uganda. More than 100,000 cows will be vaccinated.
West Pokot Governor John Lonyangapuo (above) on Tuesday led the Kenyan delegation to Uganda to launch the vaccination in Kaichom, Naparakocha, Abong'oi, Asiokanion, Lokales, Ngo'rina Kreek, Chepkusinya, Kanyerus and other areas along the border of the two countries. The exercise will also be extended to Bukwo, Nakapirpirit, and Moroto.
Lonyangapuo said the two countries will ensure the region is an animal disease-free zone and this will improve the immunity of livestock and boost productivity.
"We want to make sure we export more animals from the area to other countries. About 10,000 cows are being sold every Friday at Karita market where both currencies are being used to buy animals across the border," he said.
Amudat Resident District Commissioner Michael Pwalatum said the two countries were the first to implement the resolutions of the Entebbe meeting held a month ago. Among the resolutions was the cross-border sharing of resources.
"Kenyans are welcome in Uganda any time. We need to foster better relationships between the two countries," he said.
Amudat District Chairperson Joseph Lobot said the animals grazing together had helped promote peace and security in the region.