Boost as county, authority launch Sh54m water project in Bunyala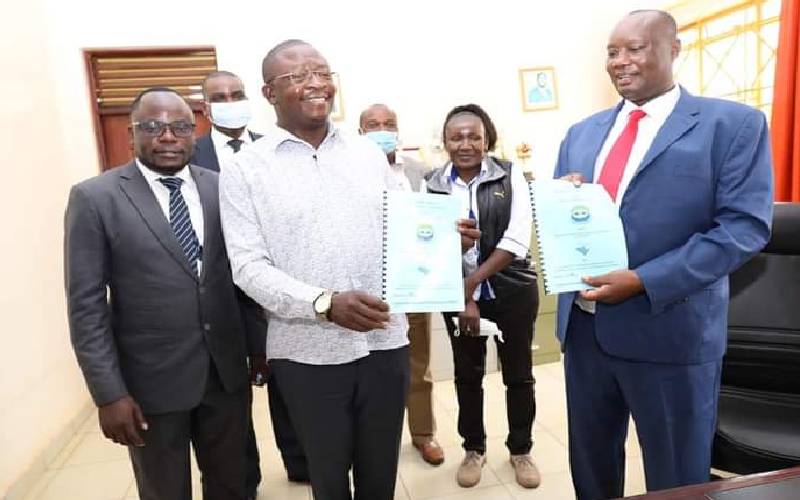 Busia County and the National Water Harvesting and Storage Authority (NWHSA) on Friday signed Sh54million deal to connect clean water to homes in the flood-prone Bunyala South, Budalang'i.
The agreement will see the authority rehabilitate and expand Osieko-Nambo Water Supply Project and undertakes piping which is expected to cover 27 kilometres.
Busia Governor Sospeter Ojaamong and NWHSA's board chair Erick Okeyo signed the deal at the Busia Kenya Medical Training College.
Bunyala South is among the hard-hit areas with floods in Bunyala occasioned by backflow from Lake Victoria and overflows from River Nzoia.
Various sources of water in the region are currently contaminated as many homes are submerged.
Okeyo said the authority will work on the infrastructure and hand over the project to the county when it is complete.
"The authority is committed to enhancing the good partnership with the county government and will ensure the project is completed," said Okeyo.
Take a quick survey and help us improve our website!
Take a survey
Ojaamong said locals urgently need clean water hence the need to implement the project in the current financial year.
"It is unfortunate that Bunyala residents live next to a freshwater yet they lack clean water for their use," said Ojaamong.
He said the county is going to work closely with the authority and come up with the design.
Bunyala South MCA Casper Ajuma hailed the agreement, adding that once completed, the project will bring to an end local's protracted suffering due to lack of clean water.
He appealed to the county to swiftly implement the project so that residents can start benefitting from it.
"It is a short in the arm for Bunyala South ward whose residents have suffered due to lack of clean water," said Ajuma.