Kakamega allots land for virus victims burial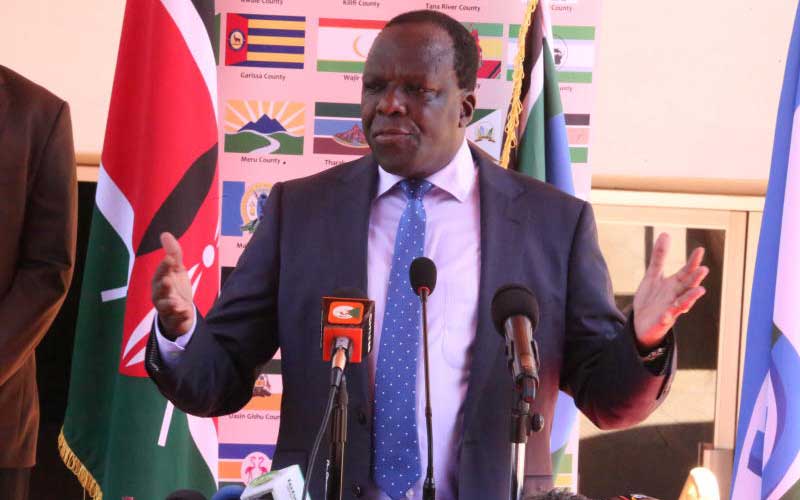 Kakamega Governor Wycliffe Oparanya (pictured) has identified two parcels to be used as mass graves for those who may succumb to Covid-19.
The governor said the country was expecting a surge in positive cases in September, and expressed fear that many might die.
"The Ministry of Health predicted a spike in Covid-19 cases to be in September. Going by what has happened in other countries, we have identified two parcels for mass graves in Kakamega town and in the southern part of the county in case we experience many deaths arising from the virus," said Oparanya.
He added that those who would succumb to the virus would not be buried at their ancestral homes but in the two government owned cemeteries, curb the spread of the disease.
Speaking at the county headquarters yesterday during the swearing in ceremony of three chief officers, Oparanya said new government directives would see Covid-19 cases from the region treated in various quarantine facilities spread across the county. There will be no airlifting of patients to Nairobi for specialised treatment, he added.
The newly appointed chief officers are James Ochami (Finance), Dr Dominic Chungani (Public Service and Administration) and Catherine Gathoni Otenyo (Public Service Board).
"The country has been opened and people from the region, who were confined in Mombasa and Nairobi, are travelling to the villages. They are likely to spread the virus back at home and it will have been better if they remained wherever they are until such a time that the virus is contained," said Oparanya.
"Let your relatives in Nairobi and Mombasa use phones to talk to you. Those travelling home should quarantine for 14 days before they mix with the rest of the family."