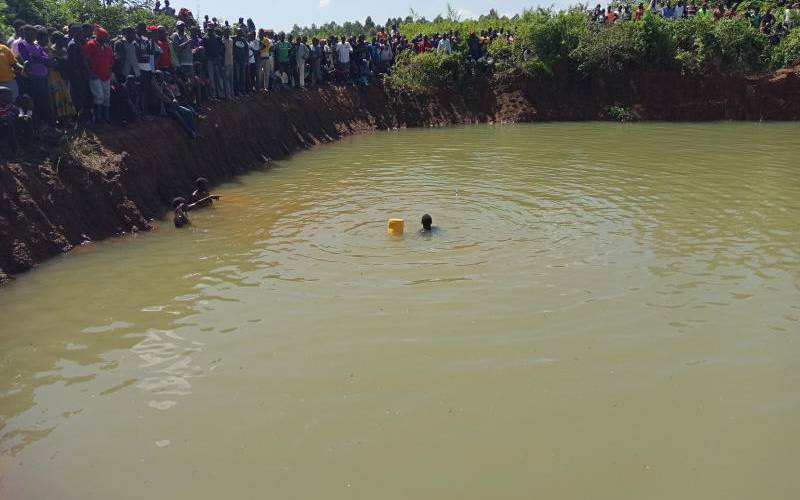 Class Seven pupil died while swimming in an open quarry in Ang'orom Village, Teso South Constituency over the weekend.
The 18-year-old Felix Oburu was in a company of five in their swimming excursion before it turned tragic. The residents managed to retrieve the body after hours of search.
"I tried to save him but it was hard because the place he drowned was very deep," said one of the boys who was with the deceased.
Following the death of the former Ang'orom Primary pupil, area Member of County Assembly James Ong'ole and residents have asked the contractor working on the Busia-Malaba road to find a solution to the quarry, being viewed as a deathtrap.
"The quarry poses a great danger not only to people but livestock as well. To avoid tragic incidents, the contractor should either fence it or fill it with soil," said Mr Ong'ole.
His sentiment was backed by Ezekiel Okwach who is a Chief Officer in the office of governor Sospeter Ojaamong.
"There is a need for the many quarries in Angorom ward to be closed to prevent such deaths," said Mr Okwach.
The quarry was left open after the marram was excavated to be used in the construction of the road. The contractor was unavailable for comment as his calls went unanswered.
Meanwhile, police in Teso South are investigating an incident where a 45-year old man was allegedly beaten to death after he differed with a neighbour while on a drinking spree in Goria Village.
An eye witness said Stanley Omuruon disagreed with his neighbour while in the local joint over a mobile phone and the fight between the two ensued which resulted in his death.