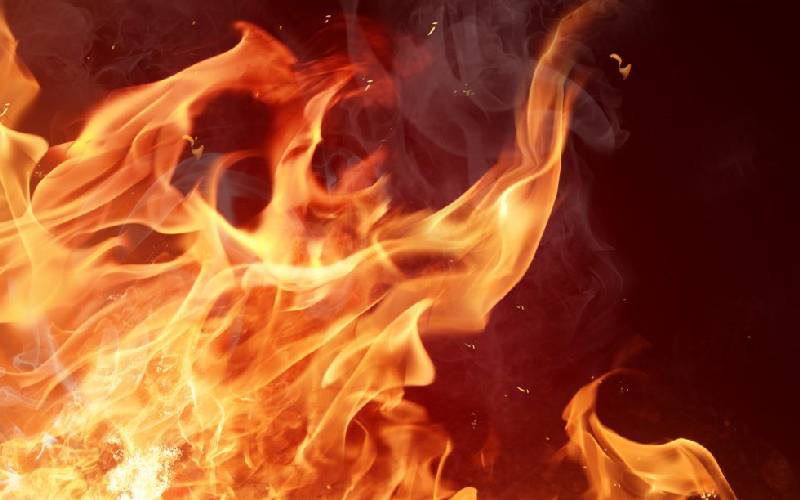 A man who was accused of burning his nephew to death has been acquitted after his mother, a key prosecution witness, recanted her evidence.
High Court judge Jesse Njagi noted that the accused's mother Priscilla Janilav was declared a hostile witness and her testimony consequently rendered valueless.
Francis Adega was charged with killing seven-year-old Afix Keyombe on March 28, 2014 after allegedly setting ablaze the house his nephew was sleeping in.
The witness was the victim's grandmother, and it is in her house that they were sleeping when it was set on fire.
The court was told that Keyombe was sleeping with his 12-year-old sister in the house.
The court heard that the children used to sleep with their grandmother, where the accused also slept occasionally.
On the material night, Maximilla Kadenyi, mother of the minors, took the children to sleep at 8pm.
They were, however, woken up by noise, only to see her mother-in-law's house on fire with her children stuck inside.
Serious burns
Kadenyi told the court the door was locked from inside and that the older woman was not inside.
They rescued the children through the window and were taken to Mbale County Referral Hospital.
Keyombe was later taken to Jaramogi Oginga Odinga Teaching and Referral Hospital, where he died after two weeks. His sister sustained serious burns.
Initially, the court heard that Priscilla had recorded a statement with the police stating that she saw Adega come with petrol, pour it in the house and set it ablaze at about 10pm.
However, when she appeared in court, she disowned the said statement, saying she never went to any police station and that the statement produced was not her account.
Senior prosecution counsel Paul Juma applied to have Priscilla declared a hostile witness.
The trial was marred by bizarre incidents, as the parents hurried to bury the boy's body, which was later exhumed on April 3, 2015, a year after the trial, to facilitate postmortem examination.
Key suspect
The examination's report released by Kakamega Chief Pathologist Dixon Mchana formed the opinion that the cause of death was burns complications.
Justice Njagi ruled that the prosecution had failed to prove its case beyond reasonable doubt.
He said the witness should be treated as a key suspect to explain how she escaped from the burning house, yet it was locked from inside.