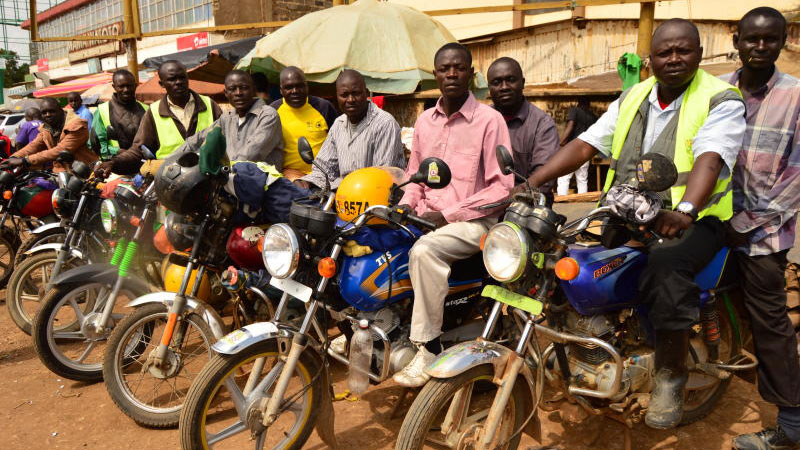 At least 72 boda boda operators were killed and 525 injured in the past year after they were attacked by unknown assailants. Some of them also lost motorcycles in the attacks. Police are now raising the alarm over the rising cases of the attacks on riders, mostly by strangers that first pose as passengers.
The motorcycle is a popular mode of transport in Western Kenya, but according to police statistics, it has become a death trap for riders.
Western Regional Police Coordinator Julius Kitili says of the 72 deaths in the last 12 months, 25 were from Kakamega, 24 from Bungoma, Busia (12), and Vihiga (11).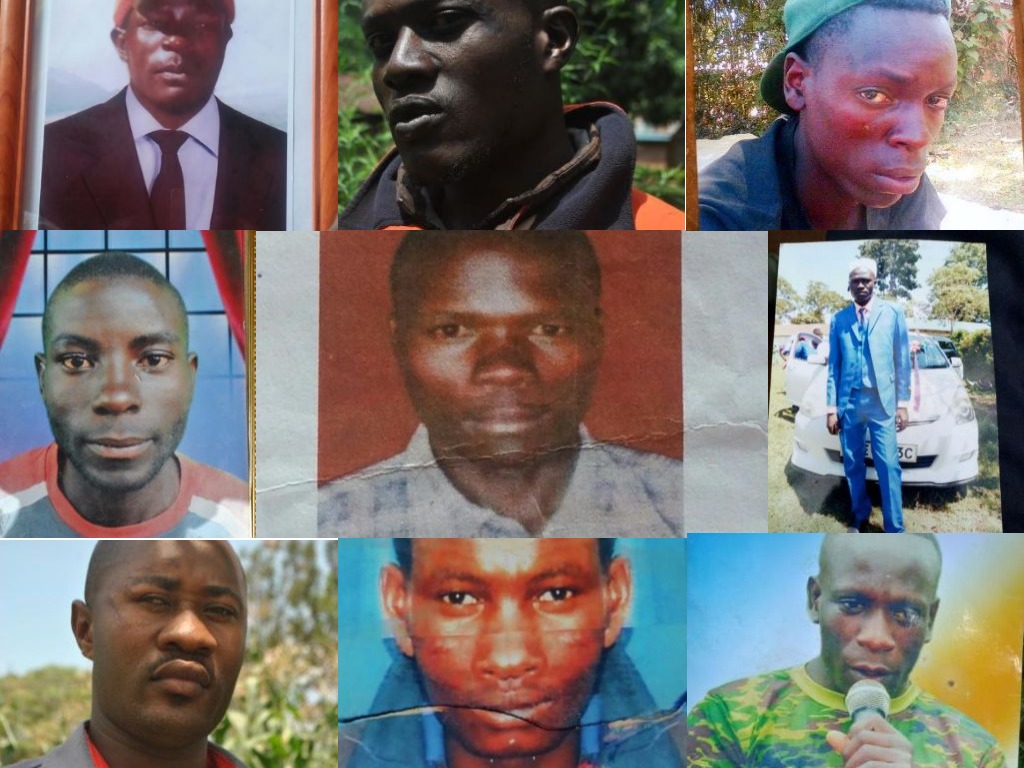 Mourning Kin
Most of those killed are aged between 17 and 30 years, leaving behind many mourning parents, orphaned children and young windows.
Read More
According to Wycliffe Ambenje, the chairman of Julika Motorcycle Sacco in Kakamega town, most of the attacks occur between 7pm and 10pm, then between 4.30am and 6am.
Mr Ambenje says some of the dangerous spots where most of the attacks have been reported are Kefinco, Maraba, Lurambi, Milimani estate, Koromatangi, Joyland, outside Kakamega County Teaching and Referral Hospital mortuary and Rosterman.
Others are Luandeti, Lumakanda, Mumias town, Shinyalu, and Lubao. In Bungoma town, the attacks have been reported at Marrel, Siritanyi, Musikoma and Kabula.
Similar cases have been reported in Webuye town, Kimilili and Kapsokwony.
In Vihiga, riders have been attacked and motorcycles stolen in Luanda town, Mbale and Majengo. The theft is also rampant in Busia town and in Nambale Sub-County.
"Boda boda business is now dangerous. Youths pretend to be your client and direct you to lonely paths, where they kill you and steal your motorcycle. We even have criminals among the riders, who are also stealing from us," says Mr Ambenje.
For the past one year, 20 riders registered under Julika Motorcycle Sacco have been killed and their motorcycles stolen.
Boda boda operators say the number of riders that never return after being hired by "clients" is on the rise. Most are found dead, their bodies always dumped on roadsides.
"A customer hired one of my riders at 1pm, but by 4pm he had not returned. We became suspicious. We tried calling him but his phone went unanswered. Two days later he was found dead in a thicket in Lubao," said Peter Ochango, the Kakamega County boda boda operators' chairman.
According to Mr Ochango, at least 30 motorcycles have been stolen in Lurambi Sub-County alone in the last one year, 17 riders killed and 13 left nursing serious injuries.
Fatal mistake
Boda boda operators confirm that ferrying passengers at night is turning out to be a fatal mistake for many riders.
"Some riders operate even beyond 12am. It is risky carrying three to four people you do not know on a lonely path. It is impossible to defend yourself when attacked," said Antony Adika, 37, a motorbikes Sacco chairman.
Last March Meshack Wafula, a rider, was ferrying two passengers to Sichirai in Lurambi sub-county at 7.30pm when he was attacked and his motorcycle stolen.
Mr Wafula said the robbery happened barely two kilometers from where two men hired his motorcycle. It was the passenger seated closest to him but on the pillion that grabbed his throat and ordered him to stop.
"They then drugged me. I woke up after four days in hospital with deep cuts all over my body," he recalls.
The rider, who is still nursing cuts on his forehead and hands, says the owner of the motorcycle is threatening to have him arrested if he does not return to him a new motorcycle.
According to police, most of the riders attacked do not own the motorcycles. Those who survive the attacks are, therefore, forced to pay for the loss besides nursing injuries.
Police have been linked to a number of attacks on boda boda riders and robberies of the motorcycles.
David Okello, another rider, recalled how he used to ferry a passenger to Kakamega Administration Police line for close to two weeks. The passenger, he recounted, was always in police uniform.
Okello says one day his usual passenger offered to buy him soda at the AP line.
"The 'police officer' took my motorcycle and said he was taking the luggage to his house. I waited for five hours and did not see him. I reported the matter to the police and was taken to the cells on grounds that I stole my boss' motorcycle," he said, counting himself lucky to be alive.
Jeckonia Oluko, 38, another rider from Kima in Vihiga County, was shot dead at 5.30am while on his way to buy milk in July last year.
According to his mother Anne Apwoka, Oluko was shot by a police officer known to him. She says police thwarted attempts to uncover the motive of the shooting.
Police officers
"We were threatened with dire consequences if we took our son to the hospital moments after he was shot. The police officers were later transferred just when we were planning to launch a case on the incident," said Ms Apwoka.
Two weeks ago at Binyenya area in Tongaren Constituency, Bungoma County, a policeman was killed after he shot dead a boda boda rider who had joined his colleagues in protesting bad roads and insecurity. The officer is said to have shot George Simiyu four times.
Police have also been accused of extorting the boda boda operators instead of focusing on ending the killings.
"Some officers come to where we are parked to take away ignition keys and introduce petty mistakes such as parking in undesignated area," said one operator.
And there are more stories of boda boda riders who never return home after ferrying clients. Last November, in Kakamega County, Emmanuel Mukali, 22, was killed two days after his wife had given birth.
According to his father James Mulele, a resident of Shitaho village in Lurambi sub-county, his son had ferried a customer to town, where he picked another passenger. He never returned home.
"We found his body at Kakamega Teaching and Referral Hospital mortuary. He had deep cuts on the head and his eyes had been gouged out," said Mr Mulele.
Brian Utundo Mshindi, 20, met his death while returning home after a colleague's burial last February. His mother, Clementina Mashieli, was expecting him home that evening. He never returned.
Celestine Nafula, 23, was last April expecting her husband Martin Khwatenge, 30, to roar back home on his boda boda as he used to. One evening he never rode back home. His body was later found near Maturu African Divine Church at Lwandeti shopping centre in Lugari sub-county. His motorcycle was nowhere to be seen.
In Chamabele village of Chimoi in Matete sub-county, Paul Walela, 30, was killed on April 11 and his motorcycle stolen. His body was found dumped next to Chamavere Catholic Church, a few metres from Chimoi trading centre.
"We took a loan from the Kenya Women Finance Trust (KWFT) of Sh110,000 to buy the motorcycle, and we had just finished repaying it when they stole it after killing my husband," said Jenipher Batakha.
In Busia County, Daniel Okware, 26, from Sore village in Teso South constituency was killed early this month and his body dumped in a maize plantation near Ebenezer, few metres from the Busia-Kisumu highway.
Another rider, Kevin Wanyama, was killed last July and his body dumped at the Busia Airstrip. He left behind two children and a widow.
In Lurambi, Maxwell Anzika's mother, Difina Likhavi, was also expecting his son to ride back home sometime last February. He did not. Instead, he was killed somewhere on the Kakamega-Kisumu road.
Western Regional Police Coordinator Julius Kitili expressed concern over the insecurity meted out on the riders, saying they have been pursuing suspects.
"As a result of these deaths, we have 72 widows and many orphans. We are going to mount a 24-hour operations to contain the attacks," Kitili said.