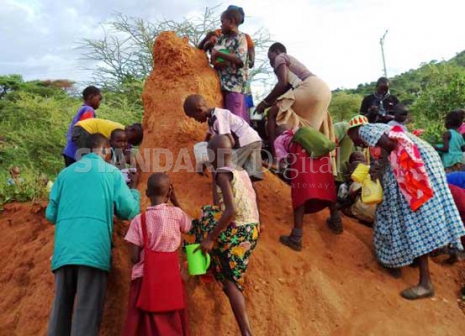 It is Thursday and Luanda market is teeming with activity. It is the season for a delicacy that is valued here as a crucial protein source and a supplement to the staple food of the Luhya community. The delicacy is termites. Grace Wekesa is one of the traders who have made a living out of selling termites, which she harvests during the short rains season beginning late September to December. In Western Kenya, the delicacy is known as 'chiswa'. "At home we eat them with ugali. It is a very simple but very delicious meal that many families around here love. I sell off my surplus in the market to clients, some of who even stop their cars just to have a bite," she says. Other insect delicacies enjoyed in the region include roasted locusts, although these are rare due to dropping numbers.
Western civilisation
Although considered primitive as the world moved towards Western civilisation, insects are loaded with nutrients. In fact, insect eating is poised to make a grand return if food security plans by the World Bank are anything to go by. A Sh600 million education and research centre aimed at encouraging the use of insects as human food has been launched. The initiative is aimed at improving food security in Kenya and the East African region. The World Bank-funded Africa Centre for Excellence (ACE II project) in sustainable use of insects as food and feeds (Insefoods) has been established at the Jaramogi Oginga Odinga University of Science and Technology and is awaiting approval of academic programmes on crickets and black soldier flies. The centre aims to devise ways of producing edible insects in large numbers without harming the environment to meet demand once the idea is commercialised. Accreditation is expected to occur within the next month, according Insefoods Centre Director Adrian Mukhebi. Mr Mukhebi said all was set for the January admission of masters and PhD students to advance research in the use of crickets as a high protein human food and the black soldier fly as fish feed. He said the university had allocated office space, laboratories and insect production units, and deployed administrative and teaching staff in readiness for launch of the institution. The centre is looking to train at least 20 PhD and 60 masters students in five years, with its sights set on making crickets a widely accepted human food and black soldier flies a fish feed variety over that period. Out of the 100 targeted students, 35 per cent are expected to be from outside Kenya.
Short courses
The university is also finalising the formulation and approval of short courses to be offered at the centre. The courses will advance research on ways to sustainably breed and farm the insects for use as alternative sources of protein. Other insects being considered for further research for use as food include grasshoppers and termites. The ambitious project seeks to break the cultural attitude towards using insects as food to help alleviate poverty by boosting food security, thus pushing the country towards self-sufficiency. "For a very long time, crickets, termites and grasshoppers have been a delicacy in rural Kenya and are known to contain high levels of protein and minerals like zinc. But poor information on their benefits has seen consumption fall over the years and that is why this centre is important in creating a repository of edible insects," said university Vice Chancellor Stephen Agong. He said they would partner with the national government to help spread information on the benefits of eating insects. The World Bank is funding the project on the basis that the money channelled through the National Treasury will be made available to the university only on completion of given objectives envisioned in the proposal for the centre.