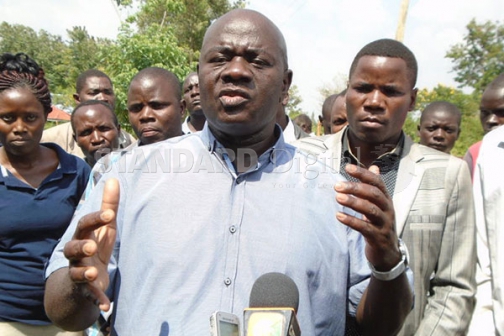 KENYA: An MP from Bungoma County has asked the Prosecution to drop the charges facing Saleh Wanjala, now popular as the 'Bungoma James Bond' who clang on a helicopter carrying the body of slain tycoon Jacob Juma.
Speaking to Standard, Bumula MP Boniface Otsiula said the accused person has already suffered enough trauma and torture.
He noted that the accused broke his spine and the right hand during the incident.
"The prosecution should drop the charges against Mr Wanjala. He has suffered enough. He did it in sheer excitement and has got enough suffering. By charging him, they will be subjecting him to more harm than good, he is already sick," said Otsiula.
"Where were the police when the incident took place, they failed on their part. If they had secured the place, then we would not have heard of this incident, which law are they now using to sue him? He survived the all ordeal and that is discipline enough, he needs to be rehabilitated not to be charged in court," said Otsiula.
Read More
The Legislator noted that when the police fail on their part the public takes charge and that is what took place leading to such an incident.
"Let the accused persons be set free. He has suffered enough and we don't want to subject him to more suffering. It was wrong but he must be left free because he survived where many people could not," said Otsiula.
Wanjala was arraigned in court on Wednesday where he denied the charges of endangering his life and that of the pilot.
Bungoma Principal Magistrate Stephen Mogute freed him on a free bond to allow the police amend the charge sheet before he is presented in court again Thursday to determine the bond term he should be given.