Four notorious Sabaot Land Defence Force remnants arrested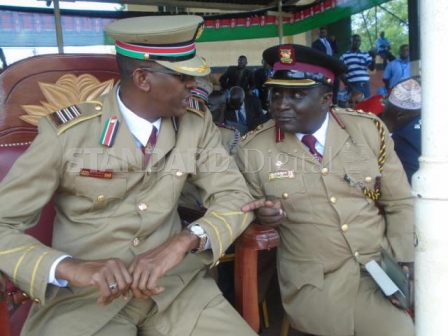 Four criminals believed to be remnants of the former Sabaot Land Defence Force (SLDF) have been arrested. The four are among six gangsters believed to be members of the defunct militia, and are alleged to have been terrorising residents of Mt Elgon, Bungoma West, Central and Kimilili sub-counties.
Bungoma County Commissioner Mohamed Maalim yesterday said the suspects would be arraigned in court soon.
Speaking during this year's Jamhuri Day celebrations at Masinde Muliro, Kanduyi Stadium, Maalim named the suspects as Lucky Ndiwa, Ngeywo Kitayi, Suleiman Kibet and Kitayi Cheparikach, their ring leader. "We are happy to announce that we have made progress by arresting four of the six gang members who have been operating in Cheptais and Mt Elgon Sub-Counties," he said.
Maalim said there are still many illicit arms in Mt Elgon region and called on those still illegally holding them to surrender before a forceful disarmament is launched to get the weapons.
"On Friday a gang attempted to rob traders at Kipsigon market centre in Kopsiro but they were repulsed by the security agencies forcing them to disappear into the Mt Elgon forest," he said.
He said the government has deployed police to monitor illegal businesses at the Kenyan border.
"The porous border has allowed the ferrying of illegal goods into the country and that is why the government has deployed the unit officers to curb the vice that is denying the country a lot of resources," he added.