Bungoma Governor Lusaka launches Sh18.2m water project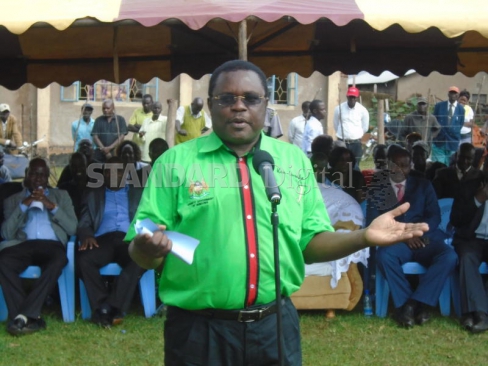 BUNGOMA: Governor Kenneth Lusaka has launched a Sh18.2 million water project in Kimilili constituency.
The Chesamisi/Kamukuywa Community Water Project will save residents and learning institutions the hustle of searching for this scarce commodity.
Over 38,888 people will benefit from the project that has its source at River Sosio in Mt Elgon.
Speaking at Kamukuywa chief's camp Mr Lusaka said provision of clean water remains a priority for his government that will help reduce the outbreak of typhoid and other water borne diseases.
"My Government has allocated Sh4 million for water in each ward but that is not enough. We have put in place measures to ensure that every resident gets access to clean water for drinking and the surplus for irrigation purposes," he said.
Lusaka said the project will take three months to complete and will employ over 60 people for faster construction.
"Next week we will be launching the Kibingei Community Water Project and I am assuring all that by the end of my term in office you, will see the visible projects that have been initiated by my government. Instead of fighting me, let us join hands and develop this county," he said.
The governor called on area leaders to support his development projects instead of criticising him every time.
"We faced teething problems at first, but at least you need to applaud me for what I have done; rehabilitation of roads, provision of free and subsidized fertilizer, distribution of dairy cows and rehabilitation of health facilities," he said.
He added: "Let all leaders play their part. The governor should be respected, the senator the same and the ward representative the same. Leadership is interwoven and we need each other for the success of the counties under devolution."