Governor Kenneth Lusaka sorry for Bungoma Hospital incident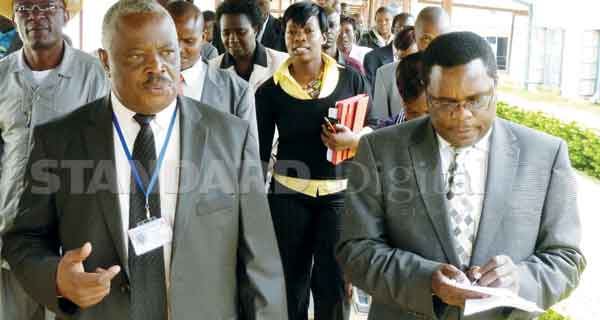 Bungoma District Hospital Medical Superintendent Mulianga Echesa (left) with Bungoma Governor Kenneth Lusaka (right) during a tour of the facility Thursday. [Photo: Benjamin Sakwa/Standard]
By Francis Ontomwa and Grace Wekesa
Bungoma, Kenya: Bungoma Governor Kenneth Lusaka has apologised over the harsh treatment of a pregnant woman at the county's main hospital.
Lusaka said it was absurd that health workers at Bungoma District Hospital could treat people they are meant to care for in such an inhumane manner.
He noted that the suspension of the three nurses implicated in the saga was the first step towards addressing the situation.
"The Civil Service does not allow one to stay too long at one station. We are aware that there are officers who have stayed up to ten years. We want them relocated," suggested Lusaka.
Bungoma residents who had gathered outside the hospital rebuked the facility's management for deterioration of services.
"The story of the mother who delivered on the floor is just a drop in the ocean, these things go on unabated and the management know it," said Agnes Muhindi, a resident.
Mr Lusaka faulted a directive by the hospital's management barring the use of mobile phones in wards, terming the move retrogressive.
"I have been told that there are plans to confiscate mobile phones from patients in the wards. That is definitely not a way of addressing the problem, it amounts to hiding issues under the carpet and that is not what we want," affirmed Lusaka.
Lusaka promised radical surgery of the hospital's top management.
KTN, in an exposé, showed pictures of a woman, who has been identified as 30-year-old Josphine Majani from Matungu, Kakamega County, delivering on the floor of the hospital with nurses insulting her.
The Standard has since learnt that the health of the mother of three and that of the infant are stable.
However, Bungoma District Hospital management castigated journalists for highlighting the incident.
Dr Muliyanga Egesa, the hospital's medical superintendent, said they are working round the clock to bring things back to order.
Code of conduct
"Our hospital does other good things that sadly have never been highlighted yet the media is riding on this. We are aware of our code of conduct and we have taken the move to suspend the three," said Egesa.
Interestingly, the health officer unapologetically equated the shocking revelations to a person exposing the nakedness of his mother, arguing that reporters ought to have shared the footage with the hospital before relaying it to the public.
"There is no heroism in exposing the nakedness of your mother to the world," he said.
Bungoma County Executive in-charge of Health Grace Khayota vowed to rein in the hospital staff, affirming that this would be the last of such occurrences.
"We are greatly shocked by these events and we want to apologise to the mother who was mistreated and to Kenyans. We want to state that this is the last of such occurrences," said Khayota.
This is not the first time the hospital has been thrust into the spotlight.