Big war on drugs: Kenya partners with global anti-doping agencies to stem the vice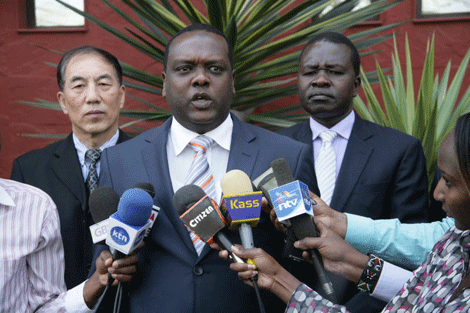 Cabinet Secretary Sports, Culture and Arts Dr Hassan Wario is flanked by Principal Secretary Richard Ekai, right and Director General CHINADA during a three day antidoping workshop in Nairobi on Wednesday, January 28th, 2015. PHOTO/JONAH ONYANGO.
Stung by the high doping cases, the Kenyan government through the Ministry of Sports, Culture and Arts has now partnered with various international bodies to stem the vice.
While addressing the Press at the beginning of a three-day anti-doping seminar at Ole Serani Hotel in Nairobi, Sports Cabinet Secretary Hassan Wario said he was confident the newly gazetted Anti-Doping Agency of Kenya (Adak), which will be fully operational from next month, will learn a lot from the experiences of Anti-Doping Norway (ADN) and China Anti-Doping Agency (CHINADA).
"CHINADA and ADN will be our big brothers, guiding us, coming up with right education programme, policy and legislation as we establish ourselves properly. Both of them have a lot of experiences and we hope to benefit from them," said Dr Wario during a meeting which was also attended by top government officials and representatives from World Anti-Doping Agency (Wada), ADN and CHINADA.
Guiding bodies
"They (CHINADA and ADN) will look at our policies, legislation, expectations, education, collaborative programmes and advise us accordingly," said Wario.
"It's unfortunate that most of the federations and people they serve are not aware of issues related to Wada. Education is the key, and I thank the media for playing a big role in sensitising Kenyans on doping issue. There has not been a body to deal with doping issues in the country for a very long time, but with Adak now in place, I am confident we will win the war against doping," added Wario.
Asked if plans to set up a doping test laboratory in the country were still in progress, the CS said: "Though it's not yet confirmed, IAAF's plans to build a laboratory in the country are still on. If they don't, we have other options including partnering with our very good partners like South Africa and Qatar," he added.
As per Wario's confirmation, Adak will be chaired by former Permanent Secretary in the Ministry of Youth Affairs James Waweru with Dr Somane Muktar Ismail, Douglas Wakiihuri, Alex Tunoi and Prof Moni Wekesa as its members.
Rodney Swigelaar, director of Wada's Africa office, praised the government's commitment to fighting doping and reassured of the body's support.
"We will provide support and guidance in partnership with CHINADA and ADN. We are here on advisory capacity and we will ensure you achieve your objectives and maintain your status in athletics at international levels," said Swigelaar.
"We had a range of meeting with Kenyan officials stretching back to 2012 and we are satisfied with the progress. What they've done is in the best interest of establishing a robust anti-doping body. However, this is a Kenyan institution and must address their issues in a Kenyan way. We understand, the Kenyan government has already put in place a process to ensure financial sustainability of the programme and our role will be to provide technical support," he added.
His sentiments were echoed by Anders Solheim, CEO of ADN, who promised to work closely with Adak.
"We are committed to ensure that Kenya succeeds in this war. Sports should be won fairly, but not by crafty means. Yes, we've had a number of doping cases in Norway, but right now our athletes know that they will be tested and taken legal actions," said Solheim.