Jelimo's Indoor hunt: Former Olympic champion eyes title defence in Poland
By ERICK OCHIENG'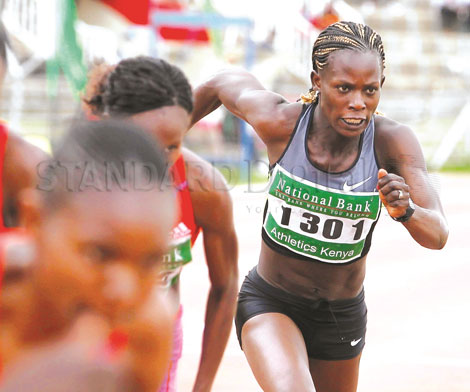 World Indoor 800m champion Pamela Jelimo gets off the blocks during past national trials at the Nyayo National Stadium in Nairobi. Jelimo aims to defend her crown in Sopot, Poland, in March. [PHOTO: FILE/STANDARD]
Former Olympic 800m Champion Pamela Jelimo is confident she will shake off her rust in time to successfully defend her World Indoor title in Sopot, Poland, from March 7-9.
Jelimo said she has relocated to Nairobi to step up her training ahead of the global indoor track competition.
Besides, the former Golden League jackpot winner is also looking forward to the Diamond League races that begin in May.
While commenting on her training, Jelimo told FeverPitch: "World Indoor Championships are races that require one to run on a tartan track and this has prompted me to relocate to the city where I can get track access at Nyayo Stadium."
Jelimo is happy that the weather in Ngong town, where she is living and training, is conducive for her career. What prompted the former world beater into early action is a dip in form in 2013. Jelimo was put down by a string of injuries, which ensured she never took part in any competetive races last year.
skipped holiday
Her preparations for the World Indoors commenced during the festive season that she used to gauge her strength and conditioning at the AK/KCB Cross Country Championship in Eldoret and another cross country race run in her backyard in Kapasabet two weeks ago.
"I thank God that the injuries are all gone and it is my prayer that I do not sustain any in 2014. I have very big plans this year and one of them is to get victory in major races. My focus is on the World Indoors,"she said.
Concerning her training schedule and method ahead of the global event, Jelimo hinted that she is currently enegaging in speed and endurance tactics, which is what she needs. However, she plans to take her training to higher levels in coming months.
Club Games
The 'Kapsabet Express' as she is famously known says she is yet to decide on the forthcoming Commonwealth Games in Glasgow, Scotland, but she will attend the qualifications depending on her fitness. But she is not hiding her passion for the Club Games, which she says is the only gold medal missing from her cabinet.
"I won't be hesistant about travelling to Glasgow. It's part of my new year resolutions to search for that mising medal in my cabinet, but you know I can't promise to attend because you never know with athletics – the body can refuse or one could pick an injury along the way," she said.
Among the greatest resentments of her career was being unable to take part in any major competition last year. Jelimo says it is frustrating and difficult when the spirit is capable but the body is weak for competition.
Apart from Jelimo, Hellen Obiri is also looking forward to defending her 3,000m flat position at the World Indoors.
Also targeting the Indoors medal is Irene Jelagat, who emerged a runner-up in the 8km race during the Kenya Police Cross Country champioship at the Ngong race course.